The all-Polish squad
Team Kinguin* have been signed by another organization just in time for the new season. Any DOTA 2 fans lurking around? Please, give a warm welcome to the newest members of our family! Read more: https://t.co/YMgSl3P2FF pic.twitter.com/hjBMXSp2Ie— 🐧 Team Kinguin (@teamkinguin) September 15, 2017


The new Team Kinguin squad have made a few organization shifts over the past year, but the majority of the roster have been together since mid-2016, some even longer. The two longest-standing members of the roster are
Michał 'Nisha' Jankowski and
Rafal 'eL lisasH' Wojcik, both of whom have been playing together since 2014, when the first Let's Do It formed.
Natan 'Exotic Deer' Michalewicz has also played with the pair since that time, but was briefly removed from the team for less than a month in post-TI6 shuffle season.

The team that started as Let's Do It in 2014 was signed by ALTERNATE aTTaX in March 2015. They went through a few roster changes as months went by, but the core lineup remained relatively stable all the way through April 2017, when the organization dropped them and they became Let's Do It once again.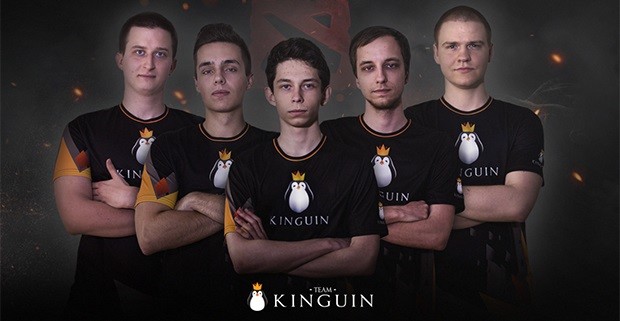 Their second stint as Let's Do It didn't last long, and the squad were picked up by Team Singularity in May. The squad were directly invited to the TI7 EU qualifier, and came second only to Team Secret with a 7-2 record in the round robin group stage, but lost their playoff matches and finished 5th.

Singularity and the roster parted ways in August, and it was back to the Let's Do It banner. Now, after the squad has been victorious in the ROG Masters 2017 EMEA qualifier and earned a spot in the upcoming ROG Masters EMEA regional final in Germany, the roster has found a new organization.

While some orgs entering Dota 2 provide a roster, a generic quote and not a whole lot else, Kinguin gave little insights into the personalities of each of their players in their announcement. For instance: Nisha, who's been around since 2014, is just 16 and apparently the quietest member of the team. Meanwhile Exotic_Deer is described as "a true Salt Lord".

Team Kinguin's roster:

Natan 'Exotic Deer' Michalewicz

Michał 'Nisha' Jankowski

Paweł 'Patos' Naruszewicz

Jakub 'kacor' Kocjan

Rafal 'eL lisasH' Wojcik