NBA* have a new roster for the upcoming season featuring two of the members of the roster they dropped in June, as well as three new faces.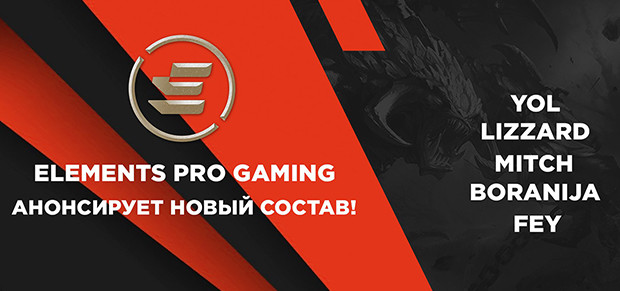 The squad made the announcement on their vk page earlier today. The two returning members of the team are their midlaner
Dusko 'Boranija' Boranijasevic and their offlaner
Damir 'Mitch' Skaricic. Mitch in particular has been with the organization for a year, having first joined Elements One in August 2016.


Admir 'lizZard' Salkanović is best known as a streamer in Dota 2 with very impressive micro. At times, he has even used his ability to play multiple heroes at once on the same team . He has made a few attempts at joining pro teams, but they have usually been short lived. His latest was a two month stint with a squad called 8000 in late 2016/early 2017.

The other two new members are
Vladimir 'Yol' Basov and
Filip 'Fey' Musialski. yol plays support and is a veteran of the CIS scene while Fey is a relative newcomer carry player who got his start with Alternate aTTaX last year.

The Elements Pro Gaming roster:

Filip 'Fey' Musialski

Dusko 'Boranija' Boranijasevic

Damir 'Mitch' Skaricic

Admir 'lizZard' Salkanović

Vladimir 'Yol' Basov