Western teams haven't done so well in the first two upper bracket matches of The International 2017, with both Newbee and iG knocking their opponents into the lower bracket to start Day 1.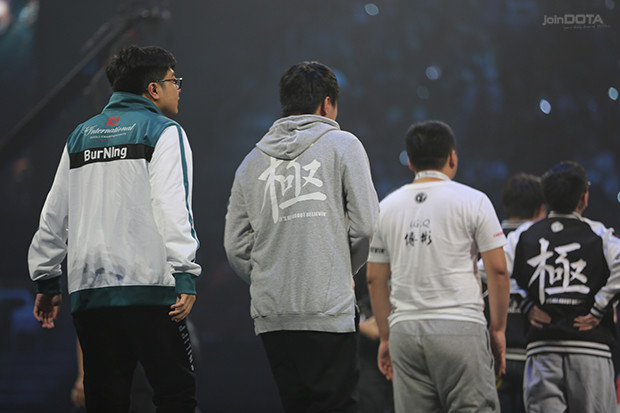 China #1? In Day 1 of the TI7 main event, that's the story so far. Both upper bracket games were China vs. the west, starting with
Invictus Gaming against
Team Liquid and
Newbee facing
Evil Geniuses, and both western teams were knocked down to the lower bracket.




Team Liquid vs. Invictus Gaming


The crowd in Key Arena was plenty hype after the opening ceremony, and the first match of the main event was the perfect followup, going to a full three games with great plays from both sides.

iG's choice of carry in the first game was something we haven't seen super frequently these days, an Armlet/Radiance Alchemist. Their gameplan seemed to revolve around keeping MinD_ContRoL's Bristleback from being able to do anything.

The iG gank squad killed the Liquid offlaner again and again, all the while making space for Op's Alchemist to get farmed. Liquid weren't able to stop iG's momentum, and the first win of the event went to the Chinese squad.

iG opted to draft Alchemist again in the second game but where it had been a last-pick the first time around, they picked it up in the first phase. Liquid answered with an Ancient Apparation and ended their draft with a Monkey King for Miracle-.

BoBoKa did his damndest to carry his team with his signature Riki but it wasn't enough. Gh's Keeper of the Light allowed his team to sustain lengthy sieges with the powerful heal from his Aghanim's Scepter, and despite holding a decent net worth lead, iG couldn't hold off Liquid's push.

In the third and final game, iG went with a completely different draft. They didn't pick any typical "wombo-combo" heroes, but their draft was very well equipped to brawl. Xxs was the playmaker of the game with his insane Earthshaker skills while Op's Lina and BurNIng's Sven dished out the damage.


Newbee vs. Evil Geniuses


EG got off to a strong start in the first game of this series but halfway through, after a quick series of pickoffs for Newbee, the momentum got completely turned around. It wasn't a very action packed game, and neither team ever held a significant lead but Newbee's insane damage in team fights from Venomancer and OD allowed them to quickly take the win after one huge teamfight win around the 33 minute mark.

Universe's Enigma was arguably the most important hero in the second game. Everything revolved around whether he would hit his Black Hole, and how Newbee had to play around the constant threat. When he hit the big ones, the roar in Key Arena was unbelievable.

EG managed to put together a mid-game lead, and it looked like Newbee would be forced to play a Game 3. SumaiL's Necrophos seemed unkillable, and Newbee were constantly getting picked off, but once again the Chinese squad managed to pull themselves together and stop the bleeding.

As the game went late, things got down to the point where a team fight win from either side could decide the game. Newbee had won a big fight, and charged towards EG's base to take objectives. Multiple buybacks were expended on both sides, and Newbee were forced back to defend. Universe had a Refresher, and the threat of two Black Holes was a potential game-closer.

The target was Bristleback, and Universe landed his first Black Hole on Newbee's offlaner, but quick thinking from Kaka's Earth Spirit saved him just in the nick of time.



Newbee dominated the rest of the fight off the back of that save, and Evil Geniuses were knocked down to the lower bracket after just two games.