The culmination of the ASUS open series is coming up this weekend, running from the 13th until the 16th of Decemeber featuring all of the big name teams from the CIS region battling it out at Kiev Cybersport Arena in Ukraine for a total prizepool of $15000.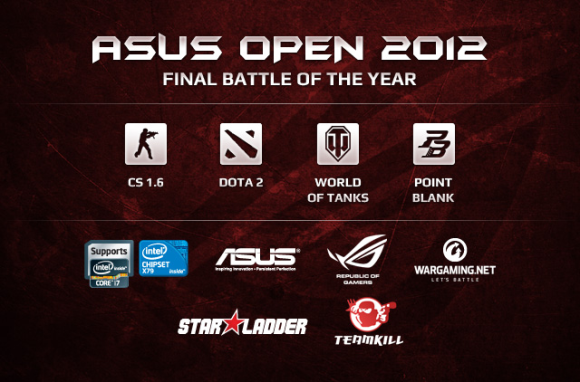 Besides the usual
Natus Vincere,
Team Empire and
Virtus.Pro; all of whom have also qualified for the StarLadder Star Series Season IV LAN finals; we will also see a few other interesting teams. Notably the same
Devil Mice team who took 3rd at World Cyber Games will be in attendance, as well as a new team headed up by a recently un-retired
Ivan 'ArtStyle' Antonov under the name of
United Sexy Boys. Of special note is also that Virtus.Pro are actually on a 20 game winning streak, which will truly be put to the test as they face off against Na`Vi during the groupstages.

The groupstages will consist of two groups playing round-robin best-of-1 series, with the top3 from each group advancing to the playoffs. The first placed team in each group will be seeded straight into the semi-finals, while the 2nd and 3rd place teams will play each other in a quarter-finals setup. All playoff matches will be best-of-3 series.

The tournament will be casted in Russian by the StarLadder.tv crew consisting of
Vitalii 'v1lat' Volochai,
Vladyslav 'mtrx4u' Suzdal and
Roman 'CaspeRRR' Lepokhin. English livestreams are likely to be available in a similar fashion as with StarLadder online competitions, although no casters have been specified. You may also watch all matches in Dota 2 TV if you have the Star Series Season IV ticket.


United Sexy Boys Roster:
Ivan 'ArtStyle' Antonov

Aleksey 'Solo' Berezin

Andrey 'Dread' Golubev

Artern 'Sharfik' Marzavin

'Jotm.Medved'


Prize Pool:


1st place - $6000
2nd place - $3000
3rd place - $2500
4th place - $2000
5th place - $750
6th place - $750