If you missed EPICENTER2017 or simply want a bit of light reading about what to expect coming out from both teams then this is for you.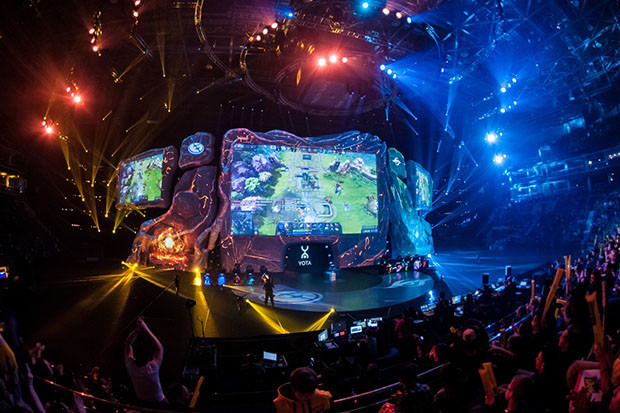 Ahead of the Grand Finals EPICENTER2017 will be hosting a Cosplay competition and the EN vs RU talent caster showmatch. Due to the single elimination format both EG and Liquid will come into the Grand Finals fresh having not played another match earlier in the day. If you've not managed to follow the tournament so far I've put together the following guide on hero picks, which should hopefully give you a better idea of what both teams need to address when it comes to the draft.

How will Liquid deal with EG's Puck and Venomancer?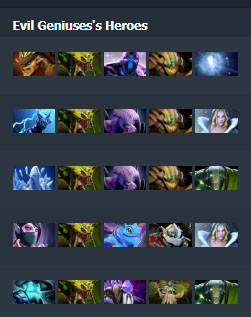 EG's drafts with an RTZ Venomancer

The big question in terms of EG's draft in the Grand Finals is how Liquid will deal with Puck, whether they will deem it a worthy of a first phase ban.

Puck has been a regular feature for EG even before EPICENTER2017 as both
Saahil 'Universe' Arora and
Sumail 'SumaiL' Syed Hassan can play the hero, giving them the option to switch the Puck from the offlane to midand viceversa.

At EPICENTER so far Universe played the Puck in 5 of the 6 games they chose him, with SumaiL's only appearance on the hero against Planet Odd when EG then last picked an Enigma for Universe instead.

Another firm favourite at EPICENTER has been Venomancer for
Artour 'Arteezy' Babaev. Although the EG carry mentioned in an interview he's usually on so-called "boring heroes" to benefit the team, his games on Venomancer were terribly convincing.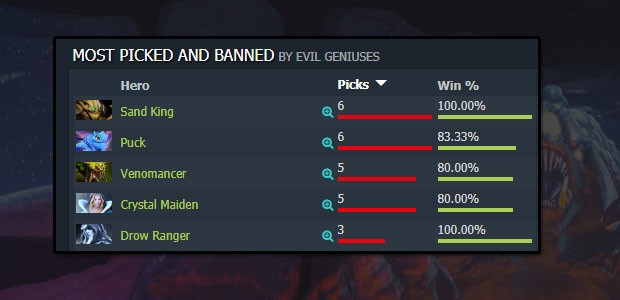 Evil Geniuses top 5 picks at EPICENTER 2017 (Via

DOTABUFF

)



Arteezy's has rushed a Veil of Discord in 4 of the 5 matches on Venomancer, often skipping Power Treads until later in order to complete Veil by around 10-11 minutes in. This has allowed EG to snowball quickly and made picks like Crystal Maiden for Cr1t or Zai's Sand King even more deadly. The Zai Sand King is EG's most picked hero alongside Puck and is infact undefeated this tournament with 6 wins in 6 matches. For Liquid the trio of Venomancer, Puck and Sand King will be something to address considering how often EG have used them.

Should Liquid react or dictate the draft to defend their title?
Team Liquid are not only in a Grand Finals but they are also defending their title. Last year with Jerax and FATA- still in the side the team won EPICENTER2016. Liquid have prioritised completely different heroes to Evil Geniuses, in fact they have not played Sand King, Puck or Venomancer at ALL at EPICENTER2017.

Team Liquid had a rougher run at EPICENTER and only won 2 of their 5 group matches and have played 4 games more than Evil Geniuses. Their go-to hero has been Lone Druid for
Lasse 'Matumbaman' Urpalainen, while Kuroky's Tusk was the focus of the panel's attention despite Liquid only winning 3 of their 7 games with him.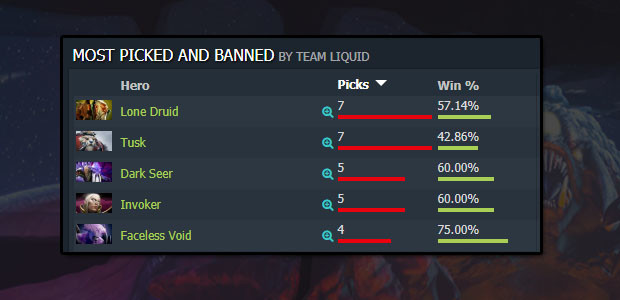 Team Liquid's top 5 picks at EPICENTER 2017 (

Visit Dotabuff for more info

)



Nightstalker has been a consistent ban for Liquid, making sure the hero couldn't make the draft in 11 of the 15 matches they've played at EPICENTER, but not particularly relevant for EG as they only played the hero once in Moscow and only twice in the last 3 months.
Amer 'Miracle-' Al-Barkawi has been on a wide variety of heroes at the tournament which will make targeting his hero pool extremely difficult for EG.

EG are mostly like going to target Liquid's position 4
Maroun 'Gh' Merhej's Wisp, which has been first phase banned in 13 of 15 games. Likewise his Keeper of the Light has been banned out in the majority of their matches.

GH's ability to enable his team-mates is arguably EG's biggest threat in the Grand Final series, but considering Miracle is going up against his former team-mate Cr1t, there is a strong chance he may want to get his hands on a more aggressive hero like Invoker or Ember Spirit.

Both EG and Liquid have had a couple of unexpected choices in the mid lane at EPICENTER2017. Sumail has successfully played Ancient Apparition and Earthshaker mid while Miracle made a Bloodseeker mid work. Cr1t said Earthshaker mid was a favourite of SumaiL's when up against Ember Spirit and hopefully we will see some more variety in the best-of-5 later this afternoon.

Universe said ahead of the tournament that Liquid was the team he would most like to face in a Grand Finals, and the current line-ups of the two teams have only played each other once before at the DAC groupstages, and that encounter ended in a tie. So clear your schedule, grab your snacks and get ready for the clash.



What's the score going to be?