There's two more days and a few odd games of play left for this season of StarLadder, to be played after this weekend's Thor Open, on the 10th and 11th of December. The LAN finals will follow soon after at the CyberSport Arena in Kiev from December 20th to the 23rd.



Four teams are going on to the LAN finals this time around and the competition for the final spots look to be fierce.
Na`Vi have already secured themselves a spot and at least a shared top spot for the online portion, but the following spots are a lot less clear.

The teams still likely to reach the LAN finals are
Team Empire,
Fnatic.EU,
Virtus.Pro and
Mousesports. Mouz is missing a massive 5 games, while Empire has 4 games left to play, but with perfect trackrecords each could reach 36 points. The same is true of VP, who are missing 3 games, while Fnatic.EU have only one game left to play for a maximum of 33 points. However, Fnatic.EU's saving grace is that the other teams will have to play against each other, with Empire having yet to play against both VP and Mouz. This means that, with otherwise perfect runs, we are looking at potentially a 3 way tie for 3rd-4th place.

On the cusp is DreamHack Winter 2012 champions
No Tidehunter, who need the other teams to slip up in order to put them into contention, as well as to clinch their remaining two games to put themselves at 30 points. Beyond this and by all accounts out of contention are
Absolute Legends,
3DMax and
Lions Pride, who each can reach a theoretical 27 points.

As far as who's going home, the merger of
FUBAR and
eVo which created
Svehunterz has left one spot vacant in the league, meaning only
Illunminate looks to be straight relegated to the Pro Series for next season. Their slight chance at staying alive would be if they were to win both their remaining games, while
Pulse were to lose their four remaining games, placing them at a tied 14th place in the league. The other teams at at risk of having to play to stay in the league are
dd.Dota,
XX5 and Svenhunterz.

As should be evident, there's a lot left to play for during the coming days and hopefully some really epic games as teams battle either to keep their hope of attending the lan finals alive or as they fight to avoid relegation from the league.


Prize pool for StarLadder Season 4:


1st place – $8000
2nd place – $4000
3rd place – $2000
4th place – $1000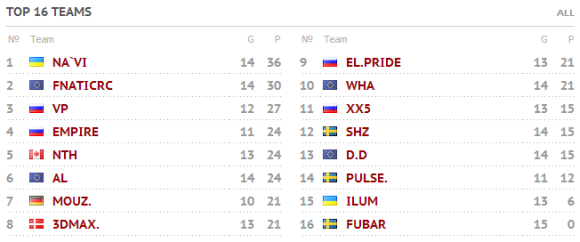 StarLadder Season 4 current standings