Team NP have received a ban after making the decision to withdraw from DreamLeague for the second season in a row.



Team NP's history with DreamLeague
Last season Team NP dropped out of DreamLeague mid season, with the official reason given that there were too many tournaments going on. However, the timing of their decision to withdraw coincided with the team being statistically unable to qualify for the LAN Finals after not collecting enough points from their earlier matches.

This time Team NP accepted an invite from the DreamLeague organisers as far back as February 2017 but only informed the organisers a fortnight ago that they would not compete in the tournament. The reason for their withdrawal this time is that the team received a direct invite to the ZOTAC Cup Masters, a $100,000 LAN finals being held in Taiwan from 30th May to the 3rd June, which starts just 2 days after the Manila Masters which Team NP are also attending.

It is the first time DreamLeague hosted an NA division for the competition and they invited only four teams to play in the groupstage, which offers 1 slot at the LAN Finals in Atlanta. The groupstage matches were scheduled in advanced for the 30th and 31st May, and the organisers have now been forced to find a last-minute replacement for Team NP,
SG e-sports.

Furthermore due to Team NP withdrawing from the tournament for two seasons in a row the organisers seem to have decided that enough is enough, and Team NP have received a 1 year ban from DreamLeague and all Dreamhack events.

"Due to dropping out of DreamLeague Season 6 and Season 7, Team NP has been issued a one year ban. This ban applies to Team NP as an organization. It's very important for us to be fair and consistent when dealing with all teams in these complex and sensitive situations," said DreamLeague's Project Manager Michael "milton" Fuxborg.

"For Season 7 we had a talk with Team NP in February about their withdrawal in Season 6 and we jointly decided to let the past be and move forward. They accepted our invite to Season 7 in mid February and we received word from them just two weeks ago that they will drop out of DreamLeague to play another event. So the one year ban for Team NP is based on the pattern of behaviour they dropped out in Season 6 and now Season 7."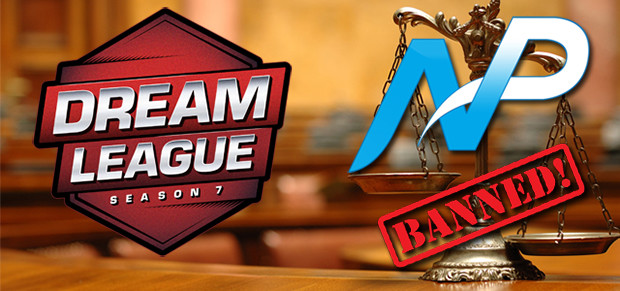 What is the difference between Team NP's exit and Alliance's?
When joinDOTA asked Milton about why Alliance had not been issued a similar punishment for leaving DreamLeague after receiving an invite to the Starladder Invitational last weekend, Milton was kind enough to explain.

"The big difference is that Team NP dropped in the middle of DreamLeague Season 6 when they saw that they could no longer qualify for our LAN. So they jumped ship and attended another event. So the one year ban for Team NP is based on that they dropped out in season 6 and now 7," Milton told joinDOTA.

"But that doesn't mean that what Alliance did was very wrong. So if Alliance or any other team were to pull a similar move for next season they will also be subject to similar punishment."

DreamLeague have announced that Kiev Major top 8 team
SG e-sports will take the place of Team NP, with matches set to start next week.