The four elimination games today resulted in half of the teams at SL Invitational 2 being knocked out. Find out which four remain.




Although the Chinese teams had a poor opening day in their groups they made up for it on the final day. Both IG and Newbee made it through to the playoffs off the back of two consecutive wins in the lower-bracket, but at the cost of Alliance and Vega.

Alliance versus iG: Burning just on a whole other level
The opening game of Alliance versus iG was a farmfest and featured some action at the beginning but then became a rather slow encounter. Alliance secured 6 of their 7 kills in the opening 15 minutes, but only killed 1 iG hero in the remaining 30 minutes.

In the draft Alliance's 3rd pick Troll Warlord was countered immediately with a Razor for Burning, and the Chinese veteran ensured Loda's damage output in fights was negligible, with the Swede ending the 45 minute game with no kills to his name and only 4 assists. It was not a game of action with the game ending 16-7 in favour of iG.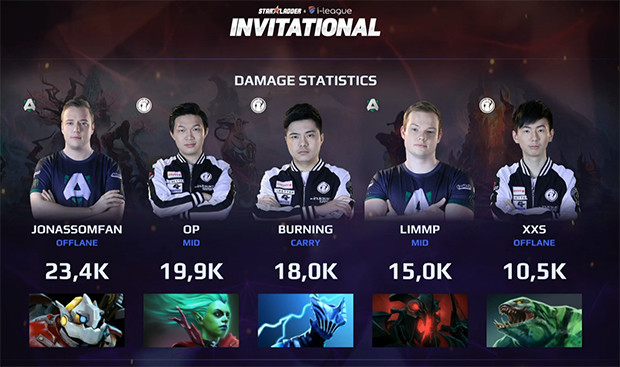 Loda's Troll Warlord was neutered by Razor and struggled with damage dealing only 8.6K in game 1



Second game Alliance picked a flavour of the moment, Jakiro as their first pick but they let slip iG's textbook draft which brought them so much success at DAC 2017. iG not only got Burning's Juggernaut, they also got XXS' Magnus and OP's Ember Spirit, a combination of heroes they are incredibly comfortable with. "IG's bread and butter," in the words of caster Merlini.

Game 2 damage was not a problem for Alliance who dished out more than iG, but Burning's Juggernaut with Diffusal Blade was a constant nuisance for Loda's Sven's manapool and
Jonas 'jonassomfan' Lindholm's poor Clockwerk. Considering Invictus Gaming had a gift of a draft Alliance fought valiantly, but in both games once the early game ended they were left far behind.



Only four teams remain - Liquid face archenemy iG in the playoffs
Following Newbee's victory over Faceless and Vega Squadron they join TNC and Liquid in the single elimination playoffs, along with Invictus Gaming. Team Liquid have been paired with iG, a team they have quite a lot of history last month. At DAC2017 IG's 2-0 win cost Liquid a spot in the upper-bracket while at the Kiev Major iG's 2-1 win over Liquid knocked them out of the tournament in the quarter-finals. Meanwhile Newbee take on the new and improved TNC led by
Theeban '1437' Siva who aced group A with 4 wins in 4 games.




Who will be in the Grand Finals?