He hasn't been around the scene for very long, but he's already helped his team rise to the top of the Chinese scene and even beat OG 3-0 in the DAC Grand Final, so who is Boboka? What path led him here?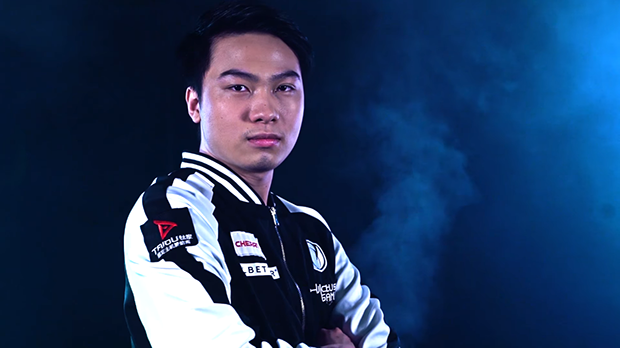 Invictus Gaming have won the Dota 2 Asia Championships 2017, showing the world that Chinese Dota is still very much alive and kicking. We have a tendency to focus on the players that are accessible to us, and while we're familiar with big Chinese stars like
Xu 'BurNIng' Zhilei or
Bai 'rOtK' Fan, their teammates fly under the radar.

While it's easy to say that iG's core players were the stars of the show, it was
Ye 'BoBoKa' Zhibiao's support performances that really stood out at DAC.

His first entry onto the professional scene came just under two years ago when he joined
TongFu.WanZhou* for the HuoMaoTV Mid-Summer League #1. Two months later, after having played just the one event with TongFu, Boboka moved to Team DK.

The once legendary organization was already on the decline, and split into two teams at the time Boboka joined. The teams were called DK Renaissance and
DK Scuderia. Boboka was on Scuderia with his TongFu teammate
Pan 'yCyK' Shuaifang (aka yCyKzXy or most recently yChen) and another player he's still teammates with to this day —
Lin 'Xxs' Jing.

During their brief time with the organization, the team won the first Frankfurt Major Chinese open qualifier. In the regional qualifier they tied with iG and
Newbee.Young for first place in the round robin, but lost the single-game tiebreaker against Newbee.Y, finishing their run in 5th-10th

Unfortunately, this move happened just two months before the organization decided to shut its doors for good. DK announced that it would be ceasing operations in mid-November. Luckily for the DK.S roster, iG saw their potential and signed them a few weeks later, in early December 2015. They were given the name
iG.Vitality.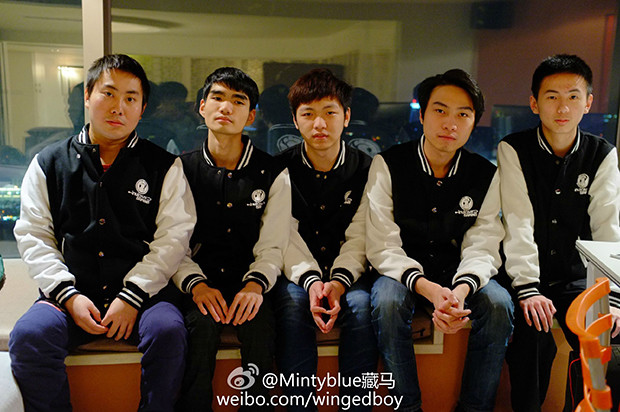 iG.Vitality, from

their roster announcement

.



The team flourished under the new organization and quickly surpassed Invictus Gaming's main roster in qualifier results. In March 2016, iG announced that four members of that roster were being promoted to the main roster, with yCyK leaving to join
White Fries Gaming*.
Luo 'Ferrari_430' Feichi took over midlane for the team, and another now-familiar face joined as a sub —
Anathan 'ana' Pham!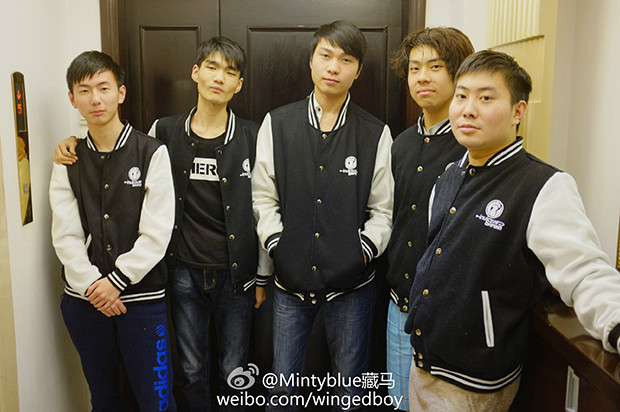 iG.Vitality become Invictus Gaming, plus Ana!

From iG's Weibo

.



Since that time, iG's only first place finish at a LAN (until now) was at a four team Chinese event called the National Electronic Arena 2016, in which Ana stood in for Ferrari_430 and helped them beat
Newbee in the Grand Final. Ana would join
OG just two months later.

Three players left the team in the post-TI6 roster shuffle in late August-early September, and Invictus Gaming announced that BurNIng,
Ou 'Op' Peng and
Fu 'HHH / Q' Bin would complete the new roster. Alongside the new players, iG also had a change of management. Wings Gamings' manager (who was with the team until their TI6 win) was also added to the team at this point.

It wasn't all easy wins from there on of course. The team had work to do before they could reach the heights we see them at today. In The Boston Major Chinese regional qualifiers, iG had a decent 5-4 score in the round robin, but lost to
Keen Gaming in a tiebreaker game, likely a painful throwback for Boboka, whose first Major qualifier went much the same way.

Things improved steadily from there, and today's iG can boast not only that they qualified for several events (including The Kiev Major), but they've also won one of the biggest events of the year outside of TI and the Majors.

Of course, we're here to talk about Boboka, not just iG's impressive growth. His most played hero is Earth Spirit, and considering he looks up to and studies
Jesse 'JerAx' Vainikka's play, he's become one the most capable ES players in the world.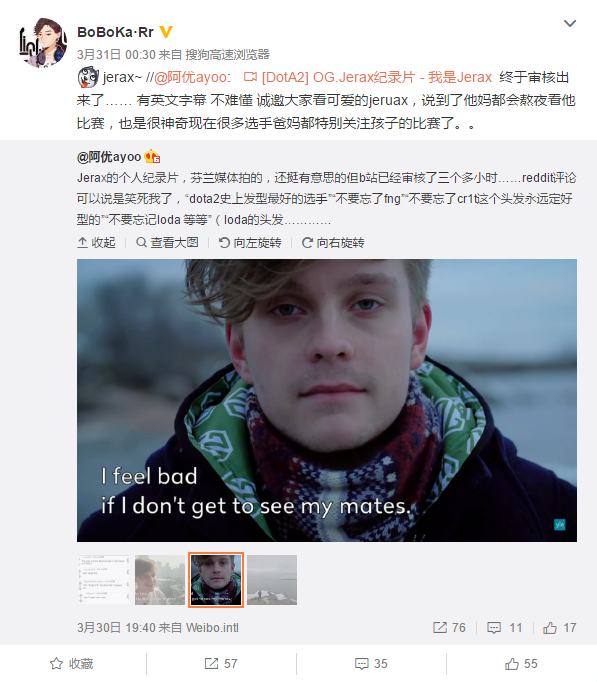 Source: Boboka on Weibo



His second most played hero of all time is Rubick, but that might change now that a new hero has stepped onto the scene. Since Monkey King was added to Captain's Mode on March 15, Boboka has played the hero 12 times and holds an 83% winrate.

If one thing characterizes Boboka the most it might be adaptability. There's no sticking to a the same old build for this man, he's always ready to adapt and improve on the fly.

When the tournament began, he consistently took Tree Dance at Level 1 and hung around lanes looking for chances to Primal Spring on unsuspecting enemies' heads. As time went on, he changed the build to start with Jingu Mastery occasionally, allowing him to stand in lane against offlane Abaddons and not just trade hits, but force the enemy out of lane.



Monkey King item builds were also very fluid for Boboka. Phase Boots were the only constant, with Skull Basher very common and Desolator, Shadow Blade, Vladimir's Offering, Solar Crest and Black King Bar picked up as the situation called for them. He seems to have entirely abandoned going for Echo Sabre, which he picked up in four out of five of his pre-DAC Monkey King games.

Monkey King was by far the show stealer for Boboka at DAC, but he also impressed on a few other heroes when the need arose. He played 9 unique heroes (including MK) in the event, though every hero besides Earth Spirit and Riki were picked just once.



Boboka's heroes at DAC. Source: datdota



While his Earth Spirit is an all-purpose strong choice that iG rely on frequently, Boboka's Riki is another story. He hasn't lost a single one of the last ten games he's played it in, with his last Riki loss five months ago in The Summit 6 Chinese qualifiers.

It seems like iG prefer to hold onto the Riki as more of a secret weapon (a pocket Riki, if you will) which they can rely on when they really need a win. Before its two appearances in the DAC Grand Final, Boboka's Riki was last seen in The Manila Masters Chinese qualifier finals, in which iG picked it twice against
PSG.LGD, helping them to win the series 3-1 and qualify for the LAN event.

Another great thing about Boboka that doesn't have much to do with his skill, but endears him to us all the same, are his occasional clowny plays. In a match against iG.V, his team was quite far behind and forced to defend their high ground against enemy attacks. Boboka found a very sneaky way to hide in plain sight while waiting for the next fight to break out…



There was even room for a bit of fun in the Grand Final match against OG. iG were in complete control of Game 2 and Boboka opted to go for an unorthodox item build. Sure, the auras might not stack, but the cost effectiveness of Aquila's stats for the low price of 985 gold can't be denied.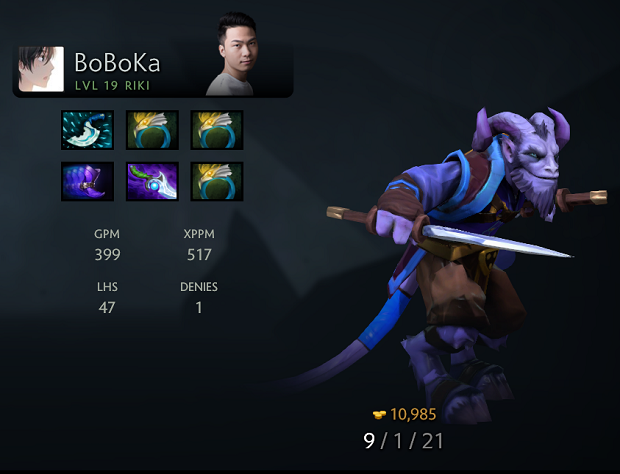 It seems that a new Chinese star has been born with this iG DAC victory. Boboka may only be the secondary B-God on his team, but with iG's newfound success it feels like the start of a brand new legacy.

Pocket Riki source: chroneco on Deviantart