The qualifier of The Defense 3 starts tonight with the first four rounds. Find all important information about format, schedule and organisation right here.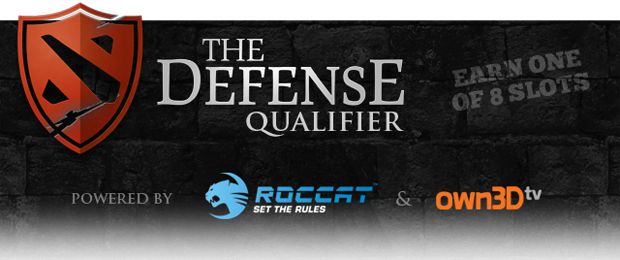 8 slots for the third season of
The Defense
, sponsored by
ROCCAT
and
own3D.tv
, are up for grabs. To really ensure that the 8 best teams get through, we use a complicated but reasonable and fair qualifying format. For better understanding, we explain the system in detail below.
Competition Format
The qualifier will last three days, each from 19:00 until ~24:00 CET.
November 26th: 515 teams, Single Elimination Stage
November 27th: Top 32, Double Elimination Stage
November 28th: Top 12, Triple Elimination Stage
The top 4 from the upper bracket advances (those 4 teams are already done at Tuesday night). 2 teams from the middle bracket and 2 from the lower bracket will follow. That means:If you win ALL matches on Monday, you proceed to TuesdayIf you lose ONE match on Monday, you are outIf you win ALL matches on Tuesday, you are qualifiedIf you lose ONE match on Tuesday, you proceed to WednesdayIf you lose TWO matches on Tuesday, you are outIf you win ALL matches on Wednesday, you are qualifiedIf you lose ONE match on Wednesday, you are still qualifiedIf you lose TWO matches on Wednesday, you are out
The Schedule
UB = Upperbracket, MB = Middlebracket, LB = Lowerbracket
[nobr]Monday:
19:15 - UB Top 512