MiseRy and SyndeReN opened up on a Danish podcast about how the Dota 2 scene is struggling to handle the huge sums of money.

Lars Esmarch (

Twitter

) is the host of the Danish podcast

Gamers



MiseRy and SyndereN open up on national radio show
DC's Misery and NiP's Synderen appeared on a podcast by DR, which is Denmark's national broadcasting corporation, the Danish equivalent of the BBC. The podcast which launched recently structures each episode around a theme and is hosted by Dota 2 fan and joinDOTA reader Lars Esmarch.

Last night's episode was focused around Money in eSports and both of the players appearing on the podcast shared their thoughts on how the scene is still lagging behind. The host Mr Esmarch was kind enough to provide joinDOTA with the English translation of some of the key points raised by the duo.

The overlaying vibe from both players was that there are major issues in dealing with the amounts of money flying around in the scene and that is still a steep learning curve for both players, management and tournament organisers.

The first guest on the show was MiseRy, who as the public is aware was owed $182,000 by Team Secret at one point in time after being kicked from the team for the second time.

"With Secret, I had won more money than ever before and had been kicked off the team. And after that things went south for the organization, so this time, it was important for me to get the money," said Misery on the podcast last night.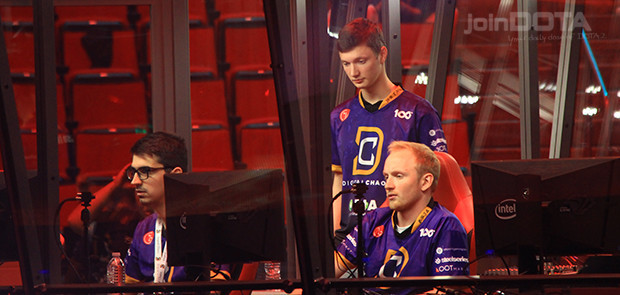 "It was a difficult time, because I had just become captain of DC and there was a lot of stuff to work on. And then there was the hassle with talking to Kemal (owner of Secret) about the money. I had to write them 5 to 10 times before getting my lawyer involved. And every time they said the money would come soon, but it didn't."

MiseRy: "I felt like I was being made a fool of"
"It became a matter of principle for me. I was never worried that I wouldn't get paid at some point, it just became infuriating to deal with. I felt like I was being made a fool of. They kept saying the money would come when it didn't and it became a joke. But as soon as Envy wrote his blog, we got paid."

"Even with the million-dollar prize Majors, this is a problem. I haven't received any money from the Boston Major yet. And I have no idea whether it's my organization that hasn't been adamant enough or whether it's the tournament that hasn't paid out the money. I don't know, I never know, and I don't know who knows. It's a lot of money, but where the money goes before I get it is one big question to me".

Update: Since the translation of this interview was published MiseRy posted that he HAS been paid for the Boston Major on Twitter despite clearly saying the opposite on the podcast.


Oh my, didnt expect my danish radio part to be translated and made a big deal of.. okay then!

— Rasmus Filipsen (@MiSeRyDOTA) 23 March 2017



According to MiseRy despite the prize pool for Dota 2 tournaments increasing immensely, the structure for dealing with the huge sums of money has not improved.

"The money has increased, but there haven't been many other changes. It's the same people that run the tournaments, it's the same people who run the organizations that handle the money. They haven't really evolved and many of the organizations haven't hired people who can deal with these kind of problems," said MiseRy.

SyndereN: "Many players are probably caught up in the 'old ways' of thinking"
SyndereN on the other hand pointed out that it is not just the tournaments that have yet to adjust to the increase in prize pool but also the players.

"It's much like I had anticipated. I have been involved in the scene for many years and thus have heard these stories. What's important to me is the fact that MiSeRy was eventually paid. Some years ago, there were tournaments that were organized with the purpose of scamming people. Downright criminal stuff. And we don't have that anymore."

"I think stuff like this is a big problem, but the way MiSeRy presents it fits well with how I think the general player mentality is. It's important to remember that some players have been in the game for years and the huge rise in prize money has happened so quickly, and many players are probably caught up in the 'old ways' of thinking."

"If you asked the players, a majority of them would probably not say that they are happy with the status quo and that we don't need a player's organization or anything like that."




"The exponential growth in prize money hasn't really been matched by an improved structure within the organizations that handle that money. We're playing catchup when it comes to developing the needed structures."

"It's only getting better, though, and I haven't seen anything but progress the last few years. If we continue to see the same growth in prize money, then the structural improvement will catch up. From where I stand, the players are starting to become much more professional about their sport and are realizing that this might be hugely influential in their life going forward. So the improvements will come."

Misery: "Us players, we don't know anything about contracts and lawyers and such. We just play Dota."
On the topic of player contracts host Lars Esmarch was left in disbelief that there are still players competing for thousands of dollars without a contract, and he asked MiseRy to explain how this could happen.

"It IS completely crazy. What happened was: I was playing with Puppey, who is one of the most respected captains in the game. I wanted to play with him, just like everyone else did. I trusted him. He said the contracts were on the way. He said a lot of good stuff and I trusted him because everything felt fine. They didn't come, but we were doing good and playing well," said MiseRy.

"Us players, we don't know anything about contracts and lawyers and such. We just play Dota. It's hasn't really been something that's been focused until maybe a couple of years ago. It's not our primary concern – we think about winning."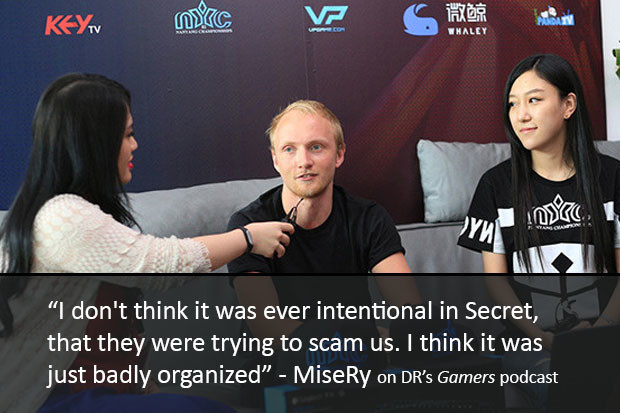 Image from Nanyang Championships



"It's people like Kemal – or whomever is at the top – that are supposed to be on top of these kinds of things. And at that time, we trusted him because he was talking like he knew what he was doing. Like there was a plan with everything. I never thought he wouldn't be in control."

"These things – with contracts and lawyers and such - aren't easy to figure out if you don't have any experience with it at all. We focus on playing and winning tournaments. I don't think it was ever intentional in Secret, that they were trying to scam us. I think it was just badly organized and that there was a lack of knowledge about how to run things in general. Broadly, I don't think teams and organizations have the required structure to deal with these things. It's very unstable."

"For many pros, these things just don't interest them. Many of us have enough to get by and do very well. On my team, I often ask my teammates if they have received payments from this or that tournament, and they just reply 'I dunno'. And 'I dunno' probably often means 'I haven't checked my account in months."

The duos honest account of the situation in the Dota 2 scene right now does highlight a gaping hole in the infrastructure but let's hope SyndereN is right when he said we are moving in the right direction.


Lars Esmarch (Twitter) is the host of the Danish Gamers podcast series along with other shows on DR. You can follow the series via the DR website.