After missing out on The Boston Major and needing to prove themselves with newcomer GH on the roster, Team Liquid finally have a tournament championship under their belts with a 3-1 win over VG.J in the StarSeries Season 3 Grand Final.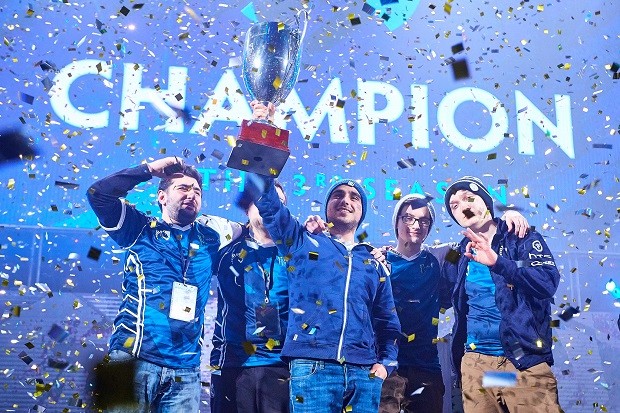 Image Credit: StarLadder via Flickr



Both teams took to the stage with style to start the series, and it's hard to say which team looked best as they prepared to clash.

When you about to go in on TL pic.twitter.com/S4cWvqTt2k— Conrad Janzen (@ConradJanzen) February 26, 2017


When you about to go in on VG.J pic.twitter.com/SPzIp9bUmt— Conrad Janzen (@ConradJanzen) February 26, 2017


VGJ.Thunder were on fire going into this Grand Final series. After their impressive win against OG, the battle hardened Chinese squad looked ready to take on anyone. In Game 1 at least, they played like it too.

Game 1


This was by far the most action-packed game of the series, but VG.J had control for the majority of the game thanks to the classic support duo of
Xu 'Fy' Linsen's Rubick and
Lu 'Fenrir' Chao's Bounty Hunter. The track kill bounties ensured VG.J kept up a healthy lead, as well as a punishing vision advantage in team fights.

Game 2



Team Liquid struck back hard in Game 2, a stomp reminiscent of the TI4 Grand Finals thanks to an incredibly early 24 minute GG call by VG.J, realizing that a comeback was near impossible against the team fight of Liquid's draft.

Game 3


Liquid's heroes in Game 3 could almost be called a "global strat" if not for the Lion pick. Io had Relocate, Ember could use Boots of Travel and Remnants to be anywhere and everywhere at a moment's notice, Beastmaster could Boots of Travel onto his own Hawk and Morphling could send a Replicate Illusion across the map.

VG.J had drafted plenty of team fight this time around, but could never find anyone to fight. They were outmaneuvered at every turn, and Liquid's impeccable control of the game gave them a win after 48 minutes and just 16 kills (seven of which were after the 44 minute mark). You can't fight what you can't catch.

If I am right, we have almost 3 million people on Chinese broadcast and it is a new record here (on a single Dota 2 channel). pic.twitter.com/n8uoiVa8ad— Vladislav Udovenko (@v_udovenko) February 26, 2017During Game 3, the event had over 3 million viewers on the Chinese stream alone

Game 4


By Game 4, Team Liquid seemed to have VG.J completely figured out, last picking Anti-Mage to completely counter VG.J's risky first phase Storm Spirit. Comfort heroes weren't enough to turn things around for the Chinese squad and Team Liquid were able to seal the deal with minimal slip-ups.


Liu 'Freeze' Chang's inexperience at LANs seemed to show in this game in particular, as he would often make long range jumps into fights, only to find himself low on mana and face to face with a very farmed Anti-Mage. While the young midlaner had been quite impressive in many other games at this event, he really struggled in this final game.

Team Liquid, on the other hand, look poised to take their place as a LAN favourite going forward. Their teamwork and coordination in this event was stellar, and if they don't recieve a direct invite to The Kiev Major after this performance it's going to be a shock.

Even coming into this event, Team Liquid looked good. Since the start of the StarSeries qualifiers, Team Liquid hadn't lost a series (though they tied in three of the round robin matches). Their next event will be DAC 2017, which they qualified for prior to this event. VG.J will be there as well, likely hungry for revenge.