As the Kiev Major qualifiers approach, EHOME have added LaNm back to their active roster after his brief stint as coach. Change for EHOME Dota 2 (Facebook link): https://t.co/9Xa8DXXNKS— EHOME (@EHOMECN) February 9, 2017

EHOME have been struggling in the new year, especially most recently in the DAC Chinese qualifier. They came dead last in the round robin stage, losing every match but one, which was a tie against Newbee Boss.

Their results in the StarLadder i-League StarSeries Season 3 qualifier before that might appear to be much better, but their group was mostly full of unknown players, and they were eliminated immediately in the first round of the playoff stage when iG Vitality beat them 2-0.


Zhi Cheng 'LaNm' Zhang will be replacing
Luo 'Xi' Yinqi, who joined the team in the post-Boston Major shuffle in January. He had been playing for
Keen Gaming since August 2016 but is by no means a new player to the scene. He is most well known for his time on iG, with whom he competed in TI4 and TI5, as well as the first DAC.

LaNm was listed on EHOME's roster announcement in January as a substitute, but he was not registered on Valve's official Major registration site, so the team will be forced to play in the Kiev Major Open qualifier.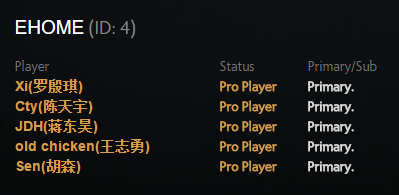 EHOME's roster is now:


Chen 'Cty' Tianyu

Wang 'Old chicken' Zhiyong

Hu 'Guvara' Sen

Zhi Cheng 'LaNm' Zhang

Jiang 'Jdh' Donghao