Rather remarkably Digital Chaos will be playing Virtus Pro for the first time ever in their history tomorrow in the semi-finals of ESL One Genting. (@ESLDota2)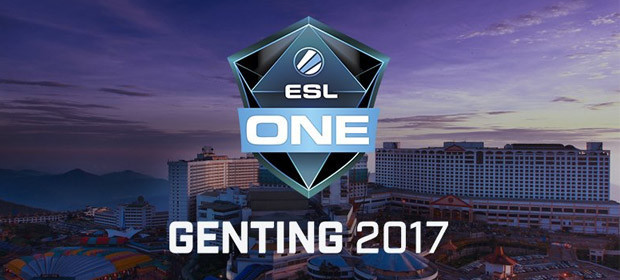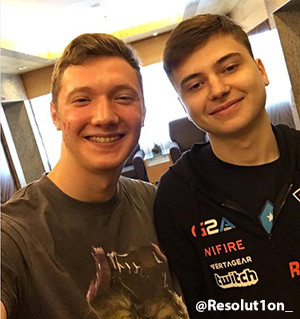 Reso vs Ramzes in semi-finals

A historic encounter between two top sidesDigital Chaos and Virtus Pro have never played each other before in Captain's Mode - although they have played in Captain's Draft - and with both teams looking sharp this should be a screamer of a match.


Planet Odd* are fresh off a 2-1 victory over
Team Random* which put them on top of Group A while
Virtus.pro placed second in group B, recovering from a 2-1 defeat to
Newbee to knock out
Team NP to progress to the final 4.

ESL One Genting is the first Major tournament of 2017 and with a $250,000 prizepool it is not to be scoffed at. The playoffs are single elimination which means the winner of this match will play the winner of
Team Random* vs Newbee. Should Digital Chaos progress to the Grand Finals they are looking like a stronger candidate to win the event.

VP's final game against Newbee was one of the biggest margins of victory between two top tier teams in recent history. Newbee ended the third game versus VP after 32 minutes with 34-1 the final scoreline, and a rematch with them would be an unfavourable match-up for the CIS team. What is more VP have not played Wings for an entire year while DC are fresh off a win against them.




The match has added importance as it will pit real life friends DC's
Roman 'Resolut1on' Fominok and VP's
Roman 'RAMZEs' Kushnarev against each other, not to mention putting
Rasmus 'rASmus' Fillipsen up against fellow captain
Aleksey 'Solo' Berezin. Tune in tomorrow morning for the semi-finals and Grand Final.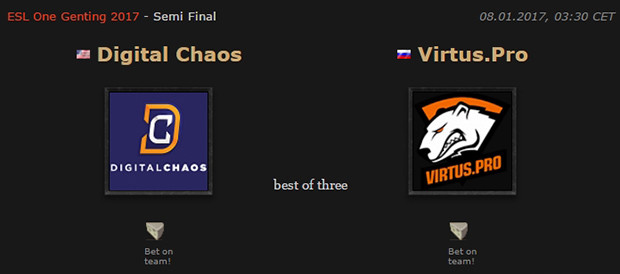 Click above to bet on the match