Keeping track of roster reshuffles can be quite tedious and daunting. Fret not for we have compiled the significant changes in a single post so that you can easily be brought up to speed. January 4th
Following what can only described as a hugely disappointing season for the South East Asian squad,
Fnatic unveiled most of their new roster today. Korean star
Kim 'Febby' Yong-Min will join in the position 4 role, but more notable is
Muhammad 'inYourdreaM' Rizky.

In their announcement, Fnatic described the Indonesian as "Among the most skilled new players on the SEA servers" and given the prodigy their last high MMR discovery-
Yeik Nai 'MidOne' Zheng-turned out to be, we can likely expect great things from Inyourdream over the coming months.

Interestingly enough the roster is not yet complete, with the fifth slot being occupied by SEA legend
Ng 'YamateH' Wei Poong who, at the moment, is just a standin for the upcoming ESL One Genting this weekend. With the tournament finishing on the 9th and the roster lock falling on the same day Fnatic have very little time to cement their final player.

Fnatic

Chai 'Mushi' Yee Fung

Muhammad 'inYourdreaM' Rizky

Chong Xin 'Ohaiyo' Khoo

Kim 'Febby' Yong-Min

Ng 'YamateH' Wei Poong-temporary standin

January 3rd



Chinese veteran player
Zhang 'xiao8' Ning, who has significantly contributed to the growth and development of competitive Dota 2 having played since 2011, retires.

xiao8 has been one of the more prolific players in the Chinese scene, placing 5th-6th with
Invictus Gaming at The International 2011 as well as being part of the champion team
Newbee at The International 2014, days before announcing his retirement.

Nonetheless, he came back to competitive Dota 2 with
Big God 2.0* at the end of 2014 before moving on to play under the
PSG.LGD banner and has continued his journey and raked more achievements to his name, winning i-League Season 3, getting 3rd place at The International 2015 and most recently, placing 5th-8th at the Boston Major.

As of time of writing, there is yet to be any news about his replacement nor news of the fate of his team,
LGD.Forever Young.

ppd returns to the competitive scene with a new team
TI5 champion team captain and CEO of Evil Geniuses,
Peter 'ppd' Dager, is making a comeback to the competitive scene with a new team, WanteD. The team is made up of players from both the Americas scene as well as the SEA scene. In fact, former
compLexity Gaming player
Rasmus 'Chessie' Blomdin, who took a leave of absence citing health reasons, is also part of this new team.




This also means that former teammates
Seon-Yeob 'QO' Kim and
Kim 'DuBu' Duyoung will be meeting on opposite sides of the map as they both join different teams in the Americas region.

Team WanteD

Rasmus 'Chessie' Blomdin

Seon-Yeob 'QO' Kim

Noah 'boris' Minhas

Jio 'Jeyo' Madayag

Peter 'ppd' Dager

January 2nd
GH confirmed as final player for Team Liquid



After a series of disappointing games, BuLba was slowly moved to the back lines and was eventually replaced by a standin
Maroun 'Gh' Merhej. Well, it seems
Team Liquid's search for their final support player has come to a conclusion as GH has been confirmed as a permanent member of the team.

Team Liquid

Lasse 'Matumbaman' Urpalainen

Amer 'Miracle-' Al-Barkawi

Ivan 'MinD_ContRoL' Borislavov

Kuro S. 'KuroKy' Takhasomi

Maroun 'Gh' Merhej

Abed leaves while DJ continues to stay at Execration

Our line up for the Spring Season:
1) 🇵🇭Nando
2) 🇵🇭Gabbi
3) 🇵🇭DJ
4) 🇵🇭Owa
5) 🇵🇭Kim0♔
Heading to Malaysia(ESLOne Genting) Next Week,GL To Us

— Execration (@ExecrationGG) January 2, 2017
Execration was one of the underdog teams that made it to Seattle for TI6 but unfortunately was not able to advance past the Wild Card round. However, they did prove that they are able to play top quality Dota, giving us one of the most memorable of plays of 2016 on
Kim Villafuerte 'Gabbi' Santos's Puck.
Abed 'Abed' Yusop too established himself as one of the best Meepo players in the world. Sadly, he departed from the team.
Djardel 'DJ' Mampusti, on the other hand, decided to continue with the Filipino team.

The team's ex-player
Fernando 'Nando' Mendoza returns back to the ranks and
Joshua 'Owa' Dela Serna fills in the spot of the final support player.

DeMoN teams up with Dubu and BuLba for the new season



Despite being the focus of Valve's True Sight
Jimmy 'DeMoN' Ho's time in Malaysia with Fnatic was not as fruitful as many expected after he joined the team with fellow TNC team-mates
Marc Polo Luis 'Raven' Fausto and
Nico 'Eyyou' Barcelon post top 8 at TI6. He has since returned home and will be playing for Team Onyx, who have registered 4 of their 5 players on the Major Registration Page. One of the other players on Team Onyx roster is
Sam 'Bulba' Sosale, who was slowly fazed out of the Liquid roster after they failed to qualify for the Boston Major.

Team Onyx

Jimmy 'DeMoN' Ho

Kim 'DuBu' Duyoung

Sam 'Bulba' Sosale

Mason 'mason' Venne
TBD


January 1st

EHOME were a direct invite for the Boston Major last month but finished in 13-16th place at the main event. For the coming season they will be making major changes to their roster, as veteran and captain
Zhi Cheng 'LaNm' Zhang departs the active roster along with
Yang 'Eleven' Wei Ren,
Liu 'garder' Xinzhou and
Liu 'Sylar' Jiajun. In fact the only player to survive from the roster who competed in Boston is
Wang 'Old chicken' Zhiyong.

According to EHOME's Facebook post announcing the changes former captain LanM "will likely be moving into coach role", while Old Eleven will be the team's substitute.



Only Old Chicken remains from EHOME's roster from last season



Returning to the organisation is
Chen 'Cty' Tianyu, who had a disappointing 2016 after his decision to leave EHOME for
Vici Gaming did not work out. He left in March last year just after EHOME had won the MDL and finished 9-12th at the Shanghai Major, but sadly had no achievements of note with Vici Gaming, failing to qualify for the Manila Major or TI.

Joining him will be two players from EHOME's youth squad Sen and JDH, as well as
Luo 'Xi' Yinqi who was part of the successful Invictus Gaming roster of 2014-2015. Luo has significant LAN experience having competed at TI3, TI4 and TI5, and comes to the EHOME main squad from their youth team
Keen Gaming.

Players Out:

Zhi Cheng 'LaNm' Zhang

Yang 'Eleven' Wei Ren (becomes sub)

Liu 'garder' Xinzhou

Liu 'Sylar' Jiajun

Players in:

Chen 'Cty' Tianyu

Jiang 'Jdh' Donghao (from EHOME.Keen)

Luo 'Xi' Yinqi (from EHOME.Keen)
Sen (from EHOME.Luminous)


December 31st



The former Team Liquid mid player
Adrian 'Fata' Trinks who decided to take a break from Dota 2 post-TI6 is back with a new team for the coming season and it is quite the mix.

Korean player
Sang-Don 'FoREv' Lee who moved back to MVP Phoenix for the Boston Major after leaving Team Secret will be joining forces with FATA- and the likes of
Yazied 'YapzOr' Jaradat and
Adam Erwann 'Adam' Shah.

The only unknown factor to the public at large is Feero, who is another high MMR player to come out of Jordan, currently sitting at 8200 MMR on the leaderboards. The team name of this squad is currently unknown, which makes it probable they will be playing under an organisation's banner.


December 27th
In a press release earlier today,
Natus Vincere finally announced their new team for the upcoming season.




Meet the new players:

Per Anders 'Pajkatt' Olsson L.. A well known veteran, he has been competing since the Dota allstars days, attended 4 The Internationals and played for revered teams such as Evil Geniuses and Alliance. He is a versatile and experienced player, who will also be picking up the role of captain in the team. Most recently he has been coach for Digital Chaos during Ti6, where they got a 2nd place under his wing.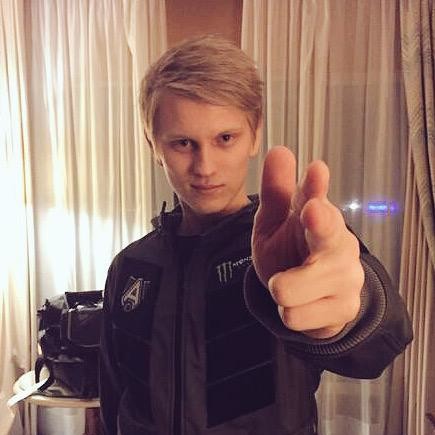 Roman 'rmN' Paley has been playing for a few years already with mild success, playing for teams such as Power Rangers and Fantastic Five most recently. Rmn- will be playing the #4 role in the team.

The biggest surprise in the lineup is danish youngblood and support player
Malthe 'Biver' Winther. Most recently he used to play for ProDota finishing 4th at WCA.

Natus Vincere's director of esports, Yevgeniy "HarisPilton" Zolotarov:


Regarding the fifth support, unlike Roman and Per, Malthe doesn't have that much experience. Nonetheless, he's open and positive person as well as a reliable player with great micro control. We have no doubts he'll be a great teammate both in game and in day-to-day life.

Their first bootcamp as a team will be held in Kiev, where they will also announce their tournament schedule, so stay tuned when you can see the new team in action for the first time!