The Boston Major came to a crescendo when the wild and wonderful Ad Finem took on defending champions OG in the Grand Finals. A winner was crowned but for almost everyone, only game 3 mattered.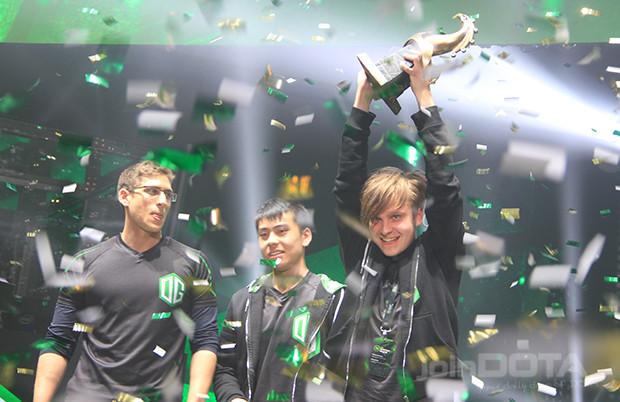 Jerax was the MVP in the Grand Finals, claiming his first Major after finishing runner-up in Manila



OG became TRIPLE Dota 2 Major winners this evening inside a full house at the Wang Theatre in Boston. The reigning champions looked the dominant force in the first two games, which led to worries it may be a straight 3-0. However, Ad Finem pumped up by the crowd did not surrender and were involved in one of the greatest games of 2016.


--------- WATCH THIS VIDEO (for real) --------------


After all the hype around Ad Finem through their run in the playoffs they were put in their place by Double Major winners OG in the Grand Finals of the Boston Major. Although Ad Finem had eliminated 3 teams in the playoffs none of them were European, the region they frequently scrim with, they were out of their depths... until.. Game THREE, When the world of Dota exploded witnessing one of the BEST GAMES OF DOTA 2 EVER.

"What an absolute fucking treat." @MyNameIsMachine #BostonMajor pic.twitter.com/bsHGwjnRNy— Matthew Bailey (@Cyborgmatt) 11 December 2016


Credit to
Jesse 'JerAx' Vainikka for being god tier in the series and
Gustav 's4' Magnusson's Slardar in Game 2 was a big highlight for the fans and the panel. However, the Grand Finals did not start until game 3. An epic rollercoaster that had the PGL cameraman dancing between the booths trying to work out who the hell was going to win the game. The match had it all, and the entire Wang Theatre were literally on their feet. 114 kills in 80 minutes.





The series continued while the audience and viewers at home were still recovering from the excitement of game 3. OG closed the series 3-1 and they deserved it without question, but the highlight of the Grand Final will inevitably be game 3, which proved just why eSports is such a brilliant phenomenon.

1.
OG
2.
Ad Finem
3-4th:

Planet Odd*
Evil Geniuses
5-8th:

Virtus.pro
WarriorsGaming.Unity
Team NP
LGD.Forever Young
9-16th:

iG.Vitality
Team Random*
compLexity Gaming
MVP Phoenix*
Team Faceless*
EHOME
Newbee
PSG.LGD