There were plenty of kills in the Grand Finals of the Summit 6, but unfortunately for viewers hoping for it to go the full 5 games, they mostly fell to the same team. The EG roster who were responsible for the couch cast for game 2 and 3 of the Grand Finals between Virtus Pro and OG tried their best to be optimistic, but it was clearly evident OG were being outplayed by a far superior opponent on the night. "VP just played better than anyone at this tournament," said EG's zai, who was was the host for the couch. The EG boys provided an entertaining cast, one highlight of which can be found below.



Summit 6 Final Standings
1.
Virtus.pro - $42,500
2.
OG - $22,500
3.
Evil Geniuses - $13,000
4.
Team Random* - $10,000

VP win by a mile in Grand Finals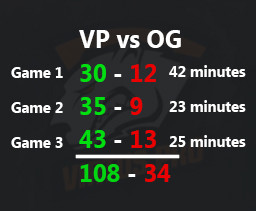 In the series which was a straight 3-0 victory for Virtus Pro, OG's most positive period was the start of game 1, when they managed to beat VP at their own game, early aggression.

OG took two early towers but the Luna Shadow Demon combination of VP came through in the end after the CIS team soaked up the hits to turn the tables on OG in the late game.

Casting Disruption on their carry Luna allowed for 2 more illusions with Glaive bounce, the primary reason why the combinaton is so potent. As a result Shadow Demon was OG's second ban in the next game.



In Game 2 and 3 OG fell behind early and tried desperately to cling on, but the gap between the two team's performances was considerable. In game 2 VP were up 11-1 after just 6 minutes but fortunately for OG the networth charts were not so bad.


Johan 'BigDaddyN0tail' Sundstein's Drow Ranger never got going and infact was just 4th in terms of damage output for his team by the end of the game despite it being a position 1 hero. "It's depressing," said caster Arteezy. "He's like killing 2 creeps a minute."



OG did not have a plan B, the Wisp/Sand King duo for VP made any split push impossible. There only hope was a high ground defence with
Jesse 'JerAx' Vainikka's Pudge responsible for hooking in the victims. It was a valiant effort but a futile one as
Pavel '9pasha' Khvastunov just BurrowStriked in whenever OG gathered to take out Jerax's victim, setting up Ramzes Lifestealer with easy prey. It was a painful game to watch for OG fans and the grins on VP players' faces as they came out said it all.



The final game was the most one-sided of them all, and it featured the Solo Disruptor plus Ramzes Lifestealer combo once again. The pair wrecked havoc with those two heroes in game 1 against
Team Random* earlier in the tournament, who unlike EHOME, did not first ban Lifestealer when they encountered the CIS team in the playoffs.

By just 18 minutes OG were 30-10 down, which was caused according to EG captain and former OG player
Andreas 'Cr1t-' Nielsen by their overzealous aggression.
Ilya 'Lil' Ilyuk's Enchantress did a good job of calming down the bot lane with pulls and creeps, making the tri lane of Fly's Treant Protector, N0tail's Chaos Knight and Jerax's Wisp bot lane incredibly ineffective. Dives past the tower to try to change the course of the game triggered a reaction from Solo and Ramzes who much like in their game against Wings, were content to make big moves around the map to secure early kills.


Anathan 'ana' Pham's Templar Assassin was a non-factor, which according to Arteezy was down to his build which involved maxing her E Meld, at the price of losing out on damage and making her unable to go for ancients to catch up. Virtus Pro were simply on another level in the Grand Finals, as they have been throughout the tournament. "VP are ahead of other teams since they played the qualifier," said Crit. "They have trust each other, there's no doubt."




The 3-0 victory crowned Virtus Pro the Summit 6 champions, the first time the organisation has ever won the event. They went undefeated throughout the double elimination playoffs, and will head into the Boston Major as one of the favourites considering their phenomenal start to the season.