Arteezy won MDL for the second time following a magnificent 3-1 victory for Evil Geniuses against Newbee in Xiamen, China. It is the new roster's first event playing together but they already looked like the finished product.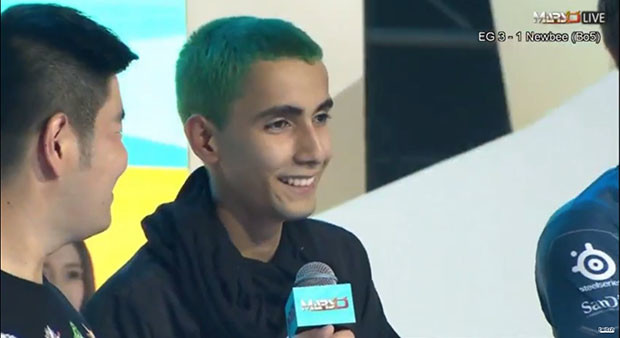 SumaiL after EG's 3-1 victory over Newbee in the MDL 2016
Evil Geniuses are crowned MDL 2016 champs are finishing runners-up at the previous MDL in January



The MDL 2016 ended with a bo5 Grand Finals between Newbee and Evil Geniuses, two teams that had met earlier in the WB Finals. Their previous encounter will most likely be remembered for the "GODLY" Sccc Invoker plays in game 2, but fortunately for Dota 2 fans the Grand Finals were not so completely one-sided.

The MDL 2016 was the first event of the new competitive season, and the new EG is already looking formidable despite only six official matches under their belt as a team. Newbee also demonstrated they might even be better off with their new additions uuu9, sccc and Faith, after losing three veterans (Hao, Chuan and Mu) to inactivity during the reshuffle. The Grand Finals ended in a convincing 3-1 victory for the new Evil Geniuses' roster.

Final Standings
1.
Evil Geniuses - $112,500
2.
Newbee - $50,000
3.
OG - $31,250
4.
Team Secret - $18,750
5-6.
Vici Gaming - $12,500
5-6.
LGD.Forever Young - $12,500
7-8.
iG.Vitality - $6,250
7-8.
MVP Phoenix* - $6,250

A hard-fought victory after three failed highground pushes
Evil Geniuses should have ended the first game when they pushed high ground at 25 minutes, but Newbee clung on. The NA team was in the driving seat for the first 20-25 minutes of the game, and both of Newbee's attempted smokes were sussed out thanks to the use of the team ability Scan.

From 16-18 minutes Evil Geniuses demolished Newbee's tier 1 top along with tier 1 and 2 bottom, which led to what looked like the final push of the game. EG had three high ground attempts back-to-back but they just could not get the killing blow on the Newbee's cores despite the right click damage of
Sumail 'SumaiL' Syed Hassan's Mirana and
Artour 'Arteezy' Babaev's Drow, primarily thanks to
Zeng 'Faith' Hongda's Disruptions and
Xu 'Moogy' Han careful use of Eclipse.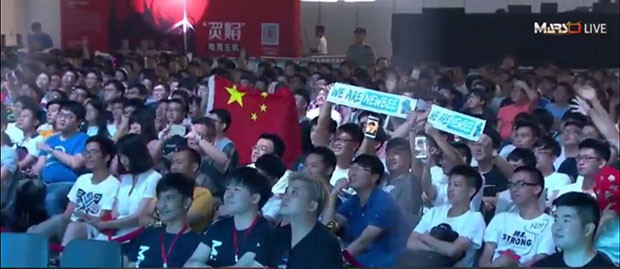 From 25 to 50 minutes Newbee took control of the map, and the 1 melee + 4 ranged line-up of EviL Geniuses began to heavily rely on
Saahil 'Universe' Arora's Chronospheres, which during the mid-game were uncharacteristically "below-par" according to co-commentator Draskyl.

However, at 55 minutes a very nice smoke by Evil Geniuses from their base all the way to Newbee's top lane allowed them to snipe the remaining top rax, and then engage Newbee for the final battle of the match.

Universe came out with a class Chronosphere when it mattered and caught three of Newbee, allowing
Ludwig 'zai' Wåhlberg's Warlock to use Chaotic Offering on top followed by Upheaval and Fatal Bonds to ensure none of Newbee's trapped heroes survived. A tough game for both team's offlaners but ultimately Evil Geniuses rode the storm and remained composed to close the series, albeit almost after an hour of play.

Cr1t's Omniknight a class act in game 2

In game 2 Evil Geniuses were far more clinical, and Omniknight made his third appearance for the team this MDL. This time the support hero was played by captain
Andreas 'Cr1t-' Nielsen, and Repel on
Sumail 'SumaiL' Syed Hassan's Storm Spirit and
Artour 'Arteezy' Babaev's Ursa was invaluable to deal with the support combo of
Hu 'Kaka' Liangzhi Witch Doctor and
Zeng 'Faith' Hongda's Oracle.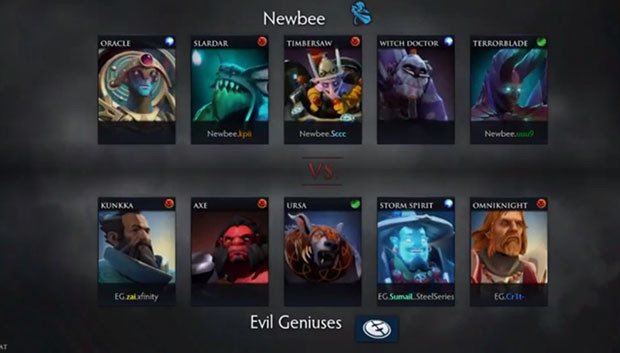 Song 'Sccc' Chun's Timbersaw mid picked up steam from 20 minutes and peaked at 30 minutes, but the armour reduction from Desolator on Arteezy's Ursa allowed EG to take them down swiftly, and Faith's short life expectancy in fights as Oracle meant he was not around to keep Sccc alive.

The 39 minute second game was never out of EG's hands, who did not give Newbee the window of opportunity to strike back as they did in game 1. SumaiL ended with 10-1-12 on Storm Spirit but
Ludwig 'zai' Wåhlberg's support Kunkka stood out. Involved in 17 of EG's 28 kills, zai's Torrents were critical to deal with Terror Blade and his X Marks the Spot limited Newbee's ability to chase down his low-hp team-mates.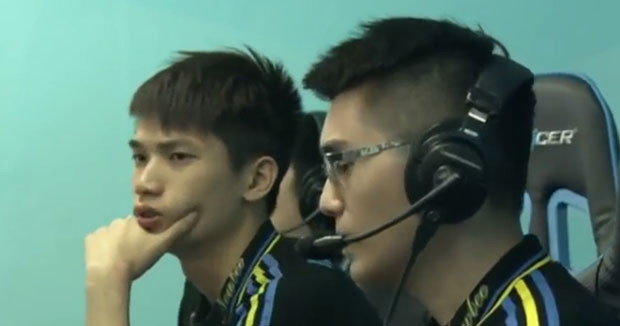 Kaka and Sccc in the draft for game 3



kPhoenii's Double Ravages crush Evil Geniuses hopes of survival in Game 3
The double Ravage potential of
Damien 'kpii' Chok's Tidehunter defined the third game, as Newbee had their strongest showing the Grand Final series. Evil Geniuses brought out the Arteezy Drow for the second time in the series, but the supporting EG cast in game 3 of Puck, Vengeful Spirit and Warlock, were too frail once stunned against the lethal right click of
Xu 'Moogy' Han's Luna.

Not investing in BKBs proved costly and after being unable to control the game early on, EG's draft was easy pickings for the Newbee line-up, and Kaka's Bounty Hunter ensured Newbee profited off their kills. Excellent play by Newbee in game 3 to capitalise on a slightly shaky Evil Geniuses.

Evil Geniuses finish in the style to take 3-1 victory
In the game that closed the series Evil Geniuses' draft just snowballed out of control, and it really only looked like there would be one winner after 15 minutes. Cr1t even had the opportunity to bring out a classic, Winter Wyvern. The raw damage of Universe's Axe and Arteezy's Sven supported brilliantly by Zai's Wisp was more than Newbee could handle. The Slardar pick for Newbee did not work out,
Xu 'Moogy' Han's Lifestealer could not farm safely and
Zeng 'Faith' Hongda's Silencer's Global Silence was ineffective to stop EG's charge.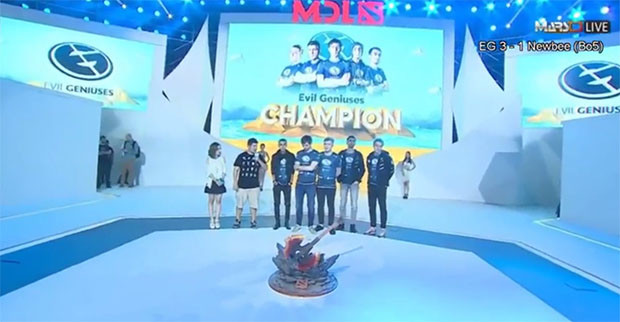 Game 4 was Evil Geniuses best game of the series, and secured them their first LAN victory with their new roster. After an extremely brief on stage interview with SumaiL, Cr1t ushered Arteezy to lift the MDL BattleFury trophy,his second time winning the MDL event. If the rest of this reshuffle period is as good as the MDL, we're in for a real treat.