KeyTV will host a Dota 2 tournament live from the deck of a Cruise Ship next month, and TI6 champions Wings have already accepted their direct invite. We spoke to KeyTV's Tournament Director Wang "PsyDuck" Zilin about their new project.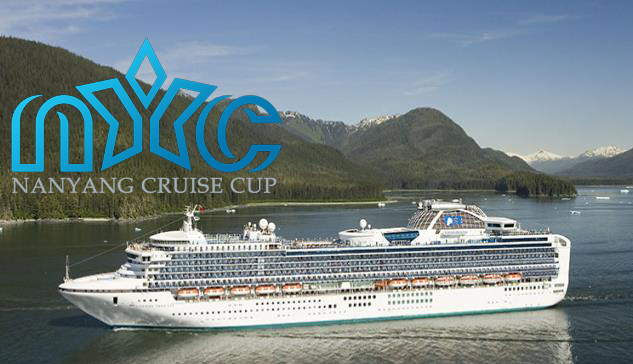 KeyTV aiming to make a tournament to remember
The idea of hosting a Dota 2 tournament on a ship may seem a bit mad, but there was some solid reasoning behind it according to Tournament Director Wang Zilin, who spoke to us about the launch of KeyTV's new product.

"In China there are many tournaments now, but tournaments are almost the same, only a few can be remembered," said Wang Zilin, Tournament Director for the Cruise Cup. "We wanted to do something new and bring the audience a new experience.

"Another reason is a LAN on a boat can combine tourism and competition perfectly. Players don't have to waste time on flights, they can play games and travel on a boat at the same time. When we arrive Fukuoka (Japan) and Jeju (South Korea), players can get off the cruise ship and enjoy their time there."

"The idea was our own. Cruises are not very popular among young people, no internet on the high seas, slow pace of life etc. We decided if we could solve the internet problem, and add some activities that young people like, the cruise journey will be interesting.

"As far as I know there have been some attempts to use a satellite for an online stream, but no one has ever tried to host an Esports tournament and Esports Festival on a Cruise ship before."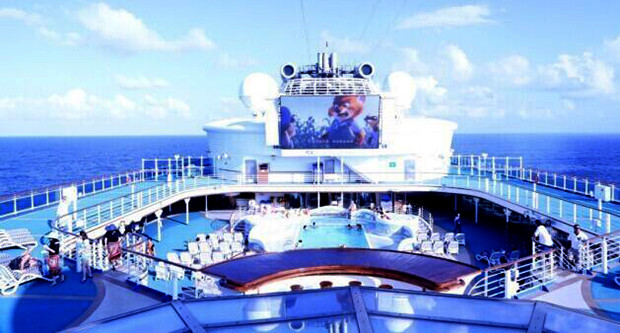 The Dota2 tournament will be held on the 14th Floor Deck usually used for movie showings



KeyTV will rent a satellite to support the online stream
The event will be held aboard the Sapphire Princess, which has a guest capacity of 2,678 in the lower decks. A crew of 1,100 man the vessel, and the ship is one of 18 owned by Princess Cruises. The ship boasts a nightclub, a casino, an indoor and outdoor swimming pool as well as several restaurants.

Players and teams will board on the 13th October at Shanghai and return four days later. For the first Cruise Cup only Chinese teams will participate, although Wang Zilin said KeyTV do plan to expand for the new event in 2017. The qualifiers for the Cruise Cup have already begun, but both TI6 champions
Team Random* as well as
Newbee accepted a direct invite.

The problem of internet on the seas was the tournament's biggest hurdle, and although the ship does stop in Japan and South Korea, all of the matches are to be played aboard the ship.

"We needed to make sure the satellite signal can support our online stream (PandaTV)and DOTA2 ping at same time," said Wang Zilin. "So we rented a satellite to support our online stream and rewired the whole ship to support our equipment. After completing rigorous testing with help from our partner Sapphire Princess on the Cruise ship earlier this month, we are confident to hold a tournament on it."




Wang Zilin stressed that the Cruise Cup is not Nanyang Championships Season 3, but a brand new start. Season 1 of the Nanyang Championships took place in Singapore while the second was held in China but was a far more low-key than its predecessor. The Cruise Cup Tournament Director is hoping that the Cruise Cup will allow more opportunies for fan interaction with the players on board.

"At the Nanyang Championships fans need to queue up or wait far from the stage to meet their favorite players," explained Wang Zilin. "However at the Cruise Cup, you will have more chance to meet them face to face. During the event, not only can you watch the matches lying on the deck chairs, but also you can watch anywhere on the cruise ship including your cabin, cruise bar or cruise dining room."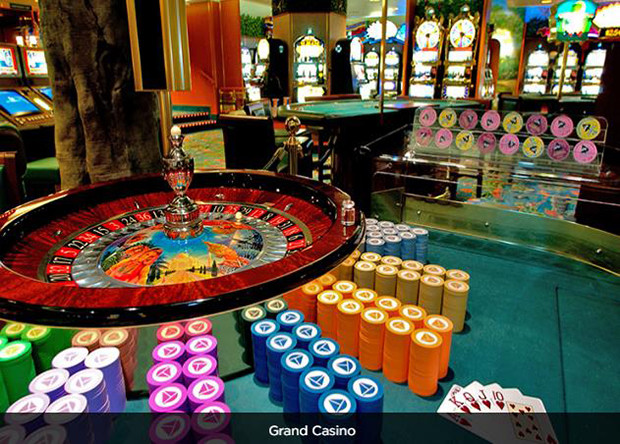 KeyTV will also be holding a Poker tournament on board the Sapphire Princess



Tickets for the Cruise Cup will go on sale through KeyTV, and the Chinese company will also organise organise fan meet-ups for those on board. Although it seems they have perhaps missed a beat by not having players compete on land during their stops to Japan and South Korea, the event could be a refreshing change from the stereotypical Chinese LAN.

Tournament Structure: How will the Cruise Cup work?
The Cruise Cup will feature four teams, two direct invites (Newbee and Wings) along with two teams from the Chinese qualifiers. As mentioned earlier the event is for Chinese teams only, and will be streamed online on PandaTV, the same streaming platform used by Team Secret last season. The format is a double elimination bo3 playoffs. All matches will be played while at sea.

The prizepool of ¥300,000 Rmb is relatively small, and works out to approximately $49,000. However, with a Casino, swimming pool and a night club, not to mention a trip to South Korea and Japan, that shouldn't really kill the hype for those aboard the Sapphire Princess.

Participating teams

Team Random*
Newbee
Qualifier winner #1
Qualifier winner #2

What are your thoughts on the Cruise Cup concept?