Canada will be home to the Northern Arena BEAT Invitational in mid-November, a brand new $100,000 tournament which will be organised by the same group that hosted the Canada Cup series.


The end of Canada Cup but the start of BEAT International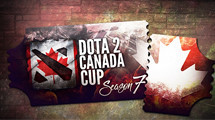 Season 7 was the last Canada Cup

We've been avid supporters of the Canada Cup over the years here on joinDOTA, in fact we've written about all seven seasons of the tournament in the hope of helping the grass roots league grow.

The league was initally founded in the hope of bringing together the Canadian Dota community, and the prizepool for Canada Cup 1 back in 2013 was just $750. However, now the people behind Canada Cup will be moving on to greener pastures.

"Originally, the tournament had no name, but during season 0 our caster, NYJohn, started calling us the Dota 2 Canada Cup. We liked it, so we rolled with it and we found a lot of room to represent Canada," said Anthony "Joker" Truong, one of the organisers.

"We've grown to reach millions of viewers per season, be broadcast in over 6 languages internationally and became a staple of Dota 2 in the Americas region. (...) When we started this journey we couldn't imagine we'd have made it this far. We had a lot of fun with it and we're glad you did as well."

Over the 3 years Canada Cup grew exponentially but now the organisers behind it will be retiring the Canada Cup and partnering up with BEAT Gaming Corp to hold an event of a much larger scale, the Northern Arena BEAT Invitational.

Canadians rejoice, a $100,000 LAN Finals in Montreal commeth!
The BEAT Invitational will be an 8-team event held in Montreal from November 11-13th, the product of the new partnership between the Canadian League of Gamers  and BEAT Gaming Corp. The prizepool of the event will be $100,000, which would make it the largest Dota 2 prizepool ever for a Canadian event. The exact location of the event has to be decided, but Anthony "Joker" Truong of the BEAT team posted on Reddit that it "will most likely have an audience".

Of the eight teams either "one or two" will be from the Open Qualifiers taking place on the 17-18th September, which you can sign up for here. To learn even more about the Northern Arena BEAT Invitational head here.