Evil Geniuses versus EHOME had it ALL. Orgasmic Universe Chronospheres, raging golems, an MVP Sumail Mirana, not to mention the BEST game of the first three days of The International 6. No late-game theatrics needed this time. @EvilGeniuses advances over EHOME. #TI6https://t.co/LZn89GT3zG— Yahoo Esports (@YahooEsports) 11 August 2016


EHOME has been one of the biggest success stories of TI6, winning the Wild Card before going on to top group B and ruthlessly knock Alliance down to the lower-bracket in the main event. Evil Geniuses also had quite the journey to reach this point, going through the Open Qualifiers and Regionals following the return of Universe and Zai. The two finally met in the upper-bracket semi-final earlier this evening, in what will probably prove to be THE game of The International 6.

Wagamama: "One of the best games I've ever seen"
Analyst Wagamama labelled it "one of the best games I've ever seen", and the first game between
Evil Geniuses and
EHOME had it all. There was a total of 87 deaths in the 75 minute game, and despite EHOME being in the lead throughout the game, Evil Geniuses remained fearless and just kept running at EHOME even with Fenrir's 4 flaming Golems roaming around the battle field.

EG had been shutdown in the laning phase superbly well by EHOME, which resulted in an uncontested 13 minute Roshan for the Chinese team. The NA team had been unsuccessful in their attempts to land the Chronosphere and Ice Blast combo, with one fight in particular at 9 minutes going horribly wrong after a misplaced
Peter 'ppd' Dager AA ulti saw EG miss a kill on an escaping hero and the fight became terribly hectic.

Evil Geniuses lost 4 after their formation was completely broken, and only Sumail's Mirana escaped.
Daryl Koh 'iceiceice' Pei Xiang's Timbersaw was the strongest hero on the map and EG had no answer to him at this point in the game.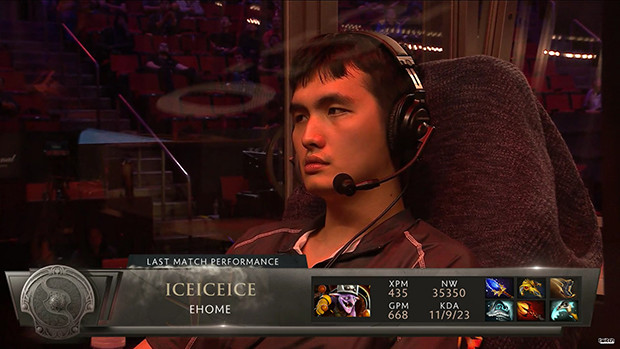 EHOME's iceiceice fearsome Timbersaw helped EHOME reach high ground by 18 minutes



EHOME went high ground at 18 mins, but a god-like Call by Fear's Axe caught 3 of EHOME by the EG's barracks and Mirana got to work quickly at taking their enemies down. It was caused by an over extension by Aegis carrier
Wang 'Old chicken' Zhiyong's Juggernaut and EG had punished them. EHOME lost four heroes in the process and the Aegis. The 10k networth lead EHOME had at 19 mins was reduced to 0 over five minutes of solid play by EG. Game on.

It was back and forth for the next ten minutes. EG tried to improve their vision but EHOME contained them on their side of the map, but with Fenrir forced to waste his Warlock ultimate to save his team-mates, EHOME did not break high ground. From this point on it was a battle of wits between two teams who look very evenly matched.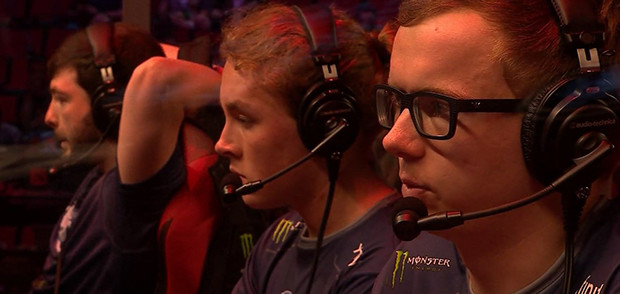 Fear, Zai and PPD from Evil Geniuses during the draft



Zai with the plays, Fear with the calls
At 46 minutes EHOME pushed through into EG's base with two Golems and a terribly lethal Juggernaut and as the fight broke out the TI5 champions looked doomed.
Ludwig 'zai' Wåhlberg however came out with the clutch plays with quick reactions to Disrupt PPD who was the solo victim of Old Chicken's OmniSlash.

The move allowed PPD to get off his Ice Blast and seconds later Zai saved his captain again with a clutch Force Staff on the near-death Ancient Apparition to escape from iceiceice's Timbersaw. All this time invested on trying to kill PPD bought time for SumaiL's Mirana and Fear's Axe to get stuck in and EG came out of the fight with all their cores intact while EHOME fled. Excellent play by Zai who had already impressed on Wisp and Elder Titan in EG's previous series.


Clinton 'Fear' Loomis's Axe could have been MVP for how well he drew enemy fire to setup the Chronosphere and Ice Blast, but the title went to SumaiL for his Mirana. The Aghanim's with the Dagon and Ethereal Blade combination meant SumaiL had an insane damage output. The EG mid player dealt over 76,000 damage in game 1 while the highest damage dealer on EHOME was iceiceice with 37,000.

EG ultimately took the game thanks to the mobility of their heroes and the bravery to go deep. Heroes were being Force Staffed all over the place and the TI5 champs somehow managed to make sense of the madness. A shoutout should be made to
Zhi Cheng 'LaNm' Zhang's support Ogre Magi who was really a core based on the incredible value he added to his team, so much so that PPD drafted the hero for Zai in the following game.





Game 2: Universe-God could 3-man Chrono all day long
If Universe was great in Game 1, he was amazing in game 2. EG's draft for the second game was fairly farm intensive with Medusa and Drow Ranger, but the right click damage of both worked beautifully in unison with Universe's 3-man Chronos and Zai's Fireblasts.

EG's defence of their mid tower for the first 20 minutes on Dire side gave Fear a safety net to farm ancients with Drow, but once the outer towers fell EG had to play a much more careful game, and decided to stick together.

As the game passed the 30 minute mark Sumail's damage output was just too much, and in fight after fight EHOME without the burst damage potential just ended up being kited by EG's two powerful ranged heroes. It was a solid draft by PPD, but Universe is the one who won the game for his team. An amazing performance from the EG offlaner.

Which was your favorite, @UniverseDota? #ChronoCountdown #TI6 pic.twitter.com/ZjIFAoD5s3— Evil Geniuses (@EvilGeniuses) 11 August 2016


Evil Geniuses now are in the top 3 of TI6, and two games away from becoming back-to-back TI titles.





[i]joinDOTA's TI6 coverage is brought to you by ROG, our official partner for the event.

[/i]