Thousands of virtual bets were placed over the five day Summit 5 Betting Challenge, and it's time to announce the ten most profilic betters among you!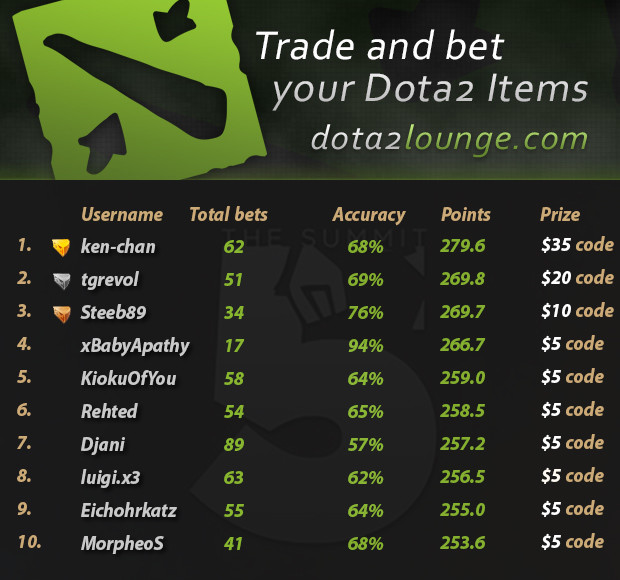 Well played to all who joined the fun, I only managed to place #53rd



A casual competition with serious prizes
In partnership with Dota2Lounge we set you the task of coming out on top of a five-day Betting competition entitled the Summit 5 Betting Challenge. The users who finished in the top 10 at the end of the five days would each receive a prize which they can redeem on the Dota2Lounge website. Users were able to bet on any match that took place during the dates of the Summit 5, however, to really maintain a high score you needed to be able to call the big ones.

Hats off to you if you went all-in on Wings

Team Random* were the eventual winners of the Summit 5 after going undefeated throughout the playoffs, ultimately defeating Manila Major winners OG 3-1 to claim the title. In their first encounter in the WB Finals more than 83% of our users expected OG to win, and that number dropped to just 49% when it came to the Grand Finals. For those lucky few who knew Wings had the potential to beat OG first time round, the rewards were plentiful.

Congratulations to our ten winners!
We'd like to say congratulations to our ten winners, you will all be contacted by the end of the week* via private message here on joinDOTA with details of how to claim your Dota2Lounge codes for you to spend as you see fit. To everyone else we hope you enjoyed this little mini-contest and we hope to hold more in the future.

Not sure how close you were?
If you competed or if you're just finding out about the competition now you can track how well you did by visiting the Leaderboard . Stay tuned for more competitions in the near future.

Did you do as well as you expected?