Wings went from strength to strength in the Grand Finals of the SUmmit 5, coming back from a crushing defeat in game 1 to take the entire series 3-1.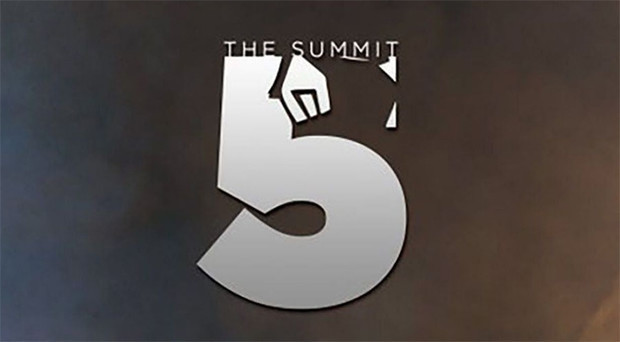 It was
Team Random* who had sent OG to the lower-bracket in their first-ever competitive encounter, but this was the match that truly mattered. It was to be a bo5 for the Summit 5 title and it featured a Warlock (G1), a Storm Spirit (G3), a Huskar (G2, G4) and a good old-fashioned Spirit Breaker (G4).

Summit 5 Final standings
1.
Team Random* - $42,370 (42.5% of prizepool)
2.
OG - $22,437
3.
Team Liquid - $12,966
4.
Natus Vincere - $9,973
5-6.
Fnatic - $3,490
5-6.
Planet Odd* - $3,490
7-8.
Ad Finem - $2,492
7-8.
Friendship, Dedication, Love* - $2,492

Game 1: Wings crumble in game 1
Wings lived up to their reputation of being open to using any hero when they drafted a Warlock in the opening game, but it became soon apparent why the hero has not featured in competitive play. Although
Li 'iceice' Peng amassed enough farm to unleash a mighty golem after reaching level 6 after 3 minutes, the 165 second cooldown on Chaotic Offering meant that he only got to use it twice in the what became a swift victory for OG.


Zhou 'Blink' Yang's Juggernaut became a non-factor as was "shutdown completely" according to Misery whilst analyst Merlini said the hero was "useless" after losing the mid lane. OG were scary, especially with the right click damage of
Johan 'BigDaddyN0tail' Sundstein's Drow Ranger, a hero which Wings brought into the Summit 5 and became ban material in the later games. The Dark Seer and Riki combo for Wings did not ever take off and they simply lacked enough damage to be able to stay in a fight against oG.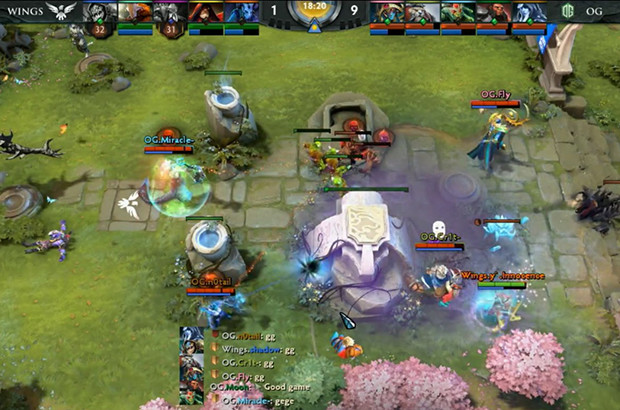 Fast win: OG won the first game after just 18 mins, 9-1 the scoreline in their favour



Fly's decision to last pick Medusa was really the nail in the coffin for Wings' plans, which relied heavily on hoping OG would charge at them so they could land a Vacuum Wall into Chaotic Offering. However, that wombo combo never materalised. OG won after just 18 minutes with the bottom tier 3 tower already falling at 16 mins.

Wings deal with Miracle to win games 2 and 3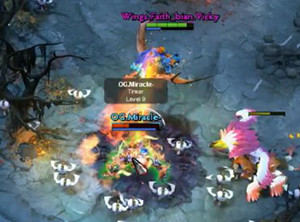 Flaming Lasso and Sunstrike a sick combo

In game 2 and 3
Team Random* dealt with
Amer 'Miracle-' Al-Barkawi perfectly. In the second game
Zhang 'Faith Bian' Ruida Bat Rider gank on Miracle was what turned around the game for them.


The crucial kill came just as Miracle was finishing the farm to buy boots of travel, and the OG player was sitting on 1966 gold when the combination of Flaming Lasso and
Zhou 'Blink' Yang's Sunstrike was used to take him out.

It was a combination Wings used time and time again throughout game 2, and the pivotal kill on Miracle paved the way for Wings to naturally take over the time. The couch was unanimous in agreeing that Faith Bian's Bat Rider was the MVP of the match, although it was
Chu 'Shadow' Zeyu's Huskar that became the unstoppable machine and took the glory.

Post match Team Liquid's Kuroky commented on the couch that OG's draft looked awkward with Undying, Wisp and Tinker, as it put enormous pressure on the team to keep killing their opponents to stay in the game, and that in his mind the draft is 60% of dota and execution is the other 40%.

History repeated itself in the third game when OG once again went with Wisp, but this time chose a Treant Protector instead of Undying. OG had a great early game but with
Chu 'Shadow' Zeyu happily farming awayy bottom lane it was not going to last. Antimage had been Wings' 5th pick, which is uncommon for the Chinese team who normally pick their carry hero first. Antimage was a good pick against all three of OG's cores; Storm Spirit, Faceless Void and Gyrocopter, and late game Shadow was all over oG.

"Things just took their natural course," said Kuroky on the couch. "There was just too much burden on Void with a Treant Protector and a Wisp. This was the most excellent display by Wings, when they go all in you can see the true brilliance of wings gaming that no-one can imitate."

Wings' draft for the 4th game did not convince the couch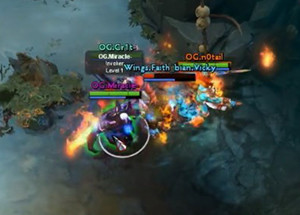 The couch had doubts about Wings' SB

Although now ahead 2-1, Wings' draft in game 4 did not have
Rasmus 'rASmus' Fillipsen or
Lasse 'Matumbaman' Urpalainen convinced, in particular the Spirit Breaker pick.

Ironically Spirit Breaker was in big trouble just seconds into the game after charging into the river. During the charge Misery shouted "Okay, we're Wings Gaming it", and Spirit Breaker died after being 1 v 4 (right) at the bottom rune spot moments later.

It was a messy early game and both offlaners had a poor start with 3 deaths each just 4 minutes into the game.



The couch reaction to Wings picking Spirit Breaker



OG had managed to sneak in a Huskar and Dazzle combo into their draft, but the decision to go Quas Wex Invoker by
Amer 'Miracle-' Al-Barkawi limited the impact of the hero once Wings went for the YOLO plays with Spirit Breaker and Enchantress.

However, a well-timed EMP at 10 mins by Miracle caught out Wings' Spirit Breaker, and the skirmish turned into a 3 for nothing trade in favour of OG. "The world is back to normal," said Kuroky in response.

Wings somehow hold on. Matu: "I don't know Dota anymore"
The couch of Misery, Kuroky and Matu was left bewildered and amazed at how Wings held on to actually lead the game by 20 minutes. "I really thought OG would wipe them in this game," said Kuroky.

MIsery commented in the first ten minutes that OG in a straight 5 on 5 fight they had the advantage and despite Spirit Breaker charging all over the map, Wings' were not as scary in a straight fight without
Zhou 'Blink' Yang's Timbersaw. Unfortunately for OG as the game went on BlinK's Timbersaw grew exponentially and had 20 Bloodstone charges at 20 minutes.


Zhang 'Faith Bian' Ruida Spirit Breaker which had attracted criticism at the beginning even managed to charge into Roshan and steal Aegis right from under four of OG's team (video below). From the 20 minute mark OG were always chasing the game, and with the double Major winners losing fight after fight against the overpowering Wings, it proved a brutal end to the series for OG who were simply unable to deal with Wings in what would prove to be the fourth and final game.