What a match!
OG and
Newbee part of the best series of the Manila Major so far, and
Andreas 'Cr1t-' Nielsen was at the center of it all. The moment @ogdota2 won against newbee. pic.twitter.com/mBrOmkVgxs— Andrew @ Manila (@SombreroGG) 11 June 2016


"This was not close at all," said ODPixel after OG's heavy defeat in the first game to a team who had also outclassed them at Epicenter last month. The two teams looked world apart and Newbee took one of the largest leads we've seen at the Manila Major.

The crowd had been well aware Miracle- had not suffered a death in the playoffs, and his early skirmishes in game 1 with
Zhang 'Mu' Pan's Death Prophet had the audience on edge. The pair went toe-to-toe in the midlane with the Chinese team looking intent on piling the pressure on Miracle's Invoker. After some masterful jukes to avoid death Miracle did finally fall during the first 10 minutes, a sign that he, like his team, were mortals after all.

The Bat Rider pick had been highly ineffective against
Chen 'Hao' Zhihao's Lifestealer, a hero which is synonymous with the Chinese team's playstyle; early to come online, aggressive, and able to handle himself in lane.
Johan 'BigDaddyN0tail' Sundstein's Sven was kept at arm's length and Newbee were always two steps ahead of the Frankfurt Major winners.
Damien 'kpii' Chok's Phoenix had terrorised Miracle in the early game, burning through his refraction with ease, making the midlaner's life a living hell. At the end of game 1 OG swiftly walked off stage shaking their heads, this was easily their worst game in the tournament so far.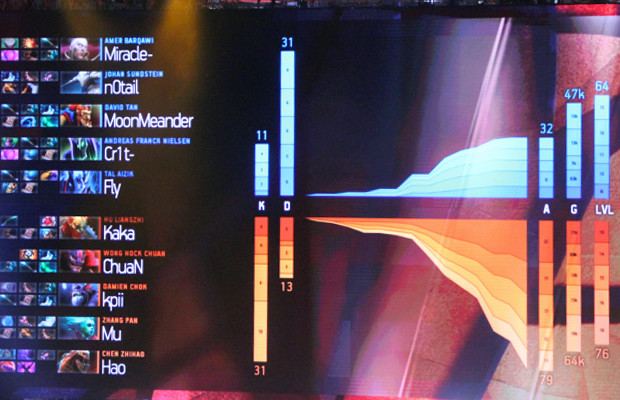 Newbee dominated the first game



Cr1t engages beastmode and batters Newbee
Fortunately for OG there was one man who was about to change everything in game 2 and 3, a man able to take the game by the scruff of the neck and send a message to Newbee that OG were not going down without a fight. No, it was not Miracle, it was
Andreas 'Cr1t-' Nielsen.

OG's support player was THE player of game 2 - and was voted MVP to boot - keeping OG in the game while they played 4v5 Dota against Newbee. His efforts allowed
Johan 'BigDaddyN0tail' Sundstein's Naga to farm, and farm he did. BigDaddyn0tail made perfect use of his time, rising to 12K networth by 20 minutes with not a single death to his name.

From 20 minutes onwards was when BigDaddyn0tail joined the fight, and it was game on. Cr1t's Stun and Silences on Earth Spirit made escape not an option for Newbee's Ember Spirit, Faceless Void and Phoenix, who were now on the defensive. Cr1t along with Moon had slowed the game down to pave the way for BigDaddyn0tail's grand arrival.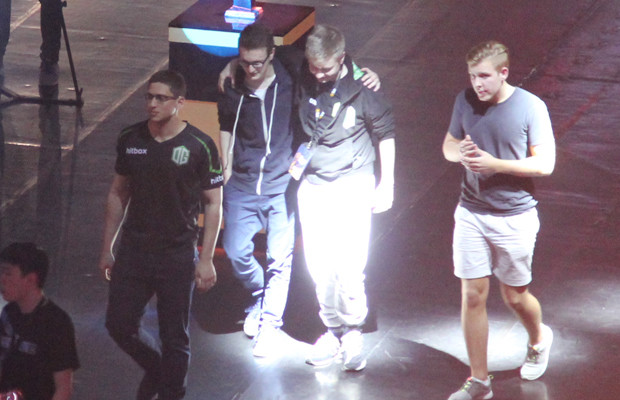 Cr1t and BigDaddyNotail carried OG to victory in this series



WHAT A GAME - Intense finale to a pure adrenaline ride
The final game was incredibly exciting, and Cr1t somehow managed to top his game 2 performance by stealing the show in game 3 on Elder Titan, another extremely difficult hero to play well. His Earth Splitters were the thing of dreams, usually with at least one target set up by Moon's Roar on Beastmaster. By 18 minutes OG were already on Newbee's highground.

Part of their success was also down to the scouting of BigDaddyn0tail with his spirit wolves, who kept tabs on Newbee's movements and delayed key items such as a Blink Dagger for Newbee's Bat Rider.

For a good ten minutes Newbee bitterly fought at tier 3 buildings, holding back OG's attacks again and again, with OG even investing buybacks in the hope of ending the game. It was in vain. Newbee held their ground to stay in the game and Mu's Alchemist and Hao's Spectre had soaked up the farm and experience to finally go on the offensive.

At 38 minutes the defining fight of the game took place outside Roshan, and the play of the fight was surprisingly
Tal 'Fly' Aizik's cleverly timed Freezing Field after Newbee's BKBs ran out. The ulti managed to do over 2500 damage and it turned the fight. As a result OG were not only back in the driving seat, they were cruising towards Newbee's base which was now left undefended. OG closed the game soon after. An incredible end to an incredible series.

OG now progress to the Grand Finals of the Manila Major. One more victory would make them the first team to win two Valve Majors.