Direct invite and reigning champs
OG claimed their second DreamLeague title with a touch of class. Miracle's Timbersaw made another appearance in the finale of the fifth season.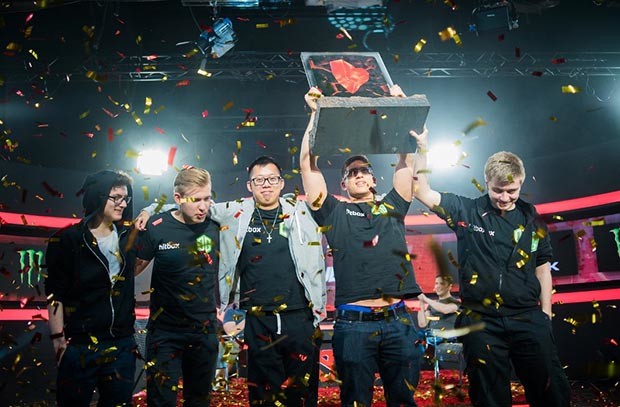 OG have won two DreamLeague titles in a row, Season 4 and now Season 5 (Image:

Dreamleague

)



OG - A touch of class
The Grand Finals was a clean 3-0 for OG, who had a touch of class about them in the finale of DreamLeague Season 5. The European team seem to be sharper in the Spring Major season, and BigDaddyNotail and Moonmeander are both finding the form that helped OG win the Frankfurt Major last year.


Natus Vincere had their moments and actually got better game by game. However, OG were just a level above the Starladder Invitational runners-up. Game 3 was the most entertaining of the Grand Finals, while game 1 was extremely one sided.
Tal 'Fly' Aizik continued to show the strength of Sun Ray Phoenix in the opening two games but it was Miracle's Timbersaw in Game 3 which was the standout performance. The summary of the Grand Finals can be found below.

Final Standings (LAN)
1.
OG - $50,000
2.
Natus Vincere - $36,000 ($11,000 from online season)
3.
Virtus.Pro* - $23,000 ($8,000 from online season)
4.
Ninjas in Pyjamas* - $18,000 ($8,000 from online season)



Game 1: Navi's decision to not play to their strengths costs them
The opening game of the Grand Final saw Navi play a much more patient game, and
Ivan 'Artstyle' Antonov's Nightstalker was more of a jungler than a ganker. It was a step away from Navi's more traditional playstyle of coming out all guns blazing, and OG set the pace of the first 10 minutes if the game.

The biggest talking point of the early game was a battle at 7 minutes.
Andreas 'Cr1t-' Nielsen's Spirit Breaker was in the center of the action at OG's mid tier 1, after he was fortunate enough to land 3 consecutive bashes. The first was on
Ivan 'Artstyle' Antonov's Nighstalker then he landed two on
Danil 'Dendi' Ishutin's Puck in quick succession, immobilising Navi's mid hero and making him unable to teleport to his Orb.

Navi swiftly retreated, but not quickly enough as
David 'Moonmeander' Tan used Sprint on his Slardar and caught out Navi's Nightstalker and Disruptor with a Slithereen Crush. Team-mate
Tal 'Fly' Aizik ended any hopes of escape for them with a Kinetic Field, turning the would-be Navi gank into a 3 for 1 trade for OG.

Despite a nice little pick off on Cr1t's escaping Spirit Breaker (below) in the bottom lane, Navi were on the ropes for the first period, and OG held onto their lead right until the end of the game at 27 minutes. Final scoreline 27-6 for OG.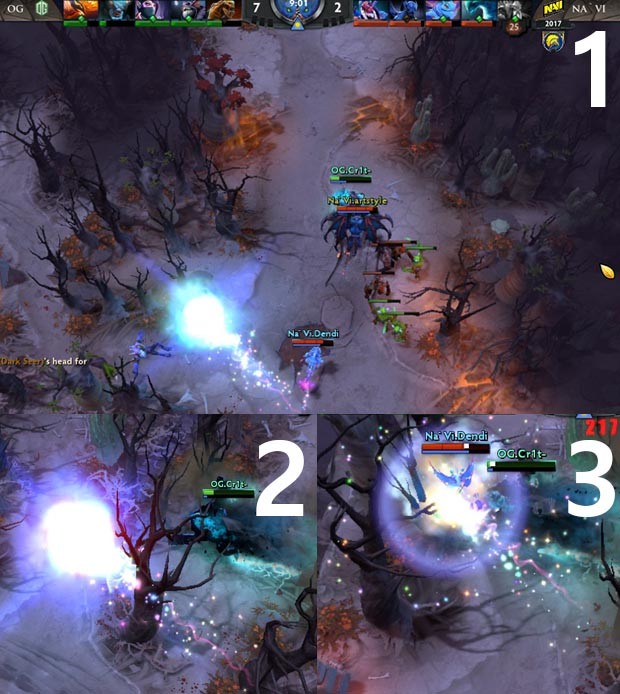 Luck or skill? Dendi pre-empt Cr1t's escape route before he even casts charge



Navi's main weakness was the choice to let Artstyle play less aggressively, which left room for Cr1t to happily charge around the map. Ditya-Ra's Morphling farmed up only to never have the chance to make his mark on the game and
Viktor 'GeneRaL' Nigrini's impact on Dark Seer was negligible.

Game 2: A team victory for OG
For Game 2 Navi decided to take from the OG book, and first-picked Lifestealer along with Slardar and Disruptor, three heroes OG had played in the opening game.
Johan 'BigDaddyN0tail' Sundstein had survived on Lifestealer in game 1 without a single death to his name, and Ditya-Ra was drafted the hero for game 2.

OG on the other hand gave
David 'Moonmeander' Tan Dark Seer, and the OG offlaner played the hero much better than his Navi counter-part in the second game, securing an ultra kill just 11 minutes in.

At 13 minutes a big engagement got underway at OG's tier 2 mid and a good shackleshot by Dendi on Notail's Void and Miracle's Juggernaut gave Navi the edge. However, Cr1t's TP in to stun three of Navi's heroes - who were clumped together (pictured below) - turned the tides of battle. The engagement lasted for just under 2 minutes, and BigDaddyN0tail kept cheating death thanks to Timewalk and Fly's Sun Ray on Phoenix.

From that point on it was fairly one way traffic. Navi's draft needed to hit the ground running in the early game but as the game carried on
Amer 'Miracle-' Al-Barkawi's Juggernaut became too powerful.

This was perfectly demonstrated by his solo triple kill on Navi's Slardar, Windranger and Disruptor in what would be the last skirmish of the second game at 35 minutes. Extremely impressive all-round performance from the entire OG line-up, with BigDaddyNotail having yet another good game after coming under fire for OG's exit at Epicenter earlier this month.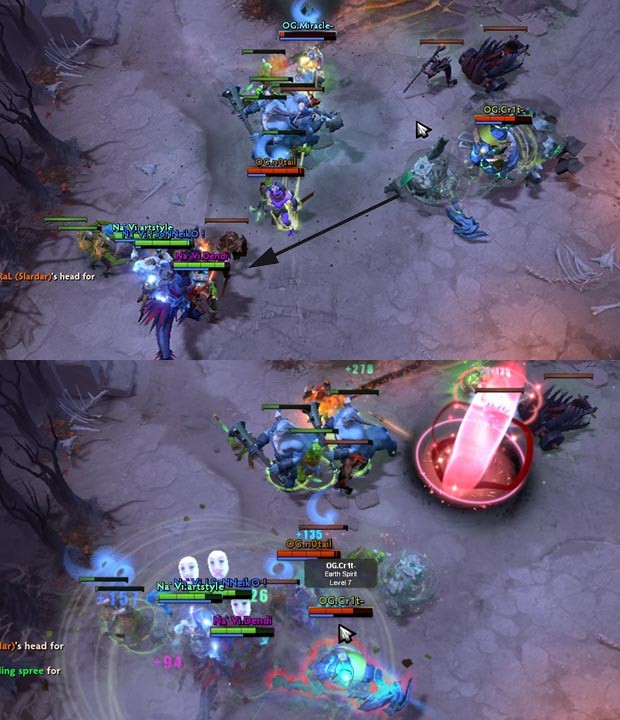 Navi make it easy for Cr1t who TPs in to stun 3 - even without Moon's Vacuum



Game 3: Timbersaw and Terrorblade take to the stage
The final game of the series, and the one which would earn OG their second DreamLeague title in a row. OG's draft was very melee intensive with Crystal Maiden the only ranged hero in their draft. Over on Navi
Akbar 'SoNNeikO' Butaev played Dazzle, a very unconventional choice of hero for their support player.

It was the closest game of the three but OG's period of dominance between the 10 and 20 minute mark just skyrocketed Miracle and his team-mates up the networth chart. However, game 3 was the best for Ditya-Ra and GeneraL, who had been mostly bystanders in the first two games.

One of Navi's best engagements was at 38 minutes when a sneaky Smoke rekindled hopes of a comeback, and the CIS team left Miracle's troublesome Timbersaw for last (pictured below).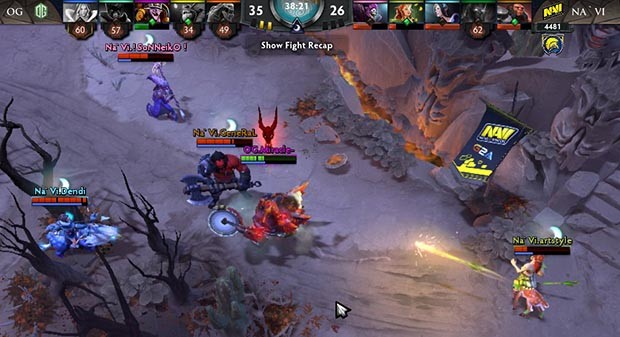 Navi's comeback fight - Miracle left to last. General saves Artstyle with clutch Berserker's Call



Many of the battles were chaotic but it made for entertaining viewing, and if you were to watch only one of the games from today's Grand Finals it should be this one. Navi did not cope well with OG's Timbersaw, which Fly commented yesterday he drafts simply because Miracle likes to play it. Miracle ended the third game with 25-4-10 in the scoreboard in what was the longest game of the series at 49 minutes.