Liquid have made it through to yet another Grand Finals following a 2-0 victory against
OG. Will they end their second place curse?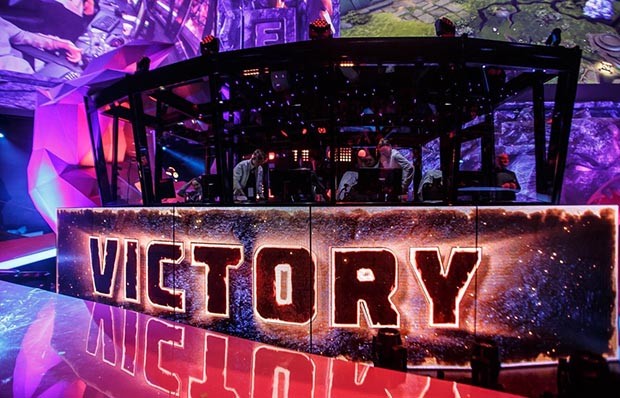 Liquid's 2-0 win over OG puts them in the Grand Finals of Epicenter

(Image: Epicenter)



Third time the charm? Liquid in yet another Grand Finals

Team Liquid were the runners-up at the Shanghai Major and ESL One Manila, and tomorrow will be presented yet another chance at glory. Their last Grand Finals was against
Team Random* last month, which turned into a very one sided match, ending 3-0 in favour of the young Chinese team.

Liquid's opponents tomorrow in the Grand Fianls of Epicenter will be the winner of
OG versus
Newbee, a rematch of the first round upper-bracket match between the pair which ended in OG winning 2-1.

OG's victory against the Chinese team marked the end of their 29-game unbeaten run, and should give them confidence going into tomorrow's LB Final.

Team Liquid remain undefeated at Epicenter, with four wins from four matches. They have beaten
OG not once but twice so far at the event, and also had a 2-1 victory over fourth place finishers
compLexity Gaming and comfortably dealt with Evil Geniuses in the groupstage.

Miracle 0-6 as Team Liquid win game 1 in just 18 minutes


Amer 'Miracle-' Al-Barkawi may be 9K MMR but it is no secret that OG@s playstyle revolves around keeping him safe. In the opening game against OG earlier this afternoon, Miracle and OG were the victims of a whirlwind first game which saw them concede in just 18 minutes.

Team Liquid are firm believers in the usefulness of Necronomicon and used it once again on
Lasse 'Matumbaman' Urpalainen's Lycan to end the game before their opponents had a chance to know what hit them.

At 16 minutes Liquid were already knocking on OG's bottom tier 3s, and a slick wombo combo move by them destroyed OG in their own base. The move was initiated by
Jesse 'JerAx' Vainikka, who dove in as Phoenix behind enemy lines to cast SuperNova.

Moments later
Ivan 'MinD_ContRoL' Borislavov's Dark Seer walked up the ramp to do a 4-man Vacuum Wall.
Kuro S. 'KuroKy' Takhasomi then stomped OG with his Doom and OG were sitting ducks standing next to a ticking timebomb. OG suffered heavy casualties and off the back off the fight Liquid took bottom and mid tier 3s. The first game ended shortly after.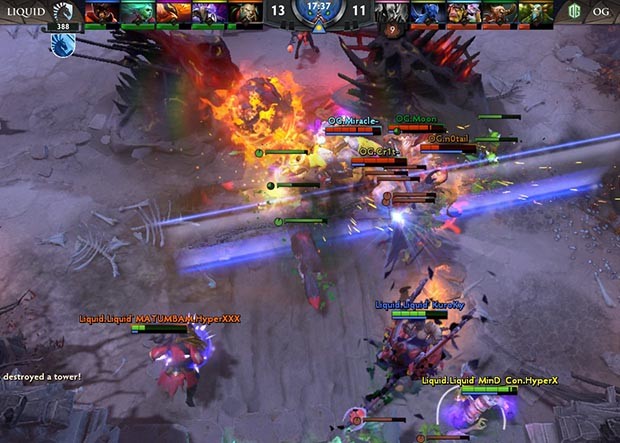 Liquid's slick teamwork setup a 4-man Vacuum Wall right next to Jerax's Supernova.



Game 2 a slower pace and far more frustating for Liquid

In the second game of the series OG brought out the Tinker, which led to a very drawn out and fairly tedious game for Liquid who were forced to dart back and forth between lanes trying to stop
Amer 'Miracle-' Al-Barkawi. In the previous game over 30 kills took place in the 18 minute game, but in the second just 10 kills happened in the first 20 minutes.

From that point Liquid seemed to make the conscious decision of taking the fight to OG and by pushing deep into OG's half of the map, the damage Miracle could go on the low ground was reduced. Thanks to Tinker high ground was always a difficult prospect for Liquid, but as the game passed 30 minutes both
Ivan 'MinD_ContRoL' Borislavov's Bristleback and Matumbaman's Lone Druid were ripped.


Fly makes a final stand against Liquid

The BKBs on both heroes as well as Fata's Death Prophet made
Johan 'BigDaddyN0tail' Sundstein's Brewmaster ineffective, and the same was the case for
Tal 'Fly' Aizik's Witch Doctor. What is more
Kuro S. 'KuroKy' Takhasomi purchased Pipe of Insight on the Wisp, adding further sustainability to the Liquid draft.

Miracle was however, still able to be a nuisance and if you've ever played a pub match against a Tinker with Dagon and Ethereal Blade you will know what Liquid were up against. Unfortunately for OG as the game went late the pub moves did manage to snipe a Liquid player or two, but were nothing in the face of an overcharged Bristleback with a Heart of Tarrasque.

OG had managed to prolong the game but with BigDaddyNoTail unable to make the necessary impact, Liquid could not be stopped. Liquid ended the series with a 2-0 win to progress to the Grand Finals.




3rd time is the charm right? Davaidavai

— Lasse Urpalainen (@LiquidMATUMBA) 14 May 2016
Fighting Newbee tmrw, hoping for another rematch vs Liquid. GGs

— Tal Aizik (@Fly_dota2) 14 May 2016