Team Liquid and Team Secret battled it out today to determine the first team to claim a spot in the Grand Finals of the Shanghai Major. And it was Puppey who led his team to the podium after a clean 2-0 victory. The Upper Bracket Finals of the Shanghai Major played out today, with
Team Liquid pitted against
Team Secret, which promised to be a great matchup. In the end, [h3]Secret took the series 2-0[/h3], thanks to the phenomenal performance of Misery and Pieliedie.


Misery's Dark Seer destroyed Liquid


In a game that features unpopular picks such as Legion Commander for
Kuro S. 'KuroKy' Takhasomi or Doom for
Clement 'Puppey' Ivanov, it was [h3]
Rasmus 'rASmus' Fillipsen[/h3] who paved the way to victory for Secret.

With early successful rotations, Liquid was slowly but steadily pulling a lead. However, it all changed at 12 minutes when Misery showed up to the combat [h3]with a fully completed Mekansm.[/h3] A magnificent Vacuum – Wall combo resulted in [h3]a 4 for 0 exchange[/h3], with only FATA's Invoker the only survivor.


At the right place, at the right time



35 minutes into the game, with a Blink Dagger in his stash, Misery again [h3]executed the combo to perfection and decimated Liquid's lineup[/h3], who was forced to buyback both Gyro and Invoker but lost the second lane of barracks anyways.


A perfect Vac - Wall by Misery



The desperate rapier on Gyro proved helpless as Liquid was teamwiped in a last-ditch attempt at Secret's base. Misery undoubtedly contributed a great deal toward Secret's success in this first map.


Pieliedie's Lion: great plays with minimal resources
Johan 'pieliedie' Åström also deserves an honourable mention is today's series. Playing the Lion in both maps, he provided the [h3]disables and nukes[/h3] that Secret needed to jump Liquid's heroes. With only a Blink Dagger, Pieliedie posed a great threat to heroes wandering the map alone.


Fantastic map reading by Pieliedie



One such example would be the final moments of Game 2. Liquid was wiped and
Ivan 'MinD_ContRoL' Borislavov bought back on his Nature Prophet, immediately teleporting to bottom lane and split pushed to salvage the situation. [h3]Pieliedie instantly teleported back to base, smoked and caught the Prophet[/h3] with the help of
Omar 'w33haa' Aliwi'sInvoker, closing the series for Secret.

Also, check out this video to see how Pieliedie teamed up with W33 to teamwipe Liquid:




The road doesn't end here


With this victory, Secret has made it to the Grand Finals of a Major the second time in a row. They looked extremely strong right now despite rather a weak start in the groupstage.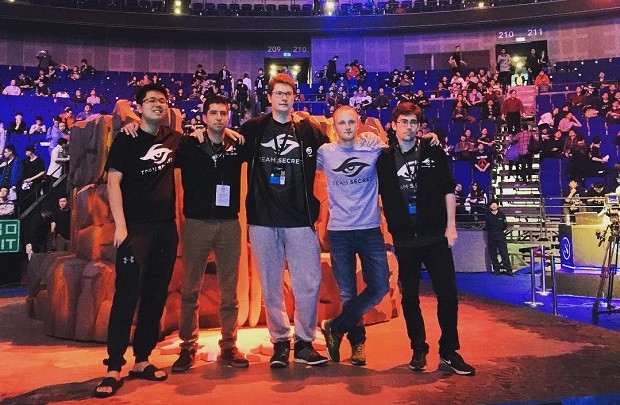 Guaranteed top 2 once again -

Source



For Liquid, this is not the end. They will face the winner of
Evil Geniuses vs
MVP Phoenix* for a second chance to claim the remaining spot in the Grand Finals.




If you missed the series, catch up with this recap video: