In a pair of thought provoking tweets, professional player and analyst
Sebastien 'Ceb' Debs set the community debating away on whether there is a growing trend to prioritise casual casts over serious ones.
1/2 I really feel like casting is getting worse everyday, with all the respect that I have for all the casters around, most of them are friends

— 7ckngMad (@7ckngMadDOTA) January 27, 2016
2/2 players are getting blamed constantly, half of the cast are about private jokes and just ppl telling their little stories, #notenjoyable

— 7ckngMad (@7ckngMadDOTA) January 27, 2016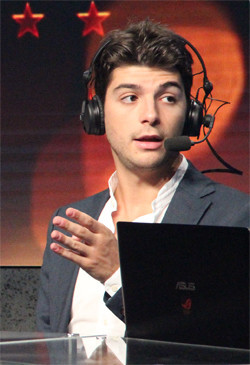 7ckngMad went on to explain in further detail on
his Facebook
, saying he had a "lot of respect for all the casters around" and is aware of the effort that goes into casting.
"My point was simply that I felt there was a trend, lately, with the casual / full of private jokes / memes casts, and I just wanted to remind everyone that this aims to please a minority of viewers," said the Frenchman.
"Casting dota should be mainly about dota, I don't think im revolutioning casting by saying that."
7ckngMad was announced earlier today to be part of the analyst for the upcoming Shanghai Major, and was also on the panel at TI5 and ESL One Frankfurt 2014.
In reaction to his comments a wide debate began on Twitter and on a
Reddit
, with members of the public sharing their thoughts on the situation.
Community feedback doesn't help casters grow - RedeYe
TI5 host Paul "RedeYe" Chaloner also waded in on the topic in the same vein
via a personal blog
after seeing a survey posted online on Twitter
by cosplayer Reinessa
which aimed to give "anonymous feedback to casters on a regular basis to help them grow with us."
In his blog RedeYe commented that catering to your viewers too much did not make you a better caster or host. "I'll accept that you can learn what your audience likes and dislikes, but that's not really directly related to you improving your skills as a caster or host for example," said RedeYe.
The British host said in his blog that community opinion about casters and hosts were generally more emotional than factual. He also said that many critiques of casters and hosts came from a lack of understanding of the role of each member of a casts.
What do YOU think? Are you a fan of casual casts? Does it matter?
There is undoubtably more "casual casts" in recent months, with players sometimes hosting streams or studios offering a more chilled out and relaxed broadcast to cater for a certain type of viewer, but are Dota 2 broadcasts in danger of becoming too casual?
Are there too many casual casts at the moment?