Stanislav 'BzzIsPerfect' Glushan could have been a player eternally remembered for only one thing, a very questionable Pugna set. However, that may have changed after his team thrashed their opponents in the final game of the MSI Dragon Battle #9, to win their first title.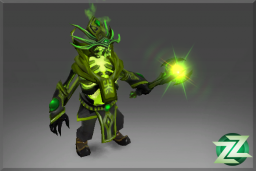 Bzz's Nether Lord's Regalia Set
Tornado.RoX* was founded back in September, but have not competed much aside from a cameo at the Frankfurt Majors EU qualifiers and the D2CL Season 6 groupstage. F5 consists of several familiar faces including
Vadim 'Sedoy' Musorin and
Vladimir 'Yol' Basov, and the invited team made it to the Grand Finals of the MSI Dragon Battle where they faced
Reasonable Doubt*.

F5 should have the Grand Finals a straight 2-0, but RD's Viper push strat proved far too effective in game 2, leaving F5 unable to respond. In the third game RD tried a Kotl, Dazzle and Wraith King aggressive tri-lane, but unfortunately it failed miserably and heavily contributed to their 20 min surrender, with a final score of 30-2 in kills for their opponent.

The 2-1 victory for F5 means they walk away with 1,500 EUR in prize money, with 500 EUR going the way of RD for their efforts. Special shoutout goes to
Spin to Win* who came in as a replacement for
Pajero Esports*, only to knock out the reigning champion
Power Rangers* in the process.