Earlier today the Twittersphere was bursting with flames following an alleged "physical confrontation" between Alliance player
Jonathan 'Loda' Berg and renowned eSports journalist Richard Lewis in the CS:Go backstage area. Dreamhack decided to comment on the incident which ended up involving Swedish police.

The incident happened at Dreamhack Winter 2015



The tweet which started it all:




The sign itself turned out to have been made by former Alliance manager KellyMilkies, however, according to Richard Lewis he was unaware of who made the sign when he tweeted it, commenting that the sign was found on the floor at midnight last night. "How the f*** would I know who made a discarded sign?", said Richard Lewis on Twitter. For those unfamiliar with Richard Lewis, he is one of the longest-standing eSports journalists who now primarily focuses on Counter-Strike: Global Offensive, and along with Thooorin is not one to shy away from speaking his mind.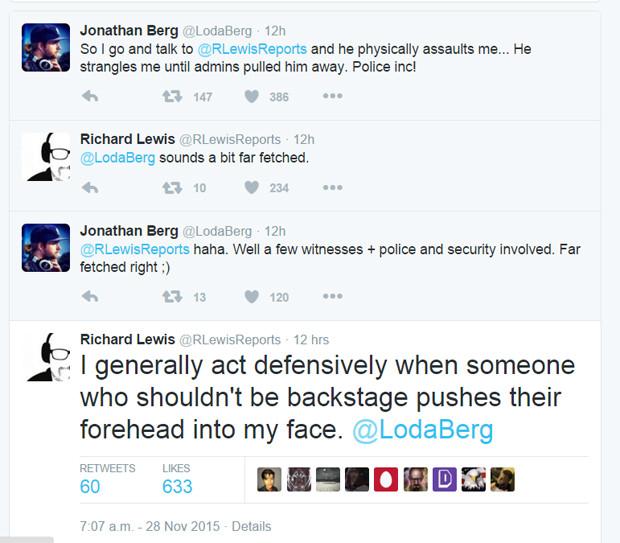 The conversation

between Loda and Richard Lewis on Twitter



There are multiple reports of what happened between the two, one version of events involves Loda headbutting Richard Lewis, something Loda denied on Twitter. While according to Loda he was strangled by the eSports editor "until admins pulled him away".

"I generally act defensively when someone who shouldn't be backstage pushes their forehead into my face," said Richard Lewis in response. Regardless of the nitty gritty of what exactly took place - which we may never find out - it is clear that a confrontation did happen, and not a pleasant one.

As you can expect many personalities decided to join the debate including
Jacky 'EternaLEnVy' Mao who leapt to the TI3 winner's defence with this masterful piece of logic:




This comment prompted the following video:
@EternaLEnVy1991 @LodaBerg @RLewisReports pic.twitter.com/0FKPbU1zyo— Saylith (@saylith) November 28, 2015


The video is well on it's way to becoming a classic, even though Loda said "I Never threw a punch. I didn't headbutt anyone... Would have been a way cooler story if I did". Tensions have now subsided, but neither party removed any tweets related to the event. Dreamhack felt the incident was serious enough to warrant an official comment on their website:





It is of the utmost importance for DreamHack to operate an event in which all visitors, staff, exhibitors, and competitors can feel safe. All parties, DreamHack, Richard Lewis and Loda deeply regret that an environment existed in which this situation occurred, and that the confrontation escalated as it did. All parties have jointly talked with DreamHack Security Crew, as well as police and believe the best actions are to put aside our differences and come together to move forward with the conclusion of DreamHack Winter 2015.

During the afternoon today at DreamHack Winter 2015 there was an incident at the CS:GO backstage area, where Loda and Richard Lewis were involved in verbal dispute that escalated into a physical confrontation. The situation was witnessed by DreamHack staff, who intervened and pulled both parties apart when the confrontation began. After cooling down the situation, DreamHack Security Crew was called to the site, and took official statements of the involved the parties. DreamHack also notified Police that came to the location to take statements from both parties and witnesses.


The only thing left to say about the events of today is that it was surprising that no hashtag was created for the incident, because if there had been it would have definitely trended.