Coming into this series, Virtus.Pro was the only remaining team from the CIS region, with Vega Squadron being knocked out by EHOME. A lot of hopes were riding on their shoulders, but unfortunately OG were not in a cooperative mood. It resulted in intense series between two excellent teams, with OG emerging as the victor.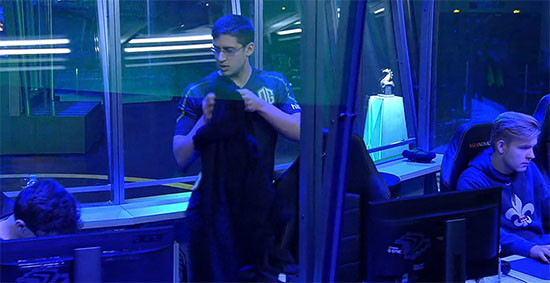 OG ready to go
Miracle showing off his 8000 rating on Shadow Fiend


It was hard to decide which team got the better draft in Game 1, with both teams getting hereos they were very familiar with. VP managed to get Slardar, a hero that they have made excellent use of in carry, offlane and support roles. They also managed to pick up Ancient Apparition, another hero they have great experience with.

OG on the other hand opted to go with a Shadow Fiend for
Amer 'Miracle-' Al-Barkawi, as well as a Tusk for
David 'Moonmeander' Tan. We also get to see a rather surprising last pick, a Rubick for
Andreas 'Cr1t-' Nielsen. This is a hero that OG have found success with in this Major, with 3 wins out of 4 games.

This game was just what you would expect from these two teams, with VP relentlessly looking for pickoffs and ganks, and OG preparing for their heroes power peaks, with the occasional aggression to boot. Neither team was able to find any significant lead until a very favourable fight for OG, thanks to a beautiful Requiem from Miracle-, where he actually uses
Sergey 'God' Bragin's own Euls Scepter against him.



VP actually tries to slow down the game and find easy ganks on OG after this fight, in order to get ahead of OG before the critical fights. This backfires however, and they end up giving a series of pickoffs to OG, which turn into a protracted siege of the VP base.
Ilya 'Illidan Stormrage' Pivtsaev's Gyrocopter is unable to deal enough damage at this point.


Virtus.Pro special: Illidan's carry Vengeful Spirit


The draft of Game 2 might have been a bit strange to watch, with VP giving OG heroes that they were very comfortable with. VP neglect to ban Windranger, which OG then picks, and respond by lastpicking a Vengeful Spirit for Illidan. A viper is also picked up for God.

VP did know exactly what they were doing however, and it was clear that they had played versus OG plenty before, as they knew exactly how to shut down Miracle-'s Windranger. Combining their ferocious aggression with the range of Nether Swap, Miracle- was almost completely unable to find enough farm to make a difference. He was picked off repeatedly, despite the best efforts of his supports and Moonmeander's Tusk rotations.


Meanwhile,
Johan 'BigDaddyN0tail' Sundstein makes sure to find the farm he needed on his Tiny. However, VP continually improved their lead through unrelenting offense. VP eventually force the issue, and manage to get OG's mid barracks, thanks to fantastic play from God. It keeps going downhill for OG from that point, as a lost fight under their top tier 3 tower results in another lost lane of barracks.

By now, OG was scrambling to defend what left of their base and prolong the game for as long as possible. VP had none of it however, and keeps pummeling OG until they finally tap out. One should note how proficient VP is with Ancient Apparition, as their Ice Blast hits 1,1 heroes per use, on average.


OG falls back on Miracle's Anti Mage in the deciding game


OG did their draft differently in Game 3, giving up the Tusk to VP in order to get Slardar for Moonmeander. They also banned Ancient Apparition to which VP picked up Dark Seer in response. All in all, VP drafted a teamfight and push-oriented lineup with Gyrocopter on Illidan and Jakiro on fng. OG knew exactly how to play against such teams though, and lastpicked a signature Anti-Mage for Miracle-.

From the get go, VP had a very tricky game to play, as they had to spread out in order to limit Miracles-'s farm, while also playing to their own team's 5-man strengths. While their effort is commendable, it was ultimately in vain, as Miracle- found the farm he needed and then some, as well as quite a few kills.


Miracle- finished farming



If things didn't look grim before for VP, it certainly did after a brilliant smoke initiation from OG that results in a full wipe in VP's own jungle. OG are quick to pick up the Aegis, and then prepare for their endgame.

42 minutes into the game, OG started a siege that bleeds VP dry. They held on stubbornly, but OG prove to be too far ahead, and VP was out of answers. At 43 minutes VP admitted defeat and GGed out. OG proceeds to the semi-finals where they will face CDEC very soon!