Evil Geniuses are known for their outstanding experience and individual talent. They are certainly one of the top contenders for the Frankfurt Major trophy. Due to the focus on the tournament and massive amount of preparation that EG are putting into their run at the event, there was very limited access to the players. Despite that fact, we managed to get EG's captain Peter "ppd" Dager to answer few questions regarding their teamwork and opponents on the Frankfurt Major stage.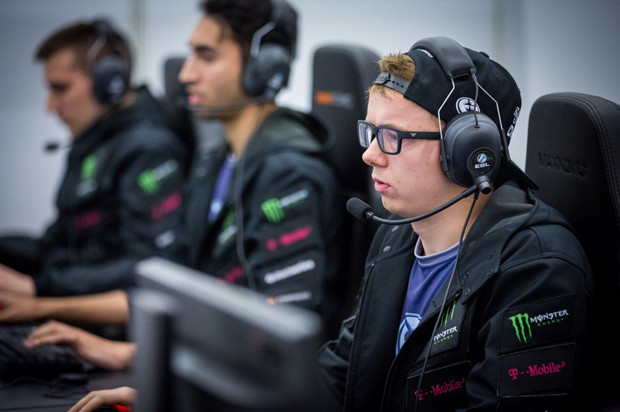 PPD and Evil Geniuses during the Frankfurt Major (Image:
ESL
)
Many named your win against Vega Squadron on the first day of the main event an act of revenge for ESL One New York, where EG did not even put a proper fight against them. Did it feel like revanche for you?

PPD: Although Vega Squadron eliminated us at ESL One New York, the win against them on the first day of the main event did not feel like revenge. We've got good relationship with both Virtus.pro and Vega Squadron, they are great guys.

We practiced against Vega Squadron the most this tournament. They are one of the best teams in Europe so it is nice to practice with them and it was a nice feeling to finally win against them on the stage. The 2-0 in New York was quite demoralizing. Nevertheless, there was no personal vendettas, we're just happy to win ourselves."
Vega Squadron's captain "CemaTheSlayer" told me that at this tournament Evil Geniuses look so much stronger than back then and much better prepared. How do you feel yourselves?
PPD :We have been practicing pretty hard for almost two weeks prior to the Frankfurt Major. We practiced the same as we did for The International. And this is what our approach is going to be for the other Major events as well. We were definitely much more prepared this time. We switched rosters after TI so it took a little bit of time to get used to, but I think we are finally getting the things in hand and our strategies and playstyles match really well.
Is it a completely well-oiled machine already or are there still things to improve?
PPD:It is always a process. You can always get better at Dota 2, you improve every single day and from every loss you learn so much. I do think we are getting much better and learning quickly. We are working with Sumail and Artour, two amazing players. Being able to use their talents towards winning on the same team is tough but I think that in the end it will be very rewarding.
In his interview Vici Gaming's iceiceice mentioned, that Chinese teams did not take this tournament too seriously, do you have such impression?
PPD:We haven't really played Chinese teams yet. I don't think CDEC has such an approach. They are one of the most hard-working teams, they probably practice the most and are one of the best Chinese teams together with Vici Gaming. LGD looks less prepared, maybe we get to play them later, let's just see what happens.
What are your thoughts prior to the match against CDEC, they were runners-up at TI and they seem to be a strong opponent. How do you evaluate your chances to win?
PPD:We were watching them play against LGD on the first day of the main event. They played really well. That being said, I think LGD were one of the weaker teams in the upper bracket, I did not expect much from them. I think that we will have great matches tomorrow and it will probably go to three games but I do think that we will come out on top.