The Nanyang Championships had it all, and even after a few hiccups in the early days, it came back with a vengeance to become one of 2015's most memorable tournaments. Here is a run down of 9 small things which made a big difference for the production value of the Nanyang Championships which caught my attention as a viewer from home and some I hope will become a regular feature for all tournaments. 1. Making a shoutout to ALL the commentary desks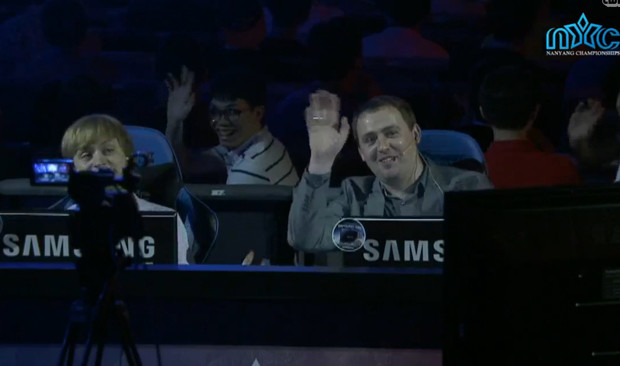 The Russian commentary desk with v1lat, just_NS and happy fan


I have to say I've watched a LOT of Dota 2 and aside from at one of the International's, I've never seen the hosts introduce the commentators and panels of the different languages. At the Nanyang Championships ahead of the Grand Final, the hosts Godz an XiiTuzi introduced the panel for the English, Chinese and Russian broadcasts, which although just a small little effort adds a nice touch of class and global appeal to the event.

2. Giving players and viewers a day off before the Grand Finals
How often have we seen a team slug their way through a Lower-bracket final match for 2,3 or maybe 4 hours, to then win and have just 20-30 minutes to prepare before the overall Grand Final? While their opponent in the Grand Final has had a chance to refresh and watch the game their opponents just played, the lower-bracket team has the added fatigue and no chance to collect their thoughts before their new opponent is shipped in. The Nanyang Championships had a day break for Halloween on Saturday before the Grand Finals on Sunday, which I think was heavily responsible for the teams putting on such a good show in all 5 games (VG might disagree about game 5).

3. Dj Grills - Red DJ and Blue DJ kept the hype going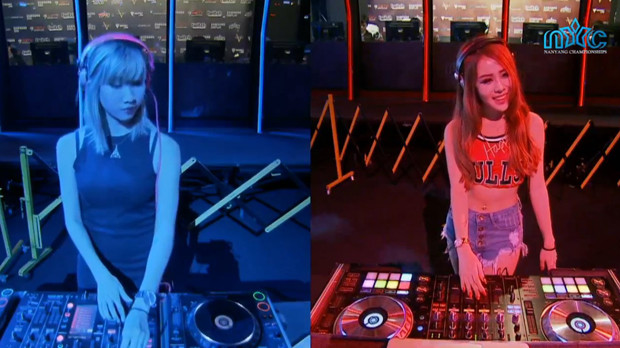 The female DJs inbetween matches were popular with viewers and dished out some tunes



I'll be honest I quite like music inbetween matches, but there is a limit to how much Monstercat I can tolerate. Unfortunately due to rights and issues of copyright, music between matches is usually royalty-free dubstep, with most studios using the same tracks. The Nanyang Championships had two female DJs inbetween each match, which was a welcome change from a tournament loading screen.

Although my colleague Kipspul may disagree, the Gangnam remix they played was brilliant, and it got people talking and the tracks chosen usually got some hype going for the match. Of course the Instagram of Red Dj was discovered and posted on Reddit and both Lumi and ODPixel made a poll to see where people's allegiances lay, but the addition of DJS between matches instead of just for the after party was clever. If they were just hired models and we've all fallen for the con, wp Nanyang.

4. Organising awkward handshakes before the matches


Much was made of Cty's "deny" of Kuroky's handshake, but Nanyang tried to organise something that we saw at the recent TI5, a pre-match handshake of the competing teams. It was incredibly awkward at times, questionably choreographed, but a nice little addition to avoid players simply walking out from behind a curtain and straight into booths, and a sign of good sportsmanship.


5. A Talent desk that rode the storm and kept up their spirits and ours


It is fair to say that the first two days of the tournament were a bit of a shambles if you were a viewer at home. Fnatic vs Secret ended up not being cast in English despite it being the most anticipated game for many SEA fans, along with delays and audio glitches. However, the talent rode the storm beautifully, with Kotlguy comparing the groupstage to getting through puberty.

I think at this point having the likes of ODPixel, Sheever and Lumi was invaluable, as they have had experience dealing with difficult conditions and still managing to do so and keep the viewer engaged. KotlGuy and Godz also embraced the tech issues, keeping spirits high and this showed on stream. This led us beautifully to the final stages of the competition where we all can agree the players and the casters put on a good show.

6. Organising an inhouse crowd for the Grand Finals


Many online viewers seem to judge a tournament's success by whether it has a live audience or not, "CROWD RIKI COSPLAY, CROWD RIKI COSPLAY" was one message spammed on Twitch chat, but to be honest a full crowd throughout the entire event is not necessary to deem it a success. Xiao8's Chinese stream of the tournament from home surpassed 1 million viewers on DouYu and the English and the Russian stream were over 100,000.




A live crowd throughout a tournament spanning over more than 2 days is a challenge with less people able to attend due to other engagements such as school, university or work. What Nanyang did was reserve the audience for the grand finale on Sunday, and in doing so secured several 1,000 people to witness the carnage. Hearing the "ooo" from the crowd is something which made ESL One Frankfurt that little bit more special, and Nanyang benefited from that edge as well. Location is key and Nanyang managed to get bums on seats.

7. Dresscode - Making sure the commentary desk don't look like scruffy
Not everyone knows how to put on a tie, but as far as I'm concerned when you're on a panel or even on the commentary desk, you are a performer and as such you should dress the part. Nahaz is a good example of someone who makes the effort at MLG or ESL One, and it just gives a different vibe to the event.

One reason why the CS:GO events look that little bit more professional is also the small effort made to tidy up the appearance of the desk. We don't need all our talent to dress like Agent Smith, but definitely a bit of effort does make a difference. Nanyang had a touch of class about it, especially XiiTuzi, with perhaps the exception of Lumi who went for the Hasselhoff but still looked like a legend.

8. Going with a solid format of 10 teams to keep things interesting
Direct invites are tricky, especially for major events. Organisers need to secure enough big names to ensure a solid viewership, while still making sure the "best" teams get a chance to make an appearance. I think the choice of 10 teams, 6 direct invites and 4 teams from the open qualifiers was a good balance.

16 teams feels very heavy, and 8 sometimes can see entertaining teams eliminated too early depending on the format. Although I would have perhaps invited a third SEA team, perhaps put together a "Big God" kind of team from the remaining known SEA players just for the tournament to make it have a bit more of a SEA presence.

9. That prize ceremony and next level deny


Which three small addition did you like the most?