The bo5 rematch between Secret and Vici Gaming in the Nanyang Championships Grand Finals turned into another classic, as over 200,000 viewers tuned in on the English and Russian streams. The series went all the way to the fifth game, with some marvelous moments including an IceIceIce Timbersaw, an Fy Rubick and of course the w33ranger. It was to mark the the end of the pre-Major season, and certainly a series to remember. The Grand Final of the Nanyang Championships was definitely the match-up avid viewers wanted to see, as the pair had met in the winner bracket finals and put on a wonderful show. Vici Gaming disposed of EHOME to reach the Grand Finals and secure the rematch, which was to be played after a day-break for Halloween.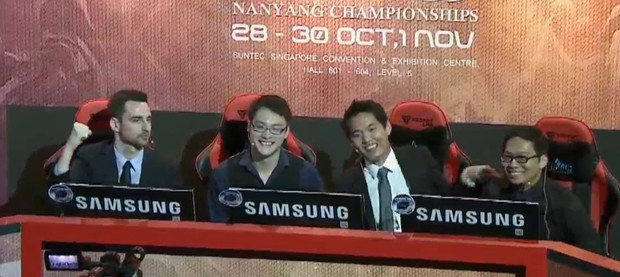 The English panel for the Nanyang Championships



The opening game continued the trend of exciting matches between the pair, with the first 15 minutes being very back and forth with both teams evenly matched, much like their first encounter. Some flashes of brilliance include Fy's Rubick stealing Fissure to not only block Secret's escape down the river but also to save his ally from Puppey and EternalEnvy. The networth and gold charts were all over the place with no team truly ahead.

At 15 mins Secret went for Roshan but a very cocky boots of travel teleport by Super into the river next to the pit got him and his ally killed. This allowed Secret to finish Roshan for w33haa and draw slightly ahead. VG were then forced to try to farm, and avoided fights. They luckily avoided a 3-man smoke by Secret thanks to a very well placed Hawk by
Daryl Koh 'iceiceice' Pei Xiang.

By 25 minutes the game was still extremely close with just 1K networth between the two teams. With the match so close it would only take one slip to potentially end the game, and at 26 minutes Burning and Fy made a terrible choice to try to jump a 2K Hp doom with Rubick and Juggernaut. Burning's Juggernaut ulti did very little to hurt doom and it was an oversight which cost VG two players.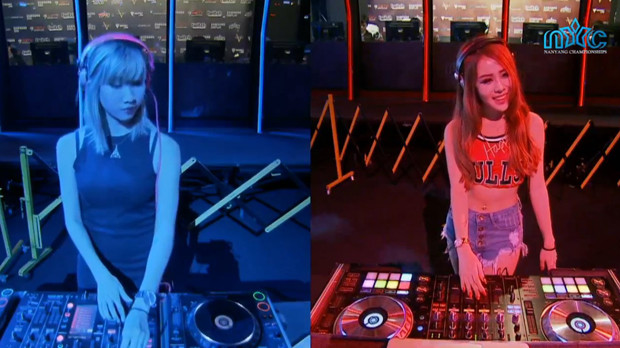 The female DJs inbetween matches were popular with viewers and dished out some tunes



EternalEnvy's Doom Refresher was a major problem for VG. However, the Aghanim's sceptre upgrade for Juggernaut allowed him to finally make enough impact. Super's illusion Alchemist now made Dooming him slightly more of an issue.

45 minutes in saw a back and forth between the mid tier 3's, but it was VG who came out looking stronger after Secret went all in having lost their own tier 3's but lost Puppey, W33haa and Misery in the process. With just EternalEnvy's Doom and PLD's Bane still alive it would be up to them to stop Super's Alchemist from taking down their tier 4s.

EternalEnvy blinked in to Doom the Alchemist but cast it on an illusion after Super disjointed the Doom ultimate by using his Manta Style, PLD tried to save him with Glimmer Cape but VG knew exactly where he was. After EE fell Secret called gg in yet another brilliant game between the pair.

Overall VG lost the laning phase but not by much, and with Alchemist left to his own devices, Secret ended up paying the price.
Xu 'BurNIng' Zhilei's impact on Juggernaut for the majority of the game was minimal, but luckily
Xu 'Fy' Linsen was on point with Rubick, with the Fissure steals saving his team-mates on several occasions. Misery and PLD were drive-by casualties in this game, in particular PLD on Bane who aside from 1 or 2 Fiends Grips, had no opportunity to contribute to the 55 minute game. EternalEnvy mentioned Alchemist in the pre-match interview, and it did in fact end up being their undoing.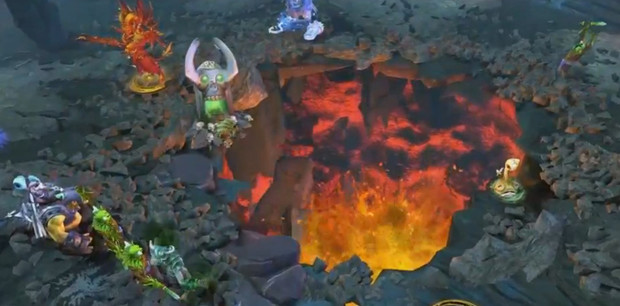 The second game started on a high note with both teams clashing early on over the bounty rune, but although Envy was the first to die in the second match, it did not affect his farm. W33haa once again got to play Shadow Fiend and was well ahead of Super's Lina in the mid-lane despite a gank from
Xu 'Fy' Linsen's Batrider.

Fy was crucial in the game one victory as Rubick, and continued to make a big impact in the second match on Bat Rider, with the highest networth for VG, 3 kills at 15 minutes in, plus a blink dagger and force staff completed. Meanwhile Misery managed to scrape together an early mekansm despite 3 deaths on Dark Seer.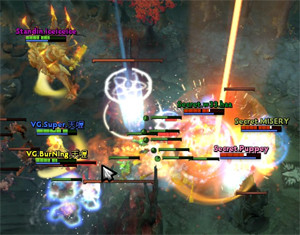 Delicious 3-man LSA by Super's Lina

The game entered the mid game with Secret slightly ahead, but a huge Winter's Curse by Fenrir kept VG in the game. Although, Secret were unanimously winning the farm war with both cores and supports well ahead of VG's, and Burning definitely was having an off-game on Phantom Lancer.

A nice little aegis for w33haa marked the beginning of the end for VG, as the team fight that followed lead to VG losing four in exchange for one. VG were unable to stop Secret steaming ahead, with Misery and Puppey pulling out some clutch initiations with Dark Seer's Vacuum and Ancient Apparition's Ice Blast.

Recognising they are far behind VG got desperate but instead resort to buy backs to try to stop the game slipping away, and even allowed creeps to take their top rax during an engagement. A last ditch-effort is in vain and Secret calmly take apart VG in the final fight of the game. A poor game for Burning and iceiceice cost their team dearly, and drew the score level in the best of 5 grand final.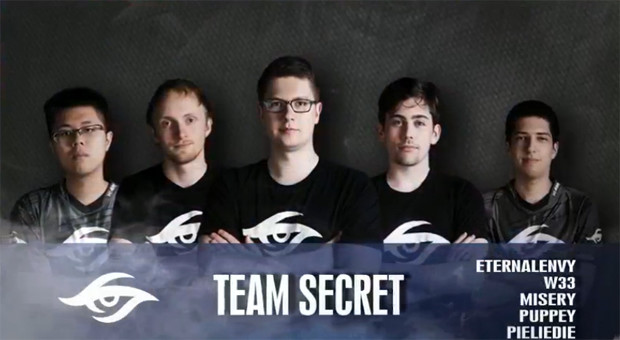 Secret struck back to draw level in game two



EternalEnvy and W33haa run circles around VG in game three
Game three featured a chaotic early game with 8 deaths in 4 minutes, with pieliedie roaming behind enemy lines but died three times after VG invested in early Dust of Appearance. Fenrir got the killing blow in 5 of VG's 6 kills, sitting at 5-0-1 after just 5 minutes on his Ancient Apparition.

Although Secret's cores were still getting good farm despite the kill score not in their favour, VG dedicated a lot of gold and time to getting kills on
Johan 'pieliedie' Åström's Bounty Hunter.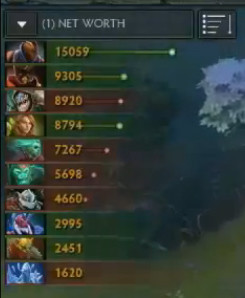 EE Antimage was dominant
Omar 'w33haa' Aliwi was fortunate enough to get his W33ranger after it was last picked for Team Secret, and at 9 mins managed to juke his way out of VG jungle after stealing a triple stacked jungle camp. By this point Secret had the top 3 of the top 4 slots on the networth chart for EternalEnvy's Antimage, W33haa's Windranger and Misery's Doom.


Xie 'Super!' Junhao's Death Prophet did not have good early game farm, and Burning's Slark was VG's frontrunner after going for an early Midas. However, EternalEnvy's farm was so lucrative, that he could afford a 13 minute BattleFury, and as the game passed the 20 minute mark he was VG's biggest threat.

VG were ahead 11-7 on kills but most of their pick offs were on Puppey's Disruptor or PLD's Bounty Hunter, and not on the cores. From then on it was very much one way traffic with EternalEnvy and W33haa combining beautifully to dispose of Vici Gaming.

One player who had a terrible time against w33haa was
Daryl Koh 'iceiceice' Pei Xiang, whose Clockwerk was almost a non-factor as W33haa danced around his attempts to catch him. Team Secret went for tier 4's at 27 minutes and after EternalEnvy did the dirty work, VG called good game, with the former Cloud9 player not dying once in game 3 of the best of 5.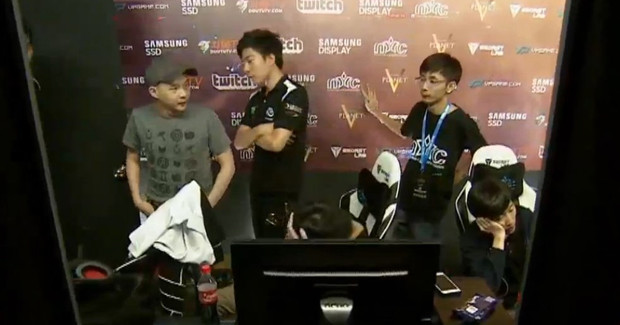 Vici Gaming clearly disheartened after game three of the best of 5



Game four was definitely one for the crowd, with Secret once again leaving their last pick to choose w33haa's hero, this time his trademark Meepo that we saw in the MLG World Finals as well. Meanwhile iceiceice was given Timbersaw, and got the first double kill early on after a nice turn on Secret.

Burning is actually one of five players according to datdota to have more than 25 competitive games on Clinkz, and this was his game after an unconvincing contribution to the previous three. It was an entertaining game to watch as w33haa and iceiceice were taking turns to make the individual plays for their team, and a lot of action went down in Secret's dire jungle as VG tried to contest the stacked creep camps meant for Meepo.

The burst damage of VG in the form of Clinkz and Timbersaw put w33haa's Meepo in continuous danger as the game went on, effectively keeping W33haa from snowballing. Secret realised w33haa's position and went for a sneaky Roshan.

However, versus a Timbersaw it was an extremely dangerous move. W33haa cleverly kept using net to buy himself time to complete Roshan but ultimately dies in a 2-2 exchange around the Roshan Pit, and VG burn Secret's aegis.

Secret lacked lockdown, and even though VG were without a single potential stun on their team besides Doom, by 30 minutes VG were ahead on kills 20-10 and on map control. Team Secret held out until 40 minutes only losing one set of rax, but w33haa's Meepo had been officially neutered with Burning simply using BKB and focus firing him down with his Desolator, Daedelus and Diffusal Blade.

The game ended soon after, but it was iceiceice's Timbersaw who was man of the match pulling out a wonderful performance on an uncommon hero to make the score 2-2 and force the 5th and final game.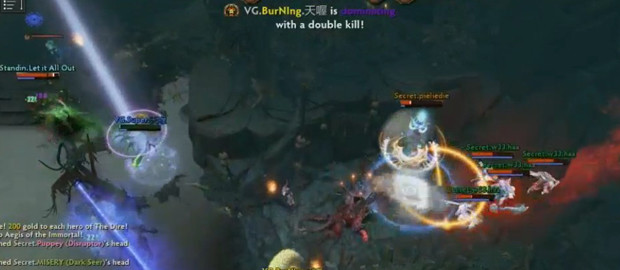 Alone in the Roshan pit versus an incoming Timbersaw, not a great situation for w33haa



The final and decisive game for the Nanyang Championships title

The fifth and final game was the first to not have a Doom in it, with it being the first ban for VG. VG let Secret get first-pick Slardar but then responded by picking two of w33haa's heroes for themselves, the Windranger and the Shadow Fiend. The draft ended with a couple of surprises, an offlane Morphling for iceiceice and a Tiny for W33haa as the last picks.



"Next level greed" - How analyst Winter describe Secret's draft in game 5



Super's Shadow Fiend had a poor start in the final game, and with constant harass from PLD's Bounty Hunter and Tiny. The value of Bounty Hunter was perfectly proven at 10 minutes in when he led w33haa's Tiny and Misery's Slardar to VG's Shadow Fiend and Vengeful Spirit in the jungle. Super had been forced into the jungle to find scraps, but pieliedie had been stalking him all the way. Secret smoked into VG's jungle and managed to catch out both of VG's heroes with Tiny stunning one and then tossing them onto their Crushed ally. 9-1 in favour of Secret, a disaster for Vici Gaming.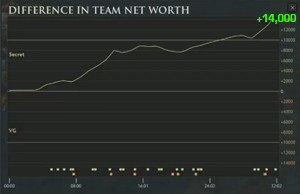 Networth Graph 30 minutes into Game 5

It went from bad to worse for VG, with commentator Godz stating it had gone "terribly wrong" with the Morphling pick-up not working out at all. EternalEnvy continued to show how he has grown as a player since joining Team Secret, showing patience and restraint by going for a slow and steady win by taking objectives.

By 20 minutes w33haa and EternalEnvy were on top of the networth chart and VG started to play defensively, with an Aegis pick-up allowing them to slow down the game and potentially allow Burning's Juggernaut and Super's SF to farm.

Iceiceice surprised both the Twitch chat and the commentators when he adaptive struck Misery in mid-air after he had been tossed towards the Morphling, but this was ultimately in vain as he eventually went down. From the 30th minute the Antimage was untouchable, with the Abyssal Blade the final nail in VG's coffin.

Second title in a row for Team Secret, third grand finals

Team Secret 3.0 have surpassed their predecessor, that is undisputable. The Nanyang Championships is their second title in a row following a 1st place at MLG World Finals and a second place at ESL One New York. EternalEnvy's form has been phenomenal, and as he said himself before receiving their trophy "all the hard work finally paid off".

As for Vici Gaming this is a solid performance for the team, and they definitely challenged Secret in both their encounters. We've seen
Xu 'BurNIng' Zhilei transitioning into a completely different kind of player, expanding his repertoire of heroes but it is perhaps a work in progress. He struggled in several of the games this evening, with his game four Clinkz probably his best game of the Grand Finals.

Nanyang Championships Top 4
1.
Team Secret
2.
Vici Gaming
3.
EHOME
4.
Team Liquid