The MLG World Finals ended with a brilliant contest between Evil Geniuses and Team Secret. The bo5 Grand Finale had it all, A w33haa Meepo on game 1, a raging SumaiL on Ember Spirit on game 2, a commanding Puppey on Chen in game 3 but it was game four that was the pick of the bunch and also the final game of the series. Team Secret came out the victors but Evil Geniuses were definitely a formidable opponent for the title.



Game 1 was all about
Omar 'w33haa' Aliwi and once again he was on Meepo. It is a recurring theme this tournament, and Evil Geniuses did not ban the hero in the first ban phase. SumaiL's Windranger was the target of choice for w33haa, with her Focus Fire particularly dangerous against his swarm of Meepos.

Meanwhile it was a comical game for Arteezy, who had two narrow escapes after being ganked by Meepo, one of which did not end as planned (video below). Evil Geniuses paid the price for letting W33haa on Meepo, and without a natural counter such as Sven, Ember Spirit or Tiny, failed to contain the threat leading to them losing the first game of the best-of-5.

Arteezy's accidental suicide


Game 2: SumaiL gets fired up and takes Team Secret for a ride
In Game 2
Sumail 'SumaiL' Syed Hassan unleashed the beast on Ember Spirit which was picked up first by Evil Geniuses, with
Saahil 'Universe' Arora's Tusk a perfect partner in crime. As a result 12 minutes in
Rasmus 'rASmus' Fillipsen was 0-5 on Nightstalker, making up half of his team's deaths after unfortunately sharing a lane with SumaiL.

It was a very different affair to the first game, with the relentless aggression by Evil Geniuses really taking the game by storm, and by 21 minutes in were leading by 17-2 with SumaiL's Ember and Arteezy's Templar Assassin topping the networth charts. Although the impact of Universe's Tusk was very crucial to their position in the game, regularly using Snowball to stun two heroes for the duo to dispense of. The second game ended 29-3 in favour of Evil Geniuses with not a single death to
Peter 'ppd' Dager's name.

Game 3: Puppey's "carry Chen" early game sets up Secret beautifully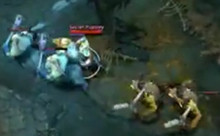 Incredible early game Chen by Puppey

Game 3 was a chance for Puppey to be in the spotlight, impressing on Chen and on a killing spree at 6 minutes and 4-0-1 by 7 minutes, "completely wrecking EG" in the words of commentator Blitz.

The unstoppable streak was ultimately ended by SumaiL at 9 minutes who was rewarded with just under 800 gold, but the damage had already been done. The question was whether EG could bounce back from awkward start to game three.

They did, and Puppey's lifespan on his Chen became extremely short versus
Artour 'Arteezy' Babaev's TA while his creeps were very lucrative for
Peter 'ppd' Dager's Chain Frost. By the mid-game SumaiL had dropped off a little following a few deaths to well-placed shackleshots by w33haa, leaving Evil Geniuses protecting their golden ticket, Arteezy.

However, despite a rising networth Arteezy could do nothing against Slardar's Amplified damage and Windrun/Focus Fire, and from the 30 minute mark Evil Geniuses hold on the game slipped away. The last big fight of the game outside Secret's base actually saw Evil Geniuses get a triple kill, but SumaiL perhaps too caught up in the moment went rambo and fire remnanted onto highground to catch out the other 2 only to be shackled and killed by w33haa. Secret bought back two of their heroes and with more losses for Evil Geniuses they accepted defeat, making the score 2-1 in favour of Team Secret in the bo5.

PPD drafts SumaiL a Beastmaster in elimination game
Game four's draft brought a smile to
Sumail 'SumaiL' Syed Hassan's face and the young player seemed happy with PPD drafting him a Beastmaster, while the Ember Spirit was given to
Artour 'Arteezy' Babaev. Meanwhile
Jacky 'EternaLEnVy' Mao got the opportunity to play Phantom Assassin, one of the heroes he made a name for himself with.

Team Secret were first out the gate securing a very strong early game but the turn around came at 13 minutes in when a smoke gank by Secret into Evil Geniuses jungle backfired when Universe's Dark Seer and PPD's Ancient Apparition pulled off a sexual Vacuum Wall into Ice Blast to kill two heroes before chasing w33haa's Lina to secure the third.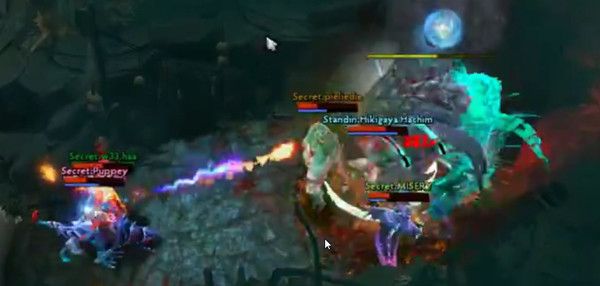 The 20 minute Roshan came off the back of a brilliant team fight by Secret



However, this was not as impressive as the team fight at 20 minutes, with a clutch escape by EternalEnvy allowing Puppey to get his Disruptor ultimate off on several heroes. Evil Geniuses had a chance to at least level the fight catching out w33haa but a delightful LSA stuns the two EG players leaving w33haa to escape and EternalEnvy to jump in again. Evil Geniuses lost 4 in exchange for nothing, and Secret then waltzed up to secure a free Roshan while PPD's Ice Blast ultimate was down.

At 30 minutes was another Roshan, and it was a delightful battle between the two teams. Evil Geniuses went for a gamble to sneak a Roshan but when Secret came to contest Evil Geniuses were prepared. Drawing out EternalEnvy, PPD and UNiverse managed to take down the Phantom Assassin with Puppey and Misery also falling.

Evil Geniuses Arteezy and Universe then resumed killing Roshan but Team Secret responded so quickly with buybacks racing back to Roshan to turn the tables once more killing both of Evil Geniuses surviving heroes from the previous fight AND taking Roshan.




Evil Geniuses did not bow to Secret, and kept holding them off despite being at an incredibly significant disadvantage, a credit to the skill level of the Evil Geniuses roster. What looked like the final stand came at 48 minutes, but Universe was not ready to give up and took out two heroes after all of his team-mates had died.

Evil Geniuses respawned and unleashed hell upon Team Secret who fled desperately away. It was incredible play by Universe to instigate yet another revival for Evil Geniuses in a game that on paper should already have been lost.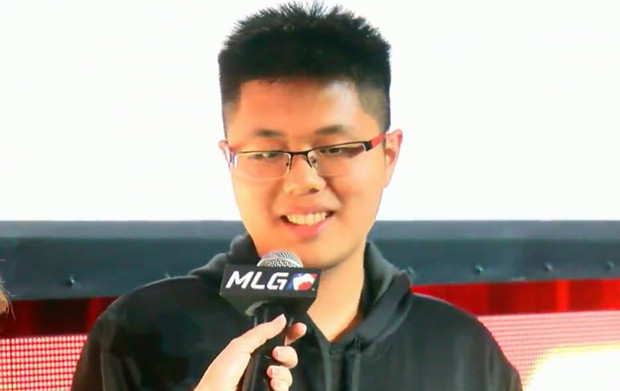 EternalEnvy couldn't help smiling after the Grand Finals



Another attempt on Evil Geniuses tier 4 resulted in Secret having to back off bot lane, but Puppey caught Arteezy just at the bottom of the ramp in his ultimate and static field. Arteezy fell, and with almost a minute and half till he could respawn, it was unfortunately the slip that cost EG the series and Secret went for the gg push, ending the series after 58 minutes with a final score of 56-26. A brilliant grand final to finish the MLG World Finals.





GGs everyone. Time to practice for the major! TY @MLG for the tournament.

— Peter Dager (@ppdDota) October 19, 2015
Whatever everyone says, that Ember by @Arteezy was good as f**k, see you next lan, mane

— Clement Ivanov (@CLEMENTINATOR) October 19, 2015






Final Standings
With all said and done the final standings for the 100th MLG event, the MLG World Finals, are as follows:

1.
Team Secret - $113,000
2.
Evil Geniuses - $68,000
3-4.
CDEC Gaming - $34,000
3-4.
OG - $34,000
5-6.
MVP Phoenix* - $11,300
5-6.
Virtus.Pro* - $11,300
7-8.
Cloud9 G2A* - $5,700
7-8.
PSG.LGD - $5,700