The first semi final was a EU showdown with
OG facing off against
Team Secret. The match went to the 3rd deciding game but eventually
Omar 'w33haa' Aliwi outshined the
Amer 'Miracle-' Al-Barkawi as on the back of his phenomenal Meepo and SF performance his squad secured a spot in the 2nd consecutive LAN Grand Final, with Misery once again impressive on Slardar and Broodmother.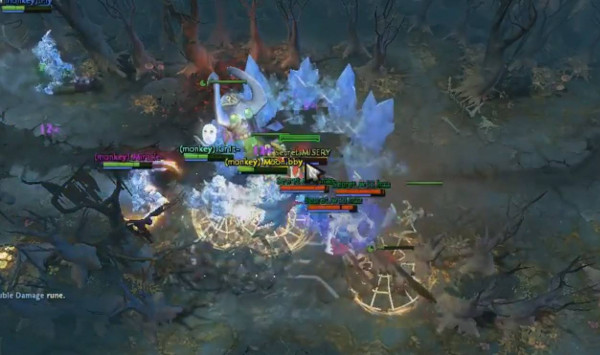 W33haa swoops in to kill 3 after Misery's Nightstalker was ganked
Five Meepos, three double damage runes


The first game started with a draft battle over vision control. Secret picked Nightstalker in the first phase, to which Monkey Business answered with a Beastmaster. Later on, they took Miracle's signature Antimage, even though Secret already had plenty of control.

The venom of the draft was in the tail end. Puppey once again picked up Meepo for w33. Monkey Business were clearly prepared for this and instantly picked up a Sven in response.

As soon as the match began, Secret started applying pressure. They put a trilane up against the antimage to disrupt his farm while giving W33ha unhindered cs and exp on the mid lane. Things went south for Monkey Business at only 14 minutes. W33ha got his hands on two bounty runes, leading to several kills and a 16-minute roshan.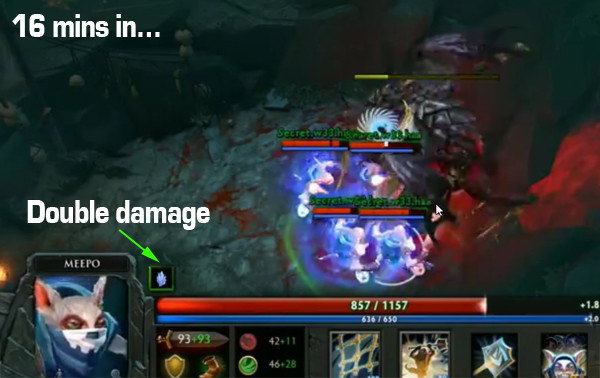 W33haa was quite fortunate with the DD runes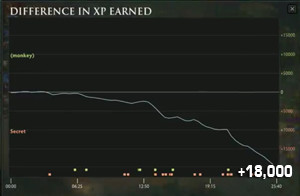 The XP graph at 25 minutes in

Secret's nightstalker and bane constantly kept the AM in check while Meepo got ever further out of control.

Even though MB had been ready with the Sven counter, it was simply not enough.

To add insult to injury, W33ha found a third double damage rune. There was a slight scare for Secret near the end of the game when EternalEnvy died as Ember Spirit after deciding to go rogue and run through the enemy's base to attack them from behind.

However, it was a pretty comfortable game for Secret who were in control throughout in what was a very calculated game plan. Secret easily closed out the game, putting the score 1-0 in their favor.



The spider is at your door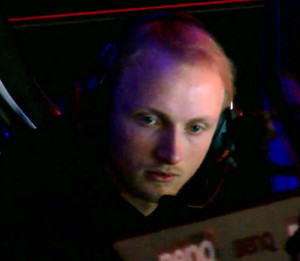 Misery's Broodmother was successful again

Secret continued their tactic of surprise-picking during the second draft.

This time it was a broodmother, and Monkey Business did not pick up a dedicated counter to the hero. Instead they opted to outlane Secret, putting a Shadow Fiend opposite the mid Nightstalker and dedicating Tusk and Beastmaster to keeping the Broodmother pressured.

MB's strategy worked, right up until a great Secret counter-gank gave w33ha's nightstalker a triple kill. The graphs tipped the way of Secret , and Misery's broodmother picked up a radiance with which he relentlessly pressured the bottom lane.

Notail's team was undeterred however. Their Slardar, Beastmaster and Tuskar all picked up blink daggers, and the team started a disciplined march up their opponent's lanes. Pickoffs were turned into towers and roshan kills.

EternalEnvy's Ember Spirit was hunted mercilessly by the Beastmaster, dying again and again to his roar and necrobooks. The broodmother wasn't safe either, with Amplify Damage following her no matter where she tried to hide. Secret had no answer to this disciplined ganking squad, and their farm-starved heroes couldn't defend their base when the MB uphill push came.
MB tie the series up 1-1.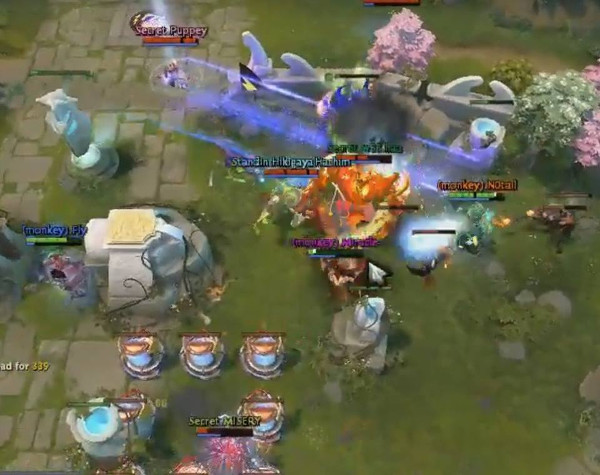 Secret eventually superior


Monkey business 1st banned meepo, decisively closing the door on the possibility of another w33ha domination. Once again, they had a plan, and this time it involved picking Necrophos. But Secret were prepared for it.

The wisp, a hero MB loves to combine with the Necro, was already banned. On top of that they'd also already selected Dazzle to shallow grave anyone who gets hit by the Reapers' Scythe. To round out the draft Secret took another hero who's very unimpressed with the Necrophos ultimate: Wraith King.

The draft left MB with a Tusk/Slardar support combo and a big challenge—to outplay a line-up that was designed to last through their burst damage. They decided to face that challenge head-on by immediately ganking the dual Shadow Fiend/Lich mid lane.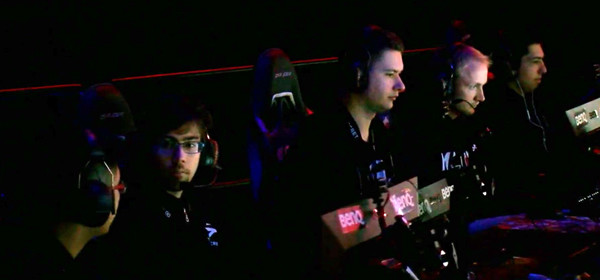 Team Secret brought out an EternalEnvy Wraith King in the final game



Their first blood attempt backfired horribly. They nearly burst down Pieliedie, but as QoP's shadow strike was ticking the Lich down W33ha came in to deny his teammate. This "hero kill" granted the SF an immediate 15 souls. Suddenly W33haa had nearly twice Miracle's damage, and the queen of pain had no way to stop him from lasthitting anymore.

MB tried to kill the shadow fiend several times more, but Secret's counterinitiation was too strong. Whether it was the Misery clockwork (whose hooks were on point the entire game) or the Puppey Dazzle, someone always interfered.

Instead, MB was forced into a farming game. And their prospects in the farming business weren't good either. Wraith King had built a radiance, while SF flash-farmed to his heart's content. Any 5-on-5 clash went Secret's way. After 50 minutes team Secret forced the GG's, putting them in the Grand Final of the MLG World Finals.