The ESL One New York 2015 ended with Vega Squadron completing an incredible run to take first place at the star-studded tournament. Odds were stacked against them when they drawn with TI5 champions Evil Geniuses in the opening round, but the roster that failed to reach the main event of TI5 went all the way defeating Invictus Gaming in the semis before finally outclassing Secret 2-1 in the Grand Finals.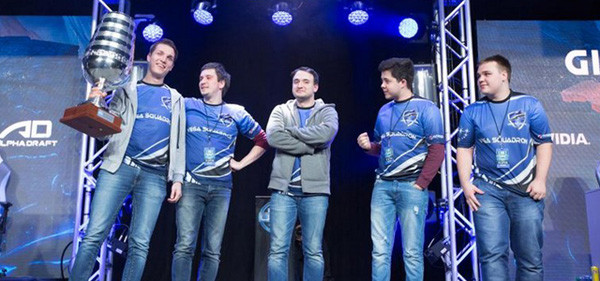 Vega Squadron with their trophy (Image: @ESL)



The Grand Finals of the ESL One New York got underway with a bit of light-hearted banter from Puppey stating he already had an ESL One trophy but mentioned that Mag "definitely deserved one" in the pre-match interview alongside the Vega offlaner.

Team Secret had come into the tournament with their latest roster, with only Puppey remaining from the Secret line-up that won ESL One Frankfurt earlier this year. Vega on the other hand, had a rather abyssmal TI5, losing out on the main event after failing to pass the Wild Card stage.

However, after deciding to stick together Vega swiftly qualified for the ESL One New York in early September and came out the victors at the LAN finals this weekend at Madison Square Gardens after a very difficult bracket.

ESL One New York 2015 Final Standings
1st.
Vega Squadron *- 97.246,00 EUR
2nd.
Team Secret- 48.623,00 EUR
3-4th.
Invictus Gaming - 24.311,00 EUR
3-4th.
CDEC Gaming - 24.311,00 EUR
5-8th.
Evil Geniuses - 12.155,00 EUR
5-8th.
Virtus.Pro* - 12.155,00 EUR
5-8th.
Team Archon* - 12.155,00 EUR
5-8th.
Fnatic - 12.155,00 EUR

How the Grand Finals went down
Evil Geniuses
Peter 'ppd' Dager made a cameo on the analyst panel and his reaction to Team Secret's first draft was one of doubt. The EG captain mentioned Vega's ability to play Wisp and Disruptor, and the CIS team managed to pick both in their draft. Meanwhile Team Secret opted for Elder Titan - a hero they used in the semi-finals versus CDEC - along with a support Crystal Maiden and W33haa's trademark Windranger.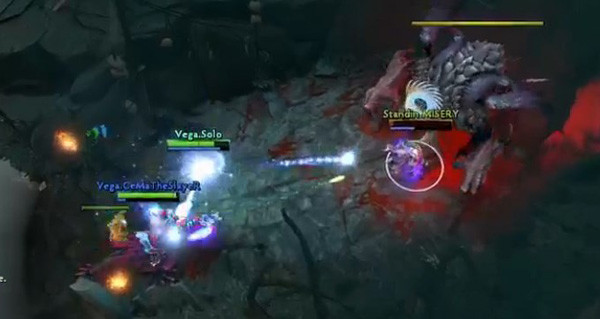 Misery gave away first blood after failing to get Roshan to deny him



The game started poorly for
Rasmus 'rASmus' Fillipsen on Dark Seer, who gave away first blood despite an attempt to get Roshan to deny him. He then teleported back to lane but was glimpsed back by Vega's Disruptor, a terrible start for the offlaner.

The mid-lane saw
Omar 'w33haa' Aliwi versus Vega's Tiny and Wisp. Secret's mid managed to keep up on CS at the beginning of the game and despite a failed smoke gank mid with Puppey's Elder Titan and Pieliedie's CM, managed a double kill with a Powershot on a fleeing Tiny before also windrunning to take down Solo's Wisp.

It was 9 minutes in, and even though Puppey and Pieliedie lost their heroes in the process of the double kill, W33haa topped the networth chart alongside team-mate EternalEnvy's Antimage. Team Secret had overcome a shaky early game.

The beginning of a terrible period for Secret: 7-3 to 17-3 in just 180 seconds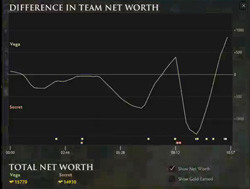 +2000 networth in 3 mins for Vega

However, beautiful combinations see Vega take out EE's Antimage, and then a masterlcass followed mid lane with Vega on steriods.

A tiny toss of w33haas WR into their own Cogs sees Secret lose their mid lane, and a
Vladimir 'No[o]ne' Minenko's Tiny has a narrow escape mid thanks to Solo's Overcharge on Wisp. Disruptor joined the fight and Vga turned to take out 3, but it was not the end.

IN the space of 3 minutes the Kill score went from 7-3 for vega to 17-3, with the match eerily similar to the kind of aggression Puppey's old Secret line-up failed to deal with when they met Fnatic in the TI5 groupstages.

Vega had taken contorl of the game and Secret realised it was time to slow the game down and try to get themselves together.

Vega in the driving seat while Team Secret try to buy time
Vega get uncontested Roshan, Slardar amplified damage + hyperstone on Tiny with aghs makes it easy. EE continues to farm but later is caught out farming the ancient stacks.

A couple of minutes later Vega push highground top lane of Dire, Secret's hero get destroyed but an instant 3 buybacks from them turn the tides of battle and Vega get team wiped while Secret keeps their rax in tact. With EternalEnvy's farming continiously interrupted from being ganked and relocated upon, Team Secret could do little but try to buy time for their carry. At 34 minutes Secret again managed to buy themselves a little time despite losing two sets of rax after EternalEnvy's Antimage had been taken out for the third time in the match.

However at 35 minutes, EternalEnvy went all in. He bought a Divine Rapier to add to his Manta Style and Battlefury. It could have been the play to get Team Secret back in the game, but EternalEnvy managed to keep hold of the Rapier for only about 60 seconds after w33haa got caught outside the base and Misery got hookshot. It was the last act of the game, and Vega secured an extremely strong foothold on the Grand Final series.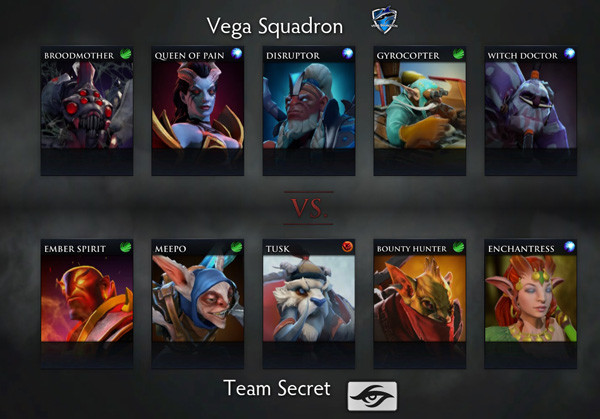 The draft for the second game included a w33haa Meepo and Mag's Broodmother



Mag's EG-killing Broodmother returns for Game 2 along with w33haa Meepo

The draft for the second game quickly became interesting as Vega picked Broodmother for the third time at ESL One New York, along with the Queen of Pain. Team Secret's counter-pick of Meepo was almost instant, who joined Ember Spirit as their first 2-picks.

THe rest of the draft didn't pan out great for Secret, and as the teams headed into the second match it appeared Vega would have the advantage in the lanes. Although, the game was a chance for us all to witness Puppey on his beloved Enchantress.

Secret opens well after Vega's aggressive tri-lane fails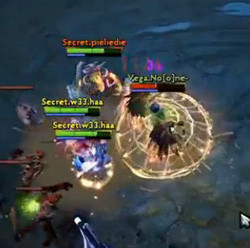 Early QoP kill for w33haa's Meepo

Although on paper Secret were at a disadvantage, the lanes turned out well. Misery's Tusk farmed well despite being in a lane with broodmother, while Vega's aggressive tri-lane failed against Ember Spirit, Enchantress and Bounty Hunter.

Meanwhile w33haa showcased why he is arguably one of the best Meepo players, pulling off a 5-min kill on the Queen of Pain.

He later followed with a beautiful rotation top which ended in a double kill for him as Witch Doctor and Broodmother fell with the help of Misery's Ice Shards and Walrus Punch.

For Mag in the early game it seemed Secret had his Broodmother completed worked out, and the comfort he had enjoyed in Vega's series versus Evil Geniuses was a distant memory. A switch to bottom lane proved more fruitful, and the CIS team looked like they were ready to try to get back into the game.

Blink Dagger Bounty Hunter rakes in the gold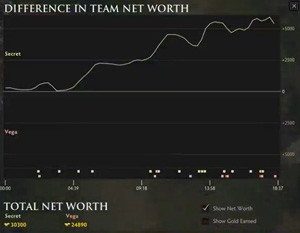 First 20 mins comfortable for Secret

Vega opted for 5-man Dota, and went all-in on trying to kill EternalEnvy's Ember Spirit. Although with the track gold being brought in for Secret, fairly even fights ended up highly disadvantageous for Vega.

Pick-offs for Secret were followed by a 20-min Roshan and an Aegis for W33haa's Meepo. It was then an all-out Meepo show, as Vega literally fell to pieces.

Five minutes later Secret were pushing tier 3 at 25 minutes, and W33haa was on a triple kill and simply unstoppable as Vega appeared unfamiliar with how to deal with the hero. Vega called gg soon after in a very swift game that forced a decider.

A back-and-forth finale to a remarkable series, but Vega went all the way
Secret first-picked Naga Siren and finished the draft with a Mirana and a Templar Assassin. Vega responded with a Shadow Demon pick which seemed aimed at trying to make the Mirana less relevant.

First blood went to Misery's Mirana with a leap arrow on clockwerk 1v1 bottom lane, and the Dane looked like he had lane sorted. However, the other lanes were not proving as successful for Secret, with several ganks attempted by Puppey's Naga Siren foiled by
Krivulya 'Cema' Semion's clutch Shallow Graves on Dazzle, including a very critical one mid that saw Secret's W33haa die on Templar Assassin as a result.

Vega's early 4-1 lead was thrown away with a silly fight near the Dire ancient camp following a nicely timed Moonlight Shadow by Misery, and Vega lost 4 heroes in the process. The final game was very different to the previous two, with 5-man dota the theme of the match.

The team fights were back and forth, with Vega very committed to killing EternalEnvy's Ember Spirit but Puppey saved Song of the Siren for defense which saved Secret on at least two occasions. However, the fight that changed the course of the game was a Roshan at 30 minutes, when Secret's attempt to sneak a Roshan went horribly wrong and lost 3 including W33haa's Templar Assassin.

Vega just went all out from that point and Secret were powerless to stop them as Vega pushed highground Puppey's new squad was forced to concede. It was the perfect end to an incredible run with Vega having defeated TI5 champions Evil Geniuses and Invictus Gaming to reach the Grand Finals.