The new studio Moonduck will host their first tournament with an all-new Elimination game mode, wherein every hero can only be picked or banned once every series. As such, a wide pool of heroes is to be expected. Starting the 17th of September, eight teams from Europe and North America will face off in best of threes, which will be played online.



Moonduck Studios enters the scene in a unique way, starting off with not just a tournament, but one with an entirely new game mode. Elimination mode will force teams to play a variety of heroes, promising interesting hero combinations not currently in the meta. The inability to pick heroes that have been picked and banned before will also lead to interesting drafting mind games. The format is not a completely new idea, and was proposed on Reddit a few months back as an interesting concept for a competition.

The tournament will feature several newly formed teams such as
High Council of Wizards & Priests*, the team of famous NA players
Jimmy 'DeMoN' Ho and
Mason 'mason' Venne among other well-known American players. Among the competing teams are also long-standing names, such as
STARK* and
compLexity Gaming. As the tournament coincides with another DotA 2 event, the teams first eliminated in that event will be invited to play Elimination.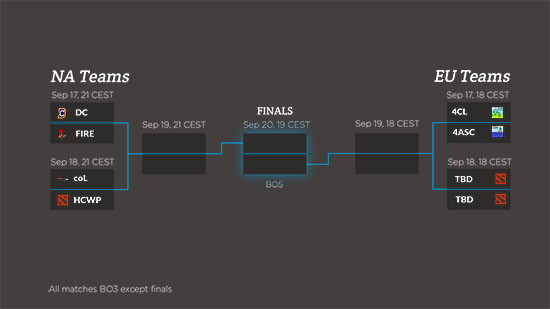 Image: Moonduck



The brackets have been divided into an NA and an EU side, in order to secure an NA versus EU grand finals, and avoid server conflicts during the brackets. The grand finals, played on the 20th of September, will be a best of five, instead of the three format featured in the other games of this tournament. This means there will be 100 distinct hero picks and bans, leaving only ten playable heroes untouched. The winner of the tournament takes home $6,000, the runner up gets $2,000, and 3/4th place receive $1,000 in prize money.

Invited Teams:



Does ELIMINATION MODE sound fun to you?