EHOME was a runaway success at TI5 after coming into the competition from the open qualifiers, but now will have to compete without their talisman
Bai 'rOtK' Fan, who came out of retirement to join the team in February. RoTK posted on on Chinese micro-blogging site Weibo that he will be joining LGD, and indirectly confirmed rumours of Burning moving to VG.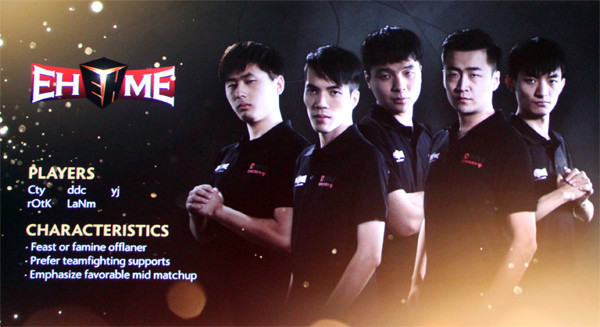 RoTK was pushed to leave the EHOME roster and now joins LGD Gaming
The former EHOME captain said he had initially hoped in the aftermath of TI5 to bring
Xu '
BurNIng
' Zhilei to the team to team up with himself and
Zhi Cheng '
LaNm
' Zhang. However, EHOME apparently did not agree with his plans to replace
Yang '
NeverEnd
' Pu with Burning, and RoTK said that the iG player is instead joining Vici Gaming.
Rotk of course was part of the player party that went to Changsha to
spend time with Xiao8 on Chinese Valentine's Day
, and the former EHOME player said during that time he had offers from several organisations but chose to go with LGD Gaming. In order to make space for RoTK to join the team,
Yao '
Yao
' Zhengzheng is tipped to be the one on his way out due to a lack of motivation to continue competing.

Xiao8 replied to RoTK's post saying he was not convinced his move would work out
As for captain Xiao8, both him and RotK played together in
Big God 2.0*
at the Dota Asian Championships, but if his Weibo post is anything to go by, it seems he is not quite sold yet on the new addition to the team.
"I'm not too optimistic about you personally," said Xiao8 in reply to RoTK's post on Weibo. "But still would like to see you integrating into this team to play well alongside my brothers". He also suggested cheekily that RoTK doesn't need to mentor the LGD line-up because they are already "very strong". To which RotK replied "Not too many people really believe in me anyway, as long as I believe in myself and put in the time it's enough for the few who do believe."
LGD line-up according to RoTK
Zhang '
xiao8
' Ning
Zeng Rong '
MMY
' Lei
Liu '
Sylar
' Jiajun
Yao '
Somnus
' Lu
Bai '
rOtK
' Fan
Yao '
Yao
' Zhengzheng (rumoured to be leaving the team)