The invites for the MSI Dragon Battle #7 are out, and they include two-time champions
Mamas Boys*. However, earlier today analyst and player
Niklas 'Wagamama' Högström tweeted that he is out of the team after joining back in May to fill the void left by
Kai 'H4nn1' Hanbueckers who decided to call it quits on his playing career. This leaves an opportunity for one of the other teams to excel.

With all the post-TI5 shuffle, I'm also out of 4CL. Now the real question, did anyone even know I was in 4CL?

— WagaGaming (@WagaGaming) August 19, 2015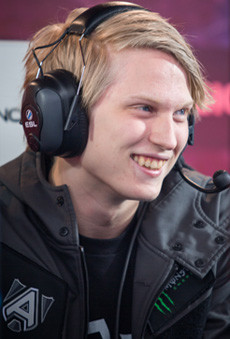 Pajkatt at ESL One (
Helena Kristiansson
)
The TI5 analyst also tweeted out shortly after that: "a lot of you calling me joining a team, I'm just going to standin for a LAN, I am currently teamless".
His former team
Mamas Boys*
have won the MSI Dragon Battle twice, and will be making use of the services of ex-Alliance player
Per Anders '
Pajkatt
' Olsson L. for tonight's competition according to their manager Ahmed "BenQ" Khaled.
The MSI Dragon Battle #7 will take place later this evening, with the four best teams from the open qualifiers;
Spotnet*
,
Sqreen's Squad
,
Depka*
and
Siberian Valenki Black*
. They join the following invited teams to compete for a 2,000 EUR prize pool, 1,500 EUR for first place and 500 EUR for second.
Invited teams
Mamas Boys*
Team Kinguin*
ScaryFaceZZZ*
The Balkan Bears*