In a completely unprecedented turn of events,
Kurtis 'Aui_2000' Ling has announced that he has been kicked from
Evil Geniuses only a week after winning The International 5 with the squad. EG were quick to confirm the change, with the team's manager Charlie Yang announcing
Artour 'Arteezy' Babaev as his replacement.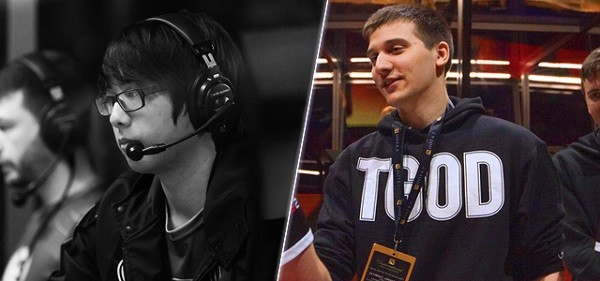 Team Secret has yet to officially confirm that Arteezy is leaving the team, but the Canadian player confirmed on stream earlier today that he would indeed be returning to EG.
The roster change comes as a surprise to the community, who only began speculating that a roster change could befall EG after the squad's captain
Peter '
ppd
' Dager began alluding to the kick on twitter yesterday. "Anyone know a good NA based 1 player?," PPD tweeted, "open tryouts for EG, no anime watchers allowed," he added.
"Professionally, I trust the judgment of the captain and the other players. I will not make roster decisions on their behalf and I will not force players to play on rosters they don't want to play on. EG is deeply grateful to Kurtis for what he has helped contribute, and will continue to support him in whatever he decides to do," said EG's team manager Charlie Yang in a short
press release
earlier today.
"I'm deeply affected by this and I'm very sad to see Kurtis go. I've known him the longest out of anyone on the team ... I cannot state enough how depressed I am to see him go. I cannot imagine how much worse he feels," said Mr. Yang.
i have been kicked from eg after winning ti. i actually hate people— Aui 2000 (@Aui_2000) August 15, 2015
The unexpected roster change is the latest in a post TI5 shuffle that has already seen both
Cloud9
and
MVP Phoenix*
undergo changes, with teams under pressure to finalise new rosters before the highly anticipated majors system is implemented in the coming months.
The departure of Arteezy from Team Secret has been rumoured since the conclusion of TI5, after the squad's performance failed to deliver them a top five finish in Seattle. However his return to EG comes as a surprise to many, who anticipated that the American squad would pass through the shuffle unscathed.
I know most of you are upset, but what goes on in our team is our business and our's alone. We are doing what we think is best for us.— Peter Dager (@ppdDota) August 15, 2015
The TI5 championship roster came together in January, following the departure of Arteezy and
Ludwig '
zai
' Wåhlberg from the roster. Then, with the addition of the now departed Aui_2000 and
Sumail '
SumaiL
' Syed Hassan, the team proved formidable at their first LAN event, taking home the DAC Asia Championships.
From there the squad continued to impress, achieving podium finishes at major LAN events like ESL Frankfurt in the lead up to TI5. Only a few months later during the main event of TI5; the American squad triumphed where their rivals Team Secret failed, surpassing
CDEC Gaming
in the Grand Final to secure the coveted Aegis trophy.
New EG Roster
Peter '
ppd
' Dager
Sumail '
SumaiL
' Syed Hassan
Saahil '
Universe
' Arora
Clinton '
Fear
' Loomis
Artour '
Arteezy
' Babaev