In an unexpected turn of events both of TI4's grand finalists,
Vici Gaming and
Newbee found themselves out of the top 4 of Group B, and could now face early elimination in the very unforgiving best-of-1 opening lower-bracket matches at the main event. Newbee received a questionable direct invite and with limited appearances recently were a mystery, but VG's placement is further proof that the team has hit a rough patch.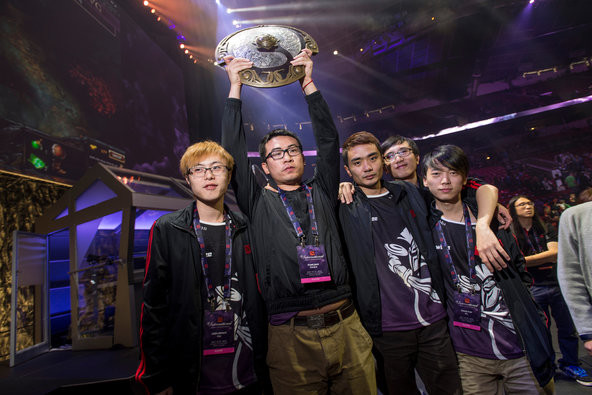 Newbee were TI4 finalists, now both them and VG face a rough road ahead
One draw too many for Vici Gaming and Newbee
Newbee opened well in the groupstages, a draw with Team EG and VP was a surprising start and opened people's minds to the possibility that Newbee were here to play, unlike their performance at DAC. However, the trend of drawing matches was a recurring theme for the TI4 winners here in the groupstages and the team ended up drawing 6 of their seven games.
With a bo2 format that rewards 3 points for a 2-0 victory, opposed to only 1 point for a draw, the fact Newbee did not win a single match 2-0 proved fatal. One win would have allowed them to challenge for 4th in the group.
For Newbee it was not a terrible performance, and given they won the first game in 3 of their 7 matches in the groups, a bo1 format in round 1 of the lower-bracket is not such a terrible prospect. They also as an organisation won TI4 after a very similar groupstage - albeit with a slightly different roster.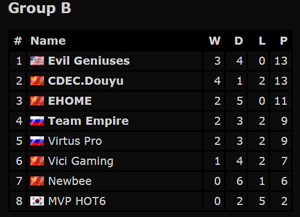 Last year Newbee only just reached the next stage after finishing 9th in the groupstages with 7 wins and 8 losses, they then proceeded to storm through the phase 3 bracket and ultimately reach the Grand Finals with their 2-man split death ball. What is more Newbee face either MVP.Phoenix or iG, both who lost 2 more games than them during their group.
One the other hand the mood in the Vici Gaming camp is one of disbelief, and a best-of-1 in the first round of the lower-bracket puts them in a bad position.
They might well have a pocket-strat to pull out like Newbee did last year but they will have sloppy seconds in deciding their opponent next round, playing either Navi or Fnatic, two teams who have shown already they can pull out a result versus top flight opponents.
Although past records and group performances are all very well, the psychological factor is one that can not be ignored. Teams finishing in the bottom four will all be heavily disappointed, perhaps with the exception of MVP.Hotsix, who can have no complaints about their groupstage after collecting more defeats than any other team. Can Newbee be as resilient without their iconic Xiao8 to lead them? Only time will tell.
Chinese Qualifier teams EHOME and CDEC finish ahead of both direct invites
What is even more suprising the the TI4 finalists finishing in the lower-bracket, is that the two teams coming out of the Chinese TI5 qualifiers finished 2nd and 3rd, outclassing many of the direct invites.
Who could have predicted that the two Grand Finalists of the China Main Qualifiers would fight again with a first place on the line? Both teams exceeded expectations to reach this point, and fought on the final day of the groups to try and wrestle #1 from the group favorite,
Evil Geniuses
.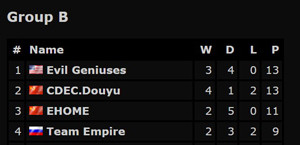 In Game 1, EHOME showed their maturity and experience, as they patiently played their way back from a sizeable kill score deficit. CDEC's aggressive dual core of Queen of Pain and Ember Spirit propelled them to an 8000+ XP advantage with the score at (15-6).
But behind
Chen '
Cty
' Tianyu's late-game focused Storm item build and
Leong '
ddc
' Fatmeng's clutch Wyvern Cold Embraces, EHOME were able to take away CDEC's hopes for a top 1 finish.
If EHOME could take Game 2, they would seize the number one spot from EG. If CDEC split the series (1-1), then they would hold onto their 2nd place, and hold off EHOME at 3rd. However, EHOME were robbed of their chance of a 1st place finish as CDEC drew level.
Despite neither team finishing 1st their results have been phenomenal, two qualifier teams making it to the top 4 of group B is proof that the qualifier system should be an integral part of the TI experience, especially with US qualifier winners Complexity also finishing in the top 4 of the opposite group.
Which team shocked you the most in group B?
[i]joinDOTA's TI5 coverage is brought to you by ASUS, our official partner for the event.
[/i]