Corsair Gaming Arena #5, which wrapped up earlier today, was the scene of many surprises and upsets. Favourites such as
Mineski,
TNC Predator, and even Corsair Gaming Arena #4 champions
Kingdom*, fell short of making it to the finals. Instead, the finals were an unexpected meeting of dark horse
Team Test* and
Motivade.Trust Gaming . Ultimately, it was the latter who emerged as champions in the impressive two game sweep!



Underminer came into the competition showing that they were not a team that should be overlooked. Although this was the first official tournament in which
Siew Cheng 'fzfz' Hor played in replacement of
Raphael C. 'KanG' S. Khong, the team had a strong start beating previous champions Kingdom and TNC.

Signature.Trust, on the other hand, had in three of the four previous installments, fallen short of even securing a spot in the finals. This time around, fuelled by their momentum gained from a series of successful recent games, they finally managed to secure their spot in the finals.

It was all came down to the best of three between Underminer and Signature.Trust. Both teams had never reached the finals of Corsair Gaming Arena, much less won it. More than just the prize money, it was also a matter of pride and reputation in the SEA region.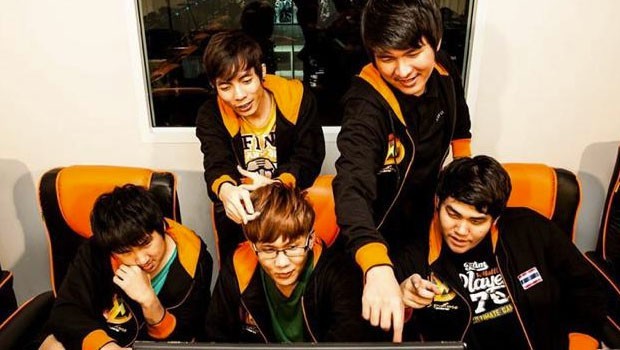 Signature.Trust



Link to Game 1 VOD!

Signature.Trust took a very early lead on the kill score and built on that momentum, finding pickoff after pickoff. With heroes such as Spirit Breaker, Queen of Pain, and Tusk, Trust's initiation from fog of war was tremendous.

Despite having a Bounty Hunter, Underminer could not find a way to come back. Playing from the back foot, they were forced to eventually tap out and concede Game 1 to Signature.Trust's aggresive draft and strategy.

If it isn't broken, don't fix it. Link to Game 2 VOD!

Signature.Trust went back to a gank-focused lineup in Game 2, but this time with a global presence. Picking the classic Chaos Knight/IO combination gave them a balance in farming and fighting ability. This time, the game developed much more balanced, as the difference in kills between the teams were much closer.

Although
Tan 'C1oud' Chung Men's Bristleback managed to lead the net worth chart early on, his other teammates struggled mightily. At one point their core Gyrocopter, played by
Siew Cheng 'fzfz' Hor, found himself nearly at the bottom of the net worth chart.

At the same time, the Chaos Knight was farming efficiently and IO's Relocate allowed Chaos Knight to constantly put fear into the hearts of Underminer. With the IO's Overcharge, the Chaos Knight was a force to be reckoned with, regardless of his position on the farm charts.

In the end, the constant ganking presence worked this game as well, as the gap between both teams grew larger and larger for Trust. Signature.Trust claimed their first Corsair Gaming Arena victory, proving why they are regarded as one of the rising teams in SEA.


Prize Pool
1st - $1500 Signature.Trust
2nd - $500 Underminer