After a week full of controversies, another controversy erupts as
Yao '357' Yi,
Zhou 'KingJ' Yang and
Zengrong 'Dai' Lei released a joint statement explaining that the trio had in fact never joined
CLC officially, and that CLC is falsifying claims and wrongfully demanding compensation for their transfer.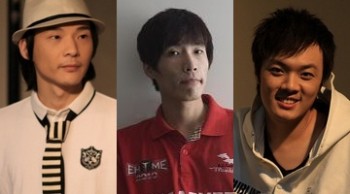 357, KingJ and Dai involved in a scandal between CLC and EHOME
Joint statement by 357, KingJ and Dai:
Firstly, we thank CLC for providing us more than half a month's training ground and facilities, however we regret that in the end we could not reach a contract agreement.At the start of the year five of us (357, Dai, KingJ, Crystal and Awoke) were searching for sponsors, and we were approached by CLC in March, promising to meet our demands. Therefore in early April, the five of us went to CLC grounds collectively to check out the environment. As we had no prior meetings, and it was based on our friend's description of the place, we went there and we felt that the place was not able to meet our demands. However, we decided to continue our partnering with them to not let our friend down.At the end of April, CLC wanted to sign contracts with us, and negotiations did not work out. Due to the team atmosphere and other reasons 357 decided to leave. When we got to know this, we (Dai and KingJ) decided to leave CLC together. After deciding to leave CLC, we began looking for other homes, and as free agents we found EHOME (We had always been free agents, and never signed any contracts with CLC).With considerations to their feelings, we decided to contact the management staff of CLC, and made a verbal agreement to compensate CLC for their offer losses. When CLC got to know that we talked to EHOME, they talked to us about issue of company reputation, and asked us to get EHOME to release a news stating that the a 100,000 RMB transfer fee was agreed between both organizations to maintain CLC's reputation (The transfer fee amount is just a verbal saying), and after discussing with EHOME we agreed to this demand. However, we have learnt recently that CLC is using this transfer release news release as a reason and appeal to ACE (Association of China eSports), seeking financial compensation from EHOME.Firstly, we are free agents, and there is no transfer, but it was a fake press release done based on sentiment and goodwill. Secondly, regarding the 60,000 RMB payment is just an excuse given by 357 to Crystal to avoid creating an unpleasant situation, but to lead Crystal into believing that 357 left because of money (Actually the reason for leaving the team is because 357 is not willing to play in the same team as players that are not willing to give 100% of their effort, and the lack of professionalism from CLC. 357 was taking up the role of the captain and manager, whilst the actual DotA manager and management were not doing anything. Also, during training sessions there will be outsiders playing games like LoL, affecting the training atmosphere and distracting the focus of team members. Other distracting and annoying things we will not go into details). This became the rumor of the 60,000 RMB. CLC management knows the truth regarding this incident, whether they will clarify this is another matter.Throughout the whole matter we left CLC as free agents, and joined EHOME as free agents. Therefore there is no real transfer between CLC and EHOME. But when we see CLC using the faked news to blackmail and ask for money, we feel that this is very wrong, and decided to do this statement release. If CLC wants to pursue this compensation, they can just find us (Legally speaking, we do not need to pay anything), we just decided to give some compensation due to our own personal sentiments. Right now we feel that their actions are out of hand, and we gave them the triggering step to create this scandal. We state that this is everything that has happened.We do feel sorry to Awoke as we leave the team this time, he has always been very focused during trainings and is a good person. But things are too complicated, Fat Q we are really sorry!
Note: Statement is translated but the translation does not tamper with the original statement.
According to SGamer, there have been different opinions regarding this matter, and various members of the community are raising a few questions about this whole matter:
[B]Is EHOME and CLC part of ACE? When ACE was announcement, it had consisted of other teams but both of the aforementioned teams were not part of the list.
Which organization is at fault in the matter of the faked news?
Why did ACE fail to uncover the truth regarding this transfer?
Will this joint statement from the trio affect the reformation of EHOME?
[/B]
More questions continue to be raised and official word from both organizations have yet be heard. Stay tuned as joinDOTA continue to provide updates regarding this controversy.