The extremely drawn out Season3 of the DotaPit finally came to a close this evening when
Evil Geniuses took on
Cloud9 in the Grand Finals. Although the tournament does not have a LAN finals, it did boast an immense prize pool of over $260,000. First place for either team would secure 47.5% of the prize pool, more than $125,000. What is more DotaPit announced that their next season will have a LAN Finals, the next step in their evolution.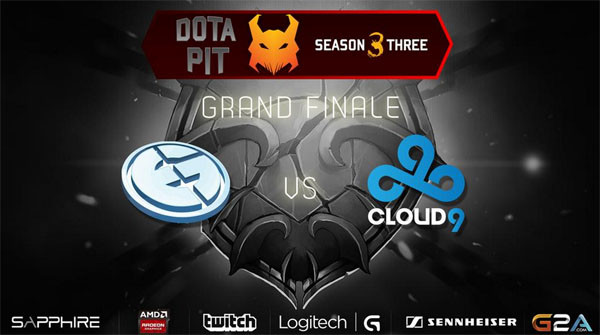 The long-awaited finale opened with a emphatic victory for
Evil Geniuses in game one, after
Saahil 'Universe' Arora's first-pick Tusk and
Kurtis 'Aui_2000' Ling's Skywrath Mage the instigators of the victory. Aui had a 14-min Mekansm on his Skywrath, and the combo of PPD's Fissure with his Mystic Flare was lethal

That is not to say Cloud9 did not play a role in the game, in fact their Leshrac and Ember had the highest networth for the majority of the game up until the 25 minute mark, but a series of bad trades saw the Leshrac fall off and the Ember was soon also overtaken by all four of Team EG's heroes.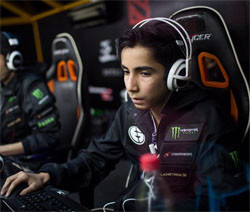 Game Two was all about SumaiL's QoP

There were also two interesting picks, one for each team. Both EG and Cloud9 ran dual lanes top with Cloud9 running a Bone7 Windranger in a dual lane with BigDaddy's Ancient Apparation vs
Clinton 'Fear' Loomis's Clinkz - joined by Aui's Skywrath Mage.

Although Windranger is not that uncommon in 6.84, Clinkz definitely is, featuring in only 38 matches (68th/108) in the new patch.

With Evil Geniuses coming from the upper-bracket, the first game win secured a 2-0 advantage, with just one win left to crown them the winners of the competition.

The second game of the evening again was graced with an unusual pick as Cloud9 opted for an Outworld Devourer for FATA- in an aggro tri-lane alongside Axe and Lion. However, the lanes did not stay stable for long with a chaotic early game which ended with 4-4 in kills at the 10 minute mark.

The big turning point in the match was a 5on5 fight at the middle dire tier 1 tower at 12 mins in, with the fight starting out reasonably even until a SumaiL Scream on his QoP got a triple kill after EG's Earthshaker and Winter Wyvern had done the dirty work. Two more kills secured a team-wipe for EG and a Rampage for SumaiL.



SumaiL's Queen of Pain was deadly in the second match



From then on it was much of the same for the rest of the match, SumaiL went for Octarine Core on QoP, meaning a 30-sec cooldown on his ultimate. At the end of the 12 minute fight it was 11-4 for EG and by the end of the game at 31 minutes it was 33-10, with the final fight a godlike streak for SumaiL who dominated the second match.

This meant the series ended 3-0 in favour of Evil Geniuses, and after more than 5 months the DotaPit Season 3 has finally come to a close.

Final Standings
1.
Evil Geniuses $126,055
2.
Cloud9 $57,056
3.
Virtus Pro $39,807
4.
Ninjas in Pyjamas $21,230

DotaPit LAN Finals: Could DotaPit be the new Starladder?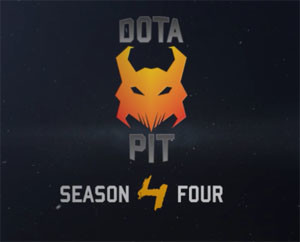 DotaPit Season 3 dragged on much longer than it should have, with the event actually starting on January 21st, even before the Dota Asian Championships took place.

However, despite some comments about the organisers not being stern enough with teams to get the tournament wrapped up earlier, the transformation of DotaPit is quite extraordinary, and the announcement (video in the link) of their first LAN finals in Croatia in March of 2016 is the logical next step and one which is indicative of where DotaPit is heading.

DotaPit Season 1 which launched in March 2014 had a prize pool of just $3,000, no workshop items and not a single tier 1 team. In Season 2 in September 2014 the base prize pool was increased to $75,000 but once again no workshop items included, with ticket sales only adding just over $5,000 to the kitty.

Season 3 arrived in early 2015, with almost an identical base prize pool as the previous season, starting at $80,000 but the ticket came with a compendium and a pudge set attached for $9.99. Eureka. Season 2 and Season 3 both featured Secret, EG and Cloud9, but the impact of workshop items in Season 3 was phenomenal, not unlike DotaCinema's Season 2 of the XMG Captain's Draft which also became more relevant simply through the substantial crowd-funded prize pool.

While Starladder has arguably fallen off with its last two LAN Finals, DotaPit is on the rise, and as long as they don't overextend themselves at their first LAN event and provide a substantial base prize pool in the region of $100-150K, they could well become a formidable EU event organiser. However, do you think they are within their power to topple Starladder?