Following a turbulent 5-Game series in the Esportal Grand Final full of action and interesting picks,
Virtus.Pro* have come out victorious. They claim a first prize of $32000, and the second BO5 victory over their CIS rivals
Team Empire in the space of a few weeks, following the recent showmatch between the two. With both teams having been invited to TI5, any matchup can be very telling of what we can expect going into the Main Event in a month's time.
A Turn of the Tides


While both have certainly been at the top of the CIS region for some time, results would show
Team Empire as the dominant force. Having achieved high-level success in all three major regions this year (2nd in China at M2DL, 1st in Europe at D2CL, and 1st in North America at joinDOTA MLG Pro League S1), Empire have shown they can be a force to be reckoned with on an international scale.

Between the two teams themselves, Empire also come out on top this calendar year. While it is marginal (55% in their favour), it exemplifies the dominance Empire showed coming up to these two series.

On the other hand,
Virtus.Pro* have been a lot less noisy in terms of top tier tournament wins. While they put in a good showing in the recent ESL One Frankfurt 2015, their only major win has been in the recent DreamLeague Season 3. However with TI right around the corner, VP players and fans alike will be confident following this swing in momentum.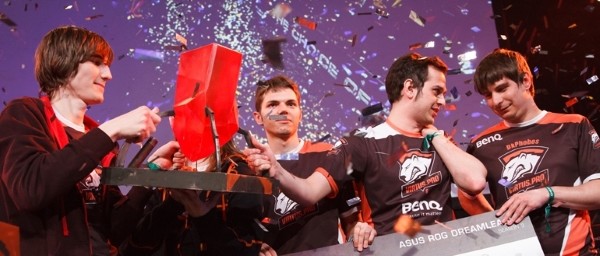 VP were triumphant last month in DreamLeague - Image from
Dotablast
Five Heroes, Five Bounties


The series itself was full of twist and turns. It wouldn't be a top CIS clash without lots of kills and an equal amount of questionable decisions. We certainly had that with a 4th pick Huskar from Empire in Game 3, and it did of course back fire up against the heavy Physical damage from
Ilya 'Illidan Stormrage' Pivtsaev's Phantom Lancer.

Amongst other recognised Tier-1 heroes of recent weeks, Bounty Hunter was certainly favoured by both teams throughout the series. Picked or banned in all 5 games, and winning all 3 of the games it was picked in, the hero was incredibly successful in achieving map presence for either team and creating a gold lead through Track kills.

With no more major tournaments scheduled this side of TI, we can only sit in anticipation and see what both teams have planned for Seattle, and how they will make use of their bootcamping time. Pay close attention to joinDOTA in the run-up to the event to see profiles on all participating teams, amongst more.


Have VP really over-taken Empire, and who will perform better at TI?