In an announcement on
Team Secret's Facebook and Twitter yesterday, the organisation has officially announced their withdrawal from Dota Pit League Season 3. This comes following troubles with the scheduling of matches in the league, but it is hard to know how much blame is to be put upon either the team or the Dota Pit League itself. Team Secret are now choosing to focus on The International, which starts in just under a month.

Secret claimed yet another Championship last week in Frankfurt



This news comes as little surprise following the great troubles Dota Pit have had thus far with their scheduling. Despite attracting the world's elite some 3 months ago with promise's of a large, Compendium-backed prizepool, the tournament hit a snag upon reaching the playoffs, with the WB Semi-Final between Secret and
Evil Geniuses seeing multiple reschedules and month-long delays.




We wish the remaining competitors and Dota Pit the best of luck with the rest of the tournament. Team Secret will be back in action next month for The International.

As of earlier today Team Secret has unfortunately had to withdraw from the ongoing Dota Pit Season 3 in order to focus on The International.


The withdrawal first came to light via Arteezy's comment on his stream, and was later confirmed on Team Secret's social media. It is unsure who is to blame for the perpetual delays, with Arteezy placing blame on Team EG whilst DotaPit commentator Greg "WhatisHip" Laird said that Team Secret were the ones who were unable to commit due to attending so many LAN events. The commentator also tweeted "I'd like to thank team secret for delaying dota pit for a month then dropping out", a tweet he later removed.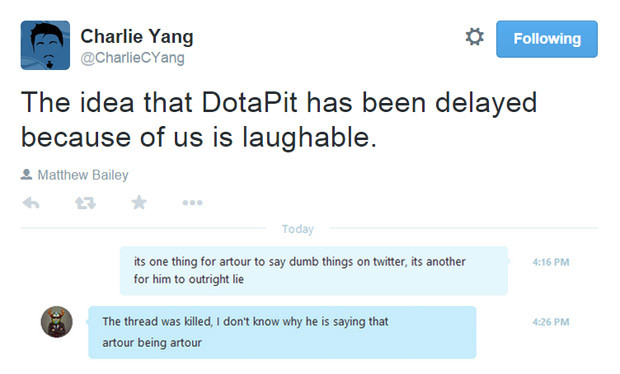 Regardless of who is to blame for the match being delayed, it spells bad news for Dota Pit, who most likely due to the calibre and traction the two teams were willing to wait for them to find a time to play their match. The competition started at the beginning of February, meaning the delays have seen Season 3 drag on for more than four months.

Considering Team Secret's results in the groupstage (8-2 and finished 1st) as well as the fact they won Season 2 the loss of Secret will affect viewership of the competition, and DotaPit will perhaps have to be stricter on scheduling in order to avoid a repeat in the future. The withdrawal of Secret is good news for NiP, who now progress to the lower bracket finals to play Cloud9.