It's all over in Frankfurt, with the best-of-five series between
Team Secret and
Evil Geniuses finishing in four furious games. The instant classic was a display of two young shining superstars backed by the most talented rosters in the world. Arteezy and Sumail. ppd and Puppey. If n0tail believes Dota 2 is akin to chess, then this was a match between the two greatest Grandmasters. With the two teams trading blow for blow, only one could claim the final championship before the ultimate test.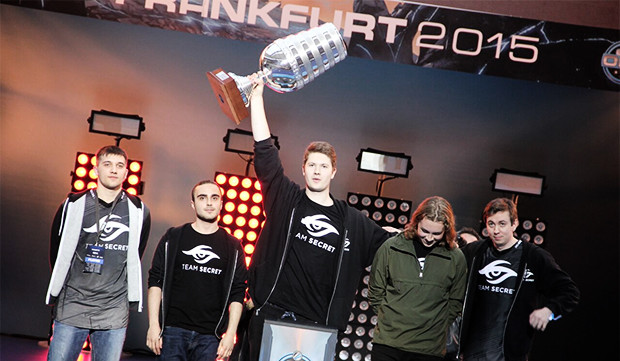 The largest European tournament in Dota 2 history came to an end just moments ago. If you weren't amongst the over 1 million concurrent worldwide viewers, then you missed an incredible Finals between the world's best. The other 6 teams, which made up the "the strongest competitive field, statistically" (Nahaz) still couldn't prevent the two titans,
Team Secret and
Evil Geniuses from tangling at the top of yet another major tournament finale.

ESL One Frankfurt 2015 was only the second LAN event in which VG, EG and Team Secret attended together since DAC 2015. For the time being, the two Western squads have surpassed their Chinese foes, and pushed themselves to a higher level of play. In the previous event the three attended, Secret prevailed over EG (3-1) at the Summit 3 in Los Angeles, and today the two teams continued their storied rivalry in Frankfurt.

Zai and Arteezy owe so much of their growth as players and individuals to their stay on Evil Geniuses. These two foundational players have been the driving force of Team Secret's resurgence in the past months, as this win now secures a fourth consecutive tournament victory, an incredible testament to their drive and focus.

As for the young prodigy on EG,
Sumail 'SumaiL' Syed Hassan must continue to learn and improve in these battles against his "Gary Oak", Arteezy. Secret and EG both depend so much on their respective superstars, building entire lineups around the two players' limitless individual talent.



From Games 1 to 3, Arteezy and Sumail fought neck and neck in the Net Worth charts, as they chased down every last morsel of farm in their reach. In the first match, it was Sumail who perservered and fought back against early pressure from Secret's supports, farming and forcing his team back into the game with his electrifying Leshrac.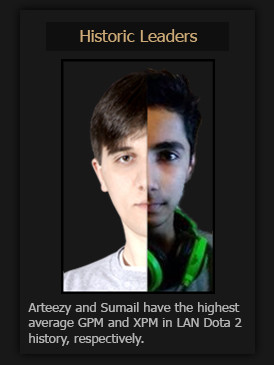 EG continued to put their hopes into Sumail's capable hands in Game 2, protecting his signature Storm Spirit in the safelane. Secret responded by doing the same with their own star, building up Arteezy's Gyro in the safelane, ensuring a strong start. Game 2 was held firmly in Team Secret's grasp, as Arteezy's Gyro rocketed past Sumail in farm. [b]Sumail was not able to put together his typical stinging style of Storm, jumping across the battlefield dodging spells and terrorizing supports.[/b] He ammassed 6 deaths, tied for most in the game, and clearly the number of mistakes crippled EG's late game potential.[b] Artour in comparison, fell only once that game and led all heroes in XPM, showing off a classical carry performance: hit creeps, play safe, get kills.[/b]

The final, true head to head matchup between the two stars was in Game 3, as Arteezy unleashed his notorious Anti-Mage against Sumail's Tinker. The two players completely left behind their teams in Net Worth--there were stretches in the game where the next highest Net Worth was at least doubled by the two leaders.[b] But coming down to the wire in the crucial Game 3, Arteezy delivered two crippling blows.[/b]

The first Mana Void came of the back of a beautiful initiation by Team Secret, as S4 landed a full damage Requiem onto Fear's Sven. Caught out in the treeline by Zai's Dark Seer's Vacuum, Sumail scrambled to try and escape and cut EG's losses. Arteezy delivered the first Mana Void, melting Sumail and smashing the first set of barracks for Secret.

With Fear sidelined with no Buyback, Sumail alongside Aui and Universe jumped onto Kuroky's staggering Rubick in a desperate attempt to hold their base. The rest of Secret quickly jumped to their support's rescue, setting up Artour's game-winning Ultimate onto Sumail.




casting the second Mana Void which clinched Game 3.

"...and the MANA VOID EXPLODES Sumail as well as Aui! Two on the sideline again--and--GG! ...Secret are shoving EG down into it!" -Tobiwan,



With only one more game to finish out the series, Secret put together a dazzling team performance to take the ESL trophy. It was clear that EG finally turned towards
Clinton 'Fear' Loomis to "carry" the load, as it was now Fear's turn to showcase his abilities on Anti-Mage. Arteezy remained the primary core in Secret's lineup, but in the final game, they relied on
Gustav 's4' Magnusson's Lina to provide the killing blows.

Although Secret steadily built up a respectable lead throughout the early game,[b] a dream fight for EG secured Fear an Ultra Kill at the 25 minute mark. The sudden turn of events gave the Anti-Mage the space and advantage to propel his farm past any of Secret's heroes, and it now seemed the game was EG's to claim. [/b]


The fight which signalled the end occurred at Secret's Tier 2 middle tower. Fear, with a personal 7k Net Worth advantage over Arteezy's Bloodseeker, sieged the tower with an Aegis at the ready. S4, by exposing himself briefly out of position, baited Aui, Universe and Fear right into the Siren Song of Kuroky's Naga. A Vacuum + Wall of Replica + Light Strike Array combo instantly melted the three EG heroes, and Sumail and ppd were next to fall.

Fear would scramble away and escape the fight, but [b]only moments later Secret unleashed a terrifying late game spell combo.[/b] With lvl 4 Bloodrage damage amplification alongside Lina's Aghanihm's Laguna Blade, no Evil Geniuses hero was safe from the overwhelming single-target firepower. Fear, caught out aggresively farming Secret's Jungle exploded to the Pure damage combo. Secret and Arteezy, sensing blood in the water, hounded hero after hero, and forced out a Buyback from Fear's AM.

The signature play of ESL Frankfurt 2015 was set up once again by Kuroky's Song. With the series-deciding team fight put on pause, Secret gathered in the trees to find their target, and unleash the damage combo onto the AM.




[Quote]"They found Fear! He's in trouble!...Kuro stops the fun...up in the high ground with Fear--the Light Strike Array--(My GOD!)" - Tobiwan (and Capitalist), casting the die-back from Fear's Anti-Mage[/quote]



Once again, denying Evil Geniuses in the Finals of another major tournament, [b]Team Secret achieved a (3-1) victory in outstanding fashion[/b]. Is there any other team that can stand up to this star-studded roster? VG watched on the sidelines in bitter defeat. And while Evil Geniuses have separated themseles from the pack, they have fallen short twice. Will they take the next step and overcome their rival? Questions remain and the challenge is now open for anyone to match the force of nature that is Team Secret.


With nothing left between now and The International 2015 but bootcamping and preparation, ESL One Frankfurt 2015 has left us with the last glimpse of Dota 2 bliss before the ultimate. Share with us your favorite moments of the tournament!
Congratulations to Team Secret, and for Evil Geniuses for an incredible Finals to remember!
Final Winnings:

1st:
~118,000 USD
to
Team Secret
2nd:
~59,000 USD
to
Evil Geniuses
3rd and 4th:
~30,000 USD
to
Invictus Gaming
and
Virtus.Pro*
5th to 8th:
~15,000 USD
to
Cloud9
,
Vici Gaming
,
Alliance
and
Fnatic