Esportal has been building up for the last event of the lengthy series since late November last year and has since then included three open and four invitational qualifiers. The last chance to become one of the eight teams participating in the climax of the tournament is soon upon us. However, a recent image on their website could mean the LAN finals promised at the beginning may no longer be taking place, with the tournament now allegedly ending online.

Registration is open to everyone, so all teams can participate in the event that will begin Wednesday May 20th and play out over six days. The process of elimination will begin with a round of 256 teams which is played out in best of one matches. 256 teams will diminish to 16 and in the round of 16, the games will be best of three and the same goes for the quarter- and semi-finals. The two teams who make it all the way to the grand finals will have to battle it out in a best of five and the winner will be the last participant of the Esportal Grand Finals and the proud owner of $2,000.



The

initial trailer for the event

advertised that the event included a LAN finals



The concluding playoffs that previously has been referred to as a LAN final, seems to have been mysteriously reformed. The LAN final was supposed to take place in Sweden, but the information on Esportal's official website now states that the finals will be played in an online format. No official statement has yet been given to shed some light on the change of plans. With the wide range of tournaments that have been scheduled this summer, it is fair to assume that the decision is related to difficulties in finding a fitting date for the LAN.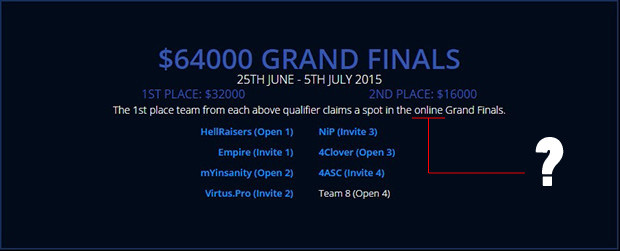 The

latest graphic

states the Finals will be "online" despite it supposed to be offline



The event will nonetheless run its course during 25th June to 5th July and will have a juicy prizepool of $64,000. The winner of the fourth open qualifier will get to join the previous victors:


Participating teams in Grand Finals
HellRaisers
Team Empire
mYinsanity*
Virtus.Pro*
Ninjas in Pyjamas*
Mamas Boys*
STARK*
Schedule for Open Qualifier #4


Round of 256 - 20th May 19:00
Round of 128 - 20th May 21:00
Round of 64 - 21st May 19:00
Round of 32 - 21st May 21:00
Round of 16 - 22nd May 18:00 + 20:30
Quarter Final - 24th May 18:00 + 20:30
Semi Final - 25th May 18:00 + 20:30
Final - 26th May 18:00


Prizepool distribution for the 4th Open Qualifier


1st - $2,000
2nd - $1,000
3rd-4th - $500
5th-8th - $100