Red Bull Battle ground came to an end this weekend with
Invictus Gaming taking on
Team Secret in the finals. The Chinese team have been by many regarded as the favourite coming in after Secret's disappointing performance at StarLadder XII. However, after a fantastic five game series it was the European squad who has came out victorious taking home their first ever LAN title.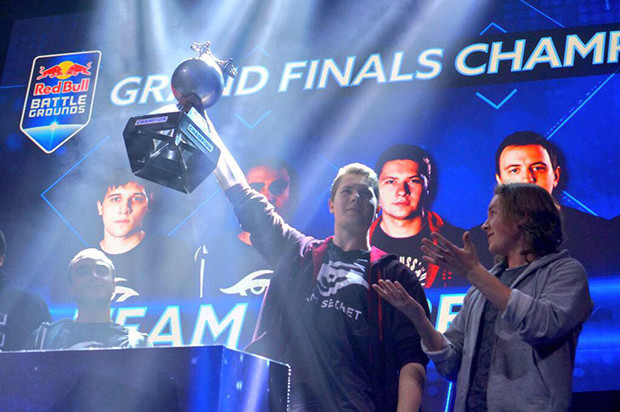 Puppey lifting the trophy. Picture courtesy of @CLEMENTINATOR



Red Bull Battle ground were held in a different format than any other tournament so far. All five teams participating in the LAN finals were granted three lives and were supposed to challenge each other. If the squad lost a match they lost one life. Every team had also one opportunity to redirect a challenge. With such a format we had the possibility of alliances during the group stage and some interesting outcomes.


This format goes to show that most competitive Dota 2 players would make the worst Survivor players.

— Charlie Yang (@CharlieCYang) May 6, 2015

However, most of the teams didn't take advantage of the format and as a result two top contenders - iG and Secret avoided each other in the group stage. This resulted in them winning all of their play off matches and meeting in the finals. There would be no more running: it would be victory or a field of daisies.

For Secret, this was about more than the money. They had some amazing performances in past tournaments, and had proven to be one of the best in the world. However they disappointed recently, what is more they had never gotten to exercise their ripped bodies with trophy lifting yet... Perhaps some fans were getting a bit nervous that Secret might follow the steps of
Cloud9.

Therefore they came out blasting, picking up a Drow Ranger and Visage as first and second pick. Secret throughout these entire finals committed very early in the draft to the strategies they were playing. Often giving away their plan in the first couple of picks such as Drow-Visage, Tiny-Wisp or a good old Broodmother. Visage as a whole was popular these finals being picked up three times amidst a 59 per cent win rate this patch.

Heroes often used in the previous patch such as Lion and Lina didn't get much play. In fact they didn't get picked once. Queen of Pain continued her popularity. Both teams looked determined during the finals. All the matches saw lot of action, little farming, a ton of pushing as well as teamfighting. All but one ended before 40 minutes mark.

In the end it was Secret who won the final game and took home $38,561. This is their first LAN title since this star studded team has been created. Moving forward they will likely be more confident, particularly after such an outstanding five-game series. A boost of confidence is something that they definitely need after their performance in Bucharest as The Summit 3 is just around the corner!


GG Congratulations to Team Secret taking the trophy of Red Bull BattleGrounds. What a series, by the end, we... http://t.co/tPfgXZmhWO

— Invictus Gaming (@invgaming) May 11, 2015





See more pictures on Team Secret's Instagram